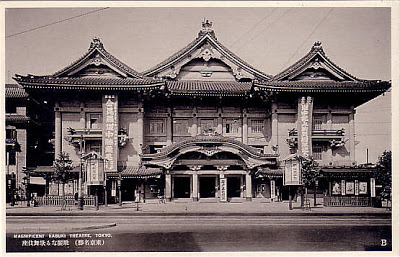 For some reason Tokyo's Kabuki-za Theater is advertising this month as the last time to see kabuki in Japan's "largest and most important" kabuki theater. Why this is the case is unclear.
"Do you think it's open on a Monday?" I asked Chris when he had the good idea to go. Many museums and Ueno Zoo close on Mondays. Not only is it open; you don't even have to sit through all five hours of kabuki—you can just go for the first, two-hour segment or either of two one-hour segments. We opted for the middle one which was supposed to have a dance. We got there before tickets even went on sale at 1 p.m. but were immediately told to come back for the next one, as too many people were already in line.
"Should we get the translation earphones?" I asked Chris, really asking about the additional cost. "I'd like to just see how it is first then maybe get those for a full performance," Chris said. This sounded odd to me, but whatev. So we go up to the balcony (Y800, or about $8.50–nice!) and five minutes into the talking I look at Chris and say, "So…." and he says, "Earphones next time?" and I said, "Ok."
There was a guy whose wife (played by a dude) is upset and shrieky, then he goes to a tea/pleasure house where some chick cries and the dude talks to the mistress for a long time. She gives him something which, in the next scene, he gives to some guy trying to kill himself by jumping in the river. His wife is upset and very shrieky. A bunch of people come and kneel in the room, the wife calms down, the suicidal guy gives the thing back, the crying lady in the kimono comes in and bows. It was a comedy. Here's what the online description says:
"NINJO BANASHI BUNSHICHI MOTTOI Chobei (Kikugoro) spends his days and nights gambling, but is finally made aware of his family's problems when his daughter takes a job in the pleasure quarters. Having received the money for her contract, he shows his good side to save a young man on the edge of suicide after losing a large sum of money, but nobody believes him, thinking that he has gambled it away. Adapted from a classical rakugo story by Sanyutei Encho, the play shows the gallant spirit of the commoners of Edo. With an all star cast featuring Living National Treasures Kikugoro as Chobei and Shikan as Okoma, the mistress of the Kadoebi brothel."
In conclusion, it was not nearly so bad as Dave Berry suggests in his article,
"Somebody Stab Him Again,"
which is much more entertaining than this post and made me laugh so hard I cried.