It's our one-week anniversary with Japan. We've gone through lows (what are we doing here, it's nothing like I expected, I will never have friends, I'll be lonely and camera-less forever) and highs (LOVE IT!! Live off base with a view of Hoo-ji San, pay with yen, greet everyone with OHIO! or whatever!) already, which our ICR—Intercultural Relations—class taught us is normal.
However, I received this:
"A Ransom Note—Thought you'd take some nice photos here, eh? WRONG!! We're holding all photos hostage until some point in the future, so take a-that. In return, we want you to promise not to photograph every. little. thing. anymore. Nine gigs of photos in less than one year is more than any camera should have to endure. If this warning goes ignored you may expect this camera's suicide note."

I used Mum's good idea of having the credit card people send us a copy of the camera's purchase. The one-year warranty would have expired November 14, the mailed copy wouldn't have gotten here in time, and all our receipts are somewhere in our main shipment, so this was the only way to have Sony pay for the repair! Thanks Mom! I turned it in and they sent it off and will call in two weeks to tell me whether it's covered. Part of me is really annoyed that a $350 camera stopped working in less than a year, but it has been through three continents, 13 flights including three trans-oceanic flights, eight-ish countries and multiple weddings in that time. Not bad.
Chris and I have been in class all week. Tomorrow is our field trip, and it would break my heart to come back empty-camera-ed. 🙁 So Chris pointed out that before he deploys we were planning on getting him a camera compatible with mine (to share data cards, which can slide into my computer like mini-disks so we don't need downloading cables), so tonight we bought the one we've been eyeing.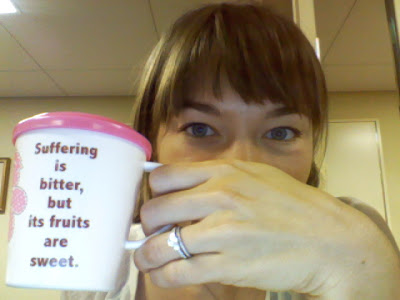 Then we went to Grandberry Mall (3-4-1, Tsuruma, Machida-shi, Tokyo, 042-795-0109) with a family who was stationed here from 1999-2002 and are back for a second tour. We had dinner at Garlic Joes and I bought this very fitting above cup at The Compleate Kitchen (yes, spelled like that).