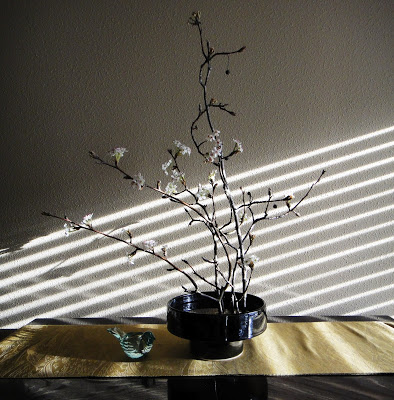 "Home is a refuge not only from the world, but a refuge from my worries, my troubles, my concerns. I like beautiful things around me. I like to be beautiful because it delights my eyes and my soul is lifted up."
~Maya Angelou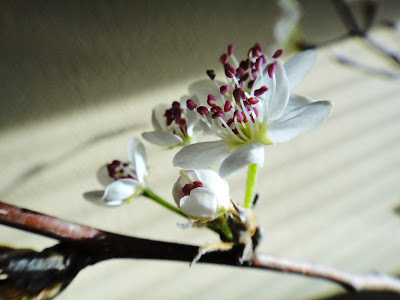 I did not decorate for Valentine's Day. Adding seasonal decor to the unpacking in process was too much. But now that the house is coming together and we've had days and days of sunny, warm weather, I started longing for pink, for flowers, for Easter. I wanted some cherry blossom branches. On our way home from Isaac's immunization shots (this time only one of us cried) we pulled into an out of business gas station I'd scoped out for branches in bloom. Back home, Isaac nose-dived into an early bedtime, Chris studied, and I arranged the branches on top of the bar near the window, out of reach of the kitties.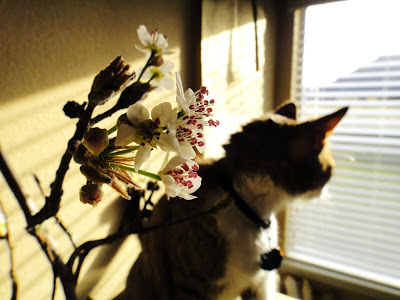 Wrong. Oh well.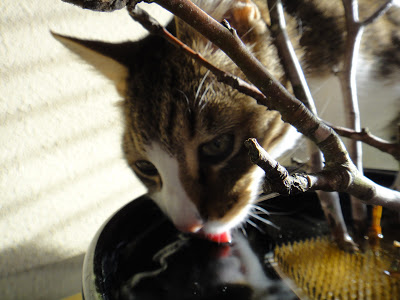 This spring feels like a steady, slow inhalation. We have room to breathe here. Time to breathe. Time to play outside in the grass in the sunshine. Time to go on unhurried strolls around the neighborhood. Time to be home for naps instead of making Isaac nap on the go all the time. Time to anticipate Easter. Chris and I are observing Lent and following a reading plan designed to prepare our hearts for Easter Sunday.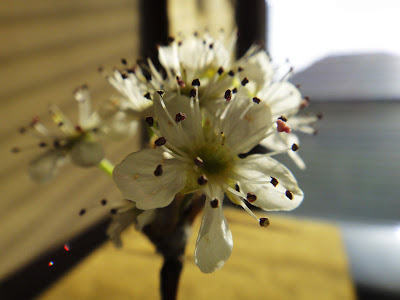 In Japan at this time of year I just loooooooooooooooooooonged for spring. I'm not used to cold or sleet. I felt desperate for warmth and light. Now, with azaleas everywhere popping into bold fuchsia and plum and magenta, I feel like I'm soaking up three years' worth of spring. And I just can't wait for Easter!
Spring = cherry blossoms = tea. The dining room etagere now displays a tea whisk and cherry bark scoop rest, cherry blossom incense, butterfly handled teacup, tea box, and teapot. Delightful!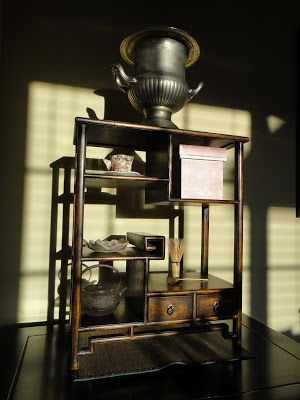 "Love and scandal are the best sweeteners of tea."
~Henry Fielding (1707-54)
Also delightful: Isaac in his Superman cape! This is one mellow, happy little five month old. He is in the 40th percentile for weight and the 90th percentile for height. That is a tall, skinny baby!! He's got lots of blond hair, a strong little grip, and giggles for all occasions. He laughed throughout his checkup. He laughed for the immunization ladies. He screamed briefly for each shot (three!), but stopped as soon as they handed him back to me. On our way out, with little tears in his eyes, he giggled for the immunization ladies again. "It's always good to hear babies giggling on their way out of that room," said a corpsman in the hallway. Isaac's leg bled into my hand, making me feel a momentarily dizzy until I reminded myself that it will no doubt NOT be the last time I see Isaac's blood and to buck up. I put him in my Batik Boutique sling and he promptly fell asleep.
All day every day this week: BANG BANG BANG! They poured the foundation next door, are working on two house frames, and chainsawed off branches two doors down. It's annoying at 6:30am, but by afternoon the cacophony blends with the distant buzzing of helicopters on their way to Spencer Field and turns into a sleepy drone.
Isaac at 5 mo.
Despite their fast progress, life here in Pace, Florida remains comfortably slow.