John Kohlenberger's NIV Integrated Study Bible is arranged chronologically with a timeline at the bottom of each page. It's like reading the daily news coverage on BBC, MSNBC and Fox News all at once—it's a multifaceted view of each event on the same page.
In the Old Testament, passages from, say, Deuteronomy and Leviticus run next to each other. All four Gospels ride side-by-side sometimes in the New Testament. Things get really exciting in Acts and the Epistles, because conceptual parallels are also presented together.
For this review I read through Ephesians, which sits between Acts 28 and Colossians 1. Context makes it obvious that Paul is writing letters under house arrest in Rome. Ephesians 5 discusses household/work relationships alongside verses from Colossians 3, Titus 2, 1 Peter 3, and 1 Corinthians 7 (these supplemental verse headings are in gray).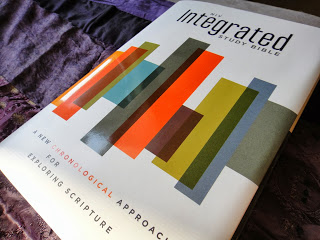 I was so excited to see this format that I stayed up past midnight to request a free review copy the moment it was available, despite the cheesy 70s cover. WORTH IT! The cover is better than I expected, and overall presentation is good, although some of the heading fonts are blog-ish.
I took it to a Bible study of Luke 1. Surprise, Luke 1 appears right after Malachi. I LOVE the timeline feature. I've previously read through the Bible chronologically with a smart phone app. The NIV Integrated Study Bible timeline gives a better sense of historic placement and time progression. The conceptual parallels feature is really fantastic, like the multidimensional news coverage again. It would be so hard to design this Bible! I'm so glad someone did!