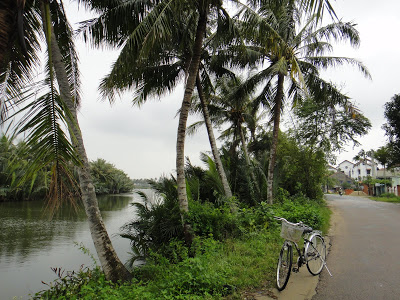 It's not like this was our first rainy day in Vietnam, but it was certainly the rainy-est. We'd hoped to have one day to zen out on the beach—a beautiful, exotic beach—like we haven't done since we moved to Asia. But it rained pretty much every day we were in Vietnam; Cambodia was our only sunshine. At least it didn't only rain on the day we had for the beach; it had been rainy for days and rain extended as far as the foreseeable forecast.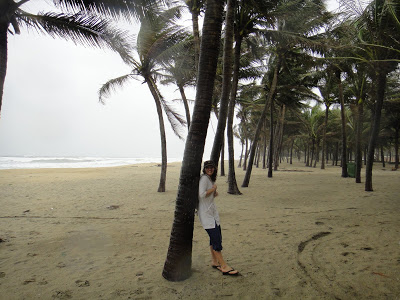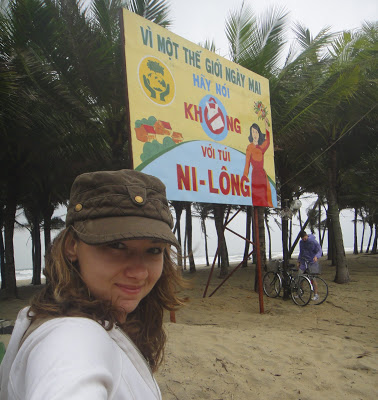 We rode bikes to the beach anyway. A misty wind whipped off the ocean, snapping my hair around my face and my skirt around my knees. I found some nice seashells (my favorite!), then we walked along the wave-tossed shore before escaping into a seaside cafe for lunch with a nice view of the grinding surf and stormy sky. I had beef sauteed in lemongrass and chili with Vietnamese 333 beer; Chris had fried rice with a banana smoothie.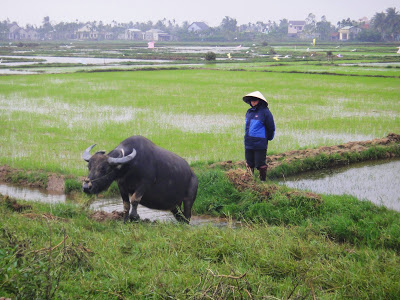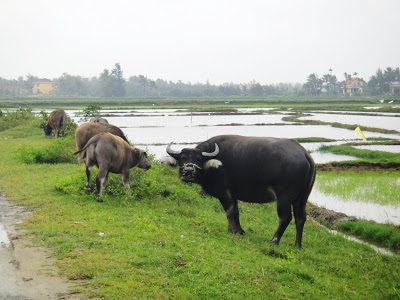 The rain let up on the way back, so we detoured through some rice paddies. "Why are we going this way?" Chris asked. "We're exploring," I said. "I have to make sure you have fun…and I want to find some water buffalo!" So we peddled along flooded rice fields, then bingo! Water buffalo ahead on the right! "There's even a guy in a hat for ya!" hollered Chris. I dismounted and crept forward for a nice shot. Then the wind picked up, flapping my long navy skirt again, and the biggest buffalo swung her massive head around, ears spread wide, and stared at me stiffly and aggressively. She took a few challenging steps toward me. I grabbed my skirt hem, froze, looked at the ground and backed away. I hadn't seen the little buffalo. Clearly this beast is a mom. Ooooops…can water buffalo smell fear? The buffalo herder looked non-plussed and did not come to my aid.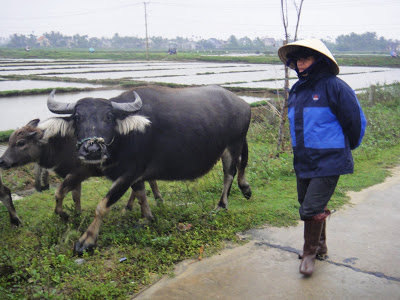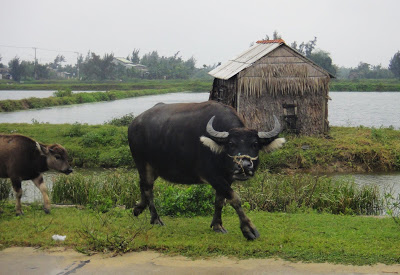 Back to Old Town Hoi An for our final tailor-fittings (another benefit of the all-day rain). We had wine at the
Marble Bar (98 Le Loi St., Old Town Hoi An, Vietnam)
while the
Thuong Gia Tailor Shop (41 Nguyen Thai Hoc St., Hoi An, Vietnam)
made our last alterations. A fine evening! We walked along the river, lanterns, shops, tourists…. It's so cute, but seems so contrived. There are no Vietnamese out for a stroll, only hurrying to or from shops serving (mostly Australian) foreigners. I guess the value of vacationing here lies in a cute, historical town near a nice beach and some iconic rice paddies with roaming water buffalo herds rather than 'authenticity.' But seriously, who would buy an expensive plane ticket to live authentically Vietnamese? Throw your TP in a bin, flush with a bucket, live under rusting corrugated tin, have your kids only attend half-days of school, push your way to the front of every line and have the communist government tell you how you're going to serve foreigners…now that's authentic!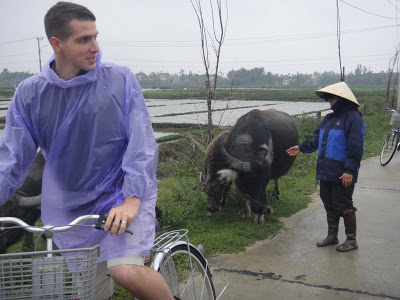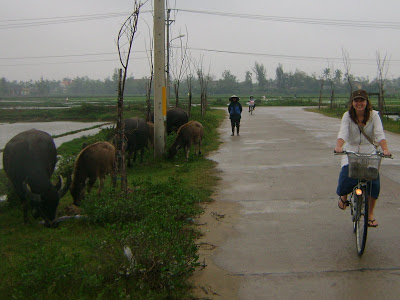 Anyway, Chris likes his new three-piece suit and I LOVE my new dress, shirt and jacket! So as un-authentic as Hoi An was, it was definitely charming. Except for that mad buffalo!