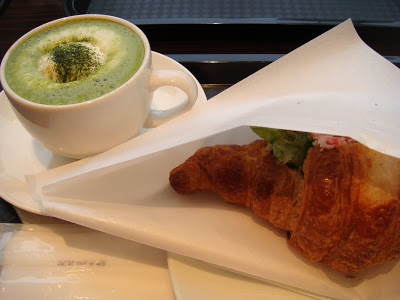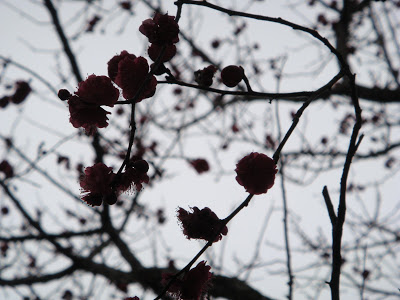 Sadly, my friend Nancy is about to move away. Happily, that means she's not working anymore so we had time to venture around with our friend Megan Monday. We started off shopping the Machida Shrine Sale under the February plum blossoms, followed by lunch of a green tea kinako or something and an avocado-crab croissant sandwich at the Croissant Cafe where Nancy and I ate after a shrine sale last spring.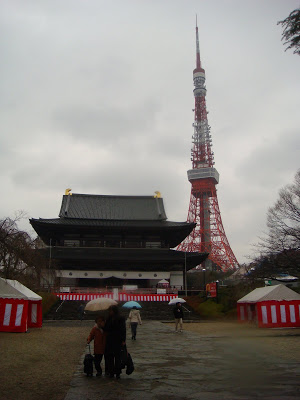 Then it was on to Tokyo Tower and Zojoji Temple (built: 1393). President Grant planted a Himalayan Cedar within the temple gates in 1879 that grows there to this day!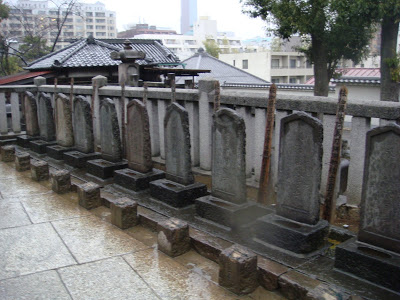 Finally we visited our main goal: Sengakuji—The Temple of the 47 Ronin! I saw a Kabuki performance based on this very famous story: Lord Kira Hozukenosuke was kind of a jerk. He repeatedly provoked Lord Asano Takuminokami for no reason. Asano finally had enough and drew his sword, attacking Kira within Edo Castle!! Kira was wounded, but not killed. Unfortunately, attacking someone in anger and drawing your sword in Edo Castle were both crimes, so Asano was forced to commit seppuku (ritual belly-slitting). Both parties were supposed to be punished according to law, yet Kira got off scott free, AND Asano's family were removed from power in a way that left his 47 samurai officially leaderless, demoting them to Ronin (masterless samurai). Surprise, they were stewed about this and started to plot. A year and a half later, on December 14, 1702, the 47 ronin followed Oishi Kuranosuke to avenge their master and kill Lord Kita in his mansion! They cut off his head and carried it to Sengakuji Temple, where they washed it in a well. And for this victory, they were all sentenced to commit ritual suicide. An honorable death! Their graves can be visited at Sengakuji Temple today.