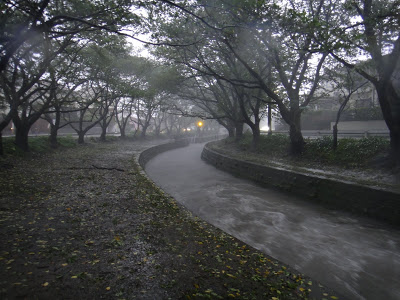 I scampered around the river checking the water level at 4:30pm Wednesday, about an hour before Typhoon Roke's strongest point hit us. The flood warning lights were flashing, the stairwells were partially submerged, and what's normally a peaceful waterfall gushed torrents of water. But what most impressed me was the noise. We live less than a mile from the southern end of the flight line, so we often get deafening pre-take off jet noise. Our house is at the foot of an embankment, so I'd hear what I first thought was jet noise, only to see rain, leaves and debris come swooshing down the hill toward me. The wind roared its approach anew with each gust. That's when I went back inside.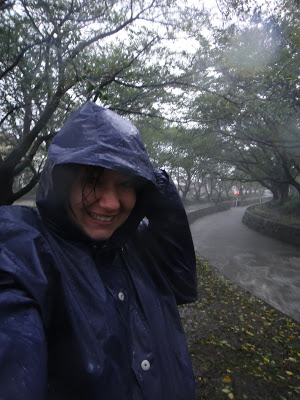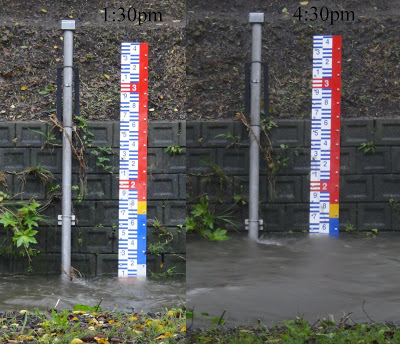 Three hours earlier, Chris and I had gone down to the river to see the fuss. I've never seen the water level elevated enough to be measured before, but at 1:30pm it was already climbing. By 4:30pm, it had again risen substantially. The storm peaked with raging gusts and power outages around 6pm, and after that the wind died down and rain tapped gently over the mess of broken pots, downed poles and tree pieces littering the ground.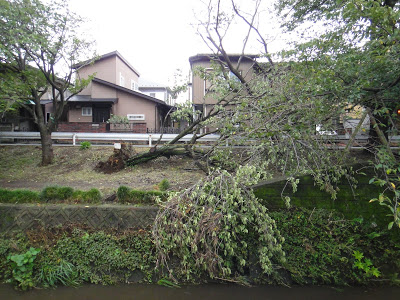 By 9pm the sky was clear, the night was hot and humid, and we took a nice long breezy walk along the river. We counted more than a half-dozen toppled cherry trees, threw sticks in the river, and watched emergency crews secure loosened power lines. "I wonder if the fish are ok," Chris said at the point in the river where they usually swarm. The next day I saw several koi further down the river working their way back up. And all the ducks were back, too.