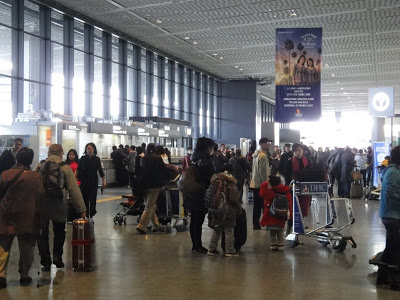 This is the least crowded Narita was all day. I started my day at 3:15am. I was no longer trying to think of last-minute items to pack; I had no room in my very heavy suitcase already. I'm good at packing for trips usually, but this wasn't packing for a trip. I wasn't really sure what—or how long—I was packing for, so every time I opened my suitcase I just stared into it blankly. Consequently, it was way too heavy and overstuffed. I cleaned out the fridge. I scooped Mouse up from his snuggie and deposited him in the cat carrier before he woke up. I dug Pounce out from under the down blankets on the bed and cradled him downstairs, but he woke up when I tried to put him in the carrier. He fought and meowed pitifully. "It's only going to get worse, kitties," I whispered, carrying them out to the dark morning and the waiting car. The orange moon set slowly on the horizon.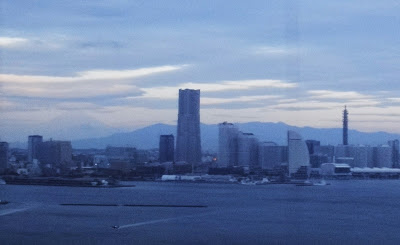 I dropped the litter box in the trash—the cats won't be coming back. I met Nicole and her husband at Chris' squadron so we could leave him the car. The kitties mewed as we drove around the flight line to the bus stop. An American in uniform checked names off a list. I put my bag on, then tried to load my cats. A Japanese helping with loading lifted the blanket disguise I had draped over the cat carrier. "What is this? Pets! No no! No pets!" he said loudly. The American with the clipboard looked up: "We don't allow pets on the shuttle." Nicole's husband, helpfully in his flight suit and looking very official, said, "Can't you make an exception, just this once?" "Who has pets?" asked Mr. Clipboard. Another girl and I raised our hands. "Get her bag off. I need you to wait over there," he said. Great.
After everyone was checked on, he came over and gave us a lecture, but citing special circumstances and refusing to cart us back if the airlines wouldn't take the pets, he let us on. We even got our own bus! That is the part of the day I was most worried about—I had called and asked if they allowed pets. They told me no. But the shuttle drops us off right in front of the wheelie carts in the departure lounge. Taking the train would require carting my 60-pound bag, an ungainly 30+pound cat transferer, my laptop and important documents (wills, birth certificates, medical records, cat records), plus my carry-on bag all the way across Yokohama Station and Narita Airport. Physically: impossible. Sheesh, I'm not even supposed to lift over 30 pounds! Anyway, I've been a little worried about the logistics of getting to the airport for that reason and had been praying no one would notice or care about the cats. Not only did they allow us on, but we got our own bus!
We passed Yokohama in the dim twilight before dawn. A translucent Mt. Fuji shimmered in the background, waving goodbye. We stopped briefly at a rest stop where at least a hundred cars queued for gas. We took a different route to Narita Airport than usual; many overpasses around Tokyo are still closed. We arrive a little after 8am and found the check-in counter. It didn't open until 10am, so Nicole and I had Sakura lattes and cake pops at Starbucks. The airport was packed with people who had spent the night waiting for standby flights. More foreigners than usual, but we were still far outnumbered by Japanese.
We got in the check-in line around 9:30am and it soon started moving. After 30 minutes in line, we hogged a check-in counter for an hour. She checked my bag; it was overweight and every flight was fully-booked, so I had to transfer 10 pounds to my carry-on. Groan. Then she charged double for the cats. I explained what the guy on the phone said. She called over her manager and the price was resolved—just $200 for both cats in one carrier on Delta!!—but now they had a problem with both cats being in the same carrier. "Only one mother and baby," she said. "The man on the phone said one person, one carrier, but two cats, same size, ok," I said. "One dog, one cat—no, but two cats, same size, ok." The manager explained this was not allowed, but given the special circumstances, she would allow it.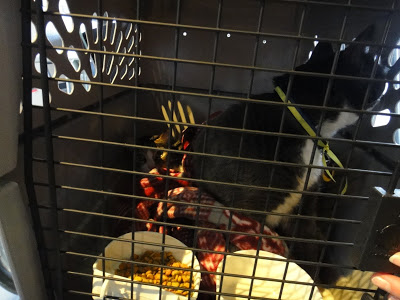 Japan is Japan because everyone follows the rules. Same with the military. No exceptions. Two exceptions in one day? I was very thankful, but a little disoriented. If the Japanese and the military will make exceptions like this, we must really have a situation. Not necessarily with the radiation per se, but at least a situation with the mass exodus of millions. A man wheeled the cats away. It was 11am; I'd been up nearly eight hours already. Ugh. Nicole and I hugged goodbye—that woman deserves a medal for promising to help me with the cats whether we made it on the shuttle or had to take the train!!! I don't know what I would have done without her!! Thanks, Nicole!!—then I proceeded through security and immigration. We took off late. Insert unending 12-hour flight to Minneapolis.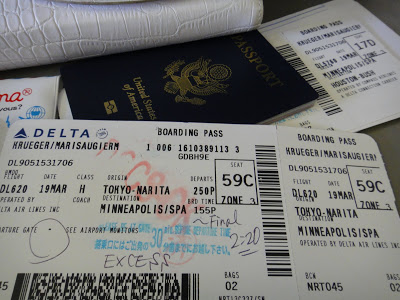 This is where the trouble starts. I only had an hour and fifteen minutes to catch my connection, and our flight arrived 15 minutes late. A million people sifted through immigration. While waiting for my bag I asked a customs guy, "Tokyo said do not collect my cats here, only in Houston, but I just want to double-check." "Whoa, you absolutely need to pick up your cats here," he said. "That might be them over there." He took my passport, fixed my customs declaration form and rescued the kitties from the other side of the immigration barrier. I collected my bag and the cats, then had to go through cat customs. They rechecked the cats' paperwork and confiscated the dry cat food, but the canned cat food was made in the USA, so it passed. In the next area, I rechecked my bag but had to do an entire cat inspection, removing both cats from the kennel so it could be inspected, then both cats had to be briefly checked.
Then I had to wait in a really long security line. The difference between most flights and this one was the number of babies and small children—of course they're evacuating first. So it's 4am Tokyo time and all the parents are having to lift sleeping kids out of their strollers to go through the metal detector. Chaos. I ran to my gate at the furthest end of the terminal. My 10-pounds-heavier carry-on gave me a terrifically painful bruise, and when I got there the flight was gone. Not closed—gone. I got there five minutes after departure, but we left Tokyo late for people slow getting through immigration. Later I found out the flight actually left early. Thanks for nothing!
I couldn't sleep much on the plane and I've been up now for 24 hours, after just two hours of sleep the night before. All day I thought, "It's ok, in X hours, this will be over and everything will be ok." The uncertainty of the nuclear plant, the tragedy of the earthquake and tsunami, Chris departing for the north, a week of not much sleep and bad news, not knowing when or if I'll go home, the complete upheaval of everything Chris and I had planned for the spring—I'd been handling it pretty well. But the plane leaving early—really? That's why I paid $1,000 to buy a ticket instead of waiting for the military evacuation: so I wouldn't arrive in the States without a way to Houston. One tear leaked out, followed by another.
I walked all the way back down the Terminal of Defeat, keeping my face composed and hoping my silent tears were also invisible. I explained my situation to the lady at the help desk. She was very sympathetic, but that was the last flight to Houston. All flights connecting to Houston were also full. "I can get you a hotel room and you can take the first flight out in the morning," she said. I told her I didn't have a litter box for the cats, and she nodded. "Is there anywhere else you could fly into?" There was a flight to Austin. She called someone about re-booking the flight and I heard her whispering into the phone, "She just left Tokyo—she's a little traumatized." "I'm sorry," I said. "I'm not trying to be dramatic, I just haven't slept." She nodded and made some calls to check on the cats. She was very kind.
However, my bag also missed the flight was automatically rerouted to Houston through Atlanta. Another flight, another city. My sister, Hannah, and her husband, Justin, bought a car in California and were driving it home this weekend. They only had to wait 20 minutes in Austin (and 10 minutes of that was my flight being late). We collected the cats. I tried to file a baggage claim, but the guy said it was impossible because I voluntarily changed destinations. I explained that's not really what happened. He said the Houston people might deliver the bag, but it would be up to them. They later said he needed to give me a baggage claim number for them to do it.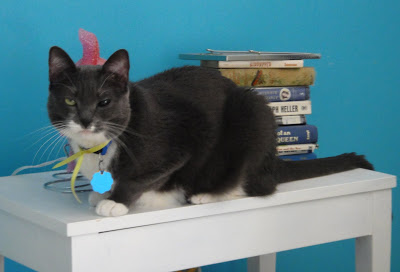 So Han, Justin and I drove home on a thin highway cutting through sunlit cow pastures and fields of wild bluebonnets. My parents' exit is so much more developed than it was last time I was home (18 months ago) that I almost didn't recognize it. A fine reunion, and the kitties quickly settled into my old room with me. I am jet lagged like crazy, but we picked up my bag today at the Houston airport and I am unpacked. My flight might even get reimbursed since it's a government-issued 'voluntary departure'! So far, we're told to expect to spend at least 30 days in our 'safe haven' of choice.
Some of the nuclear reactors are under control, some are still high-pressure; higher than legal levels of iodine are showing up on some spinach and milk up to 65 miles from the plants. Iodine and cesium have been found in Tokyo's tap water.
I had a dream I was searching for a safe place to be far from danger and protect the bean; I woke up and remembered I was in Texas. I slept peacefully the rest of the night.