The Pearl Queen sailed Chris and me around some of the 208 islands called Kujukushima in Sasebo's Saikai National Park. We glided in and out of tiny inlets with mountains rising out of the sea in all directions.

Floating nets of oysters working on their cultured pearls dotted the water, suggesting the name for the Saikai Pearl Sea Resort boardwalk where canoes are available in better weather. I've never seen anything like this place.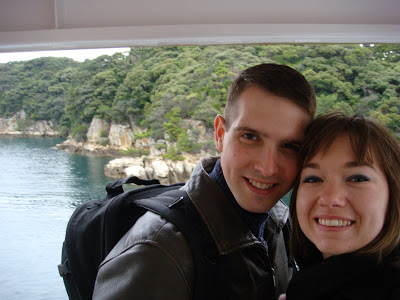 Shop ladies at the boardwalk offered us samples of the regional specialty—a sweet peanut cracker (cookie?)—and I bought a bag for my English class. Chris and I ate ours on the back of the boat while watching rock wall after rock wall tower over the boat and plunge deep into the azure bay.