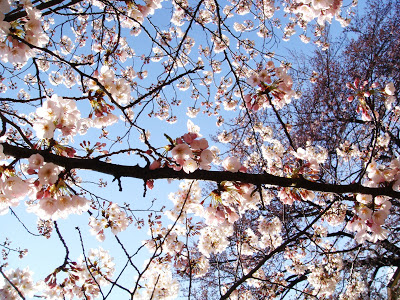 Shikishima no
Yamato-gokoro wo
Hito towaba,
Asa-hi ni niou
Yama-zakura-bana!
"If one should enquire of you concerning the spirit of a true Japanese, point to the wild-cherry-blossom shining in the sun." –Motoori Norinaga (1730-1801), Japanese Poet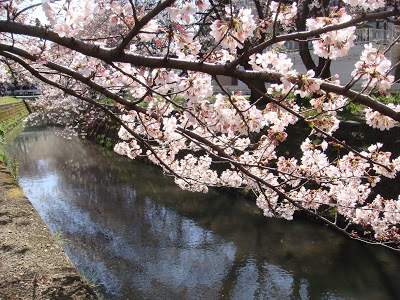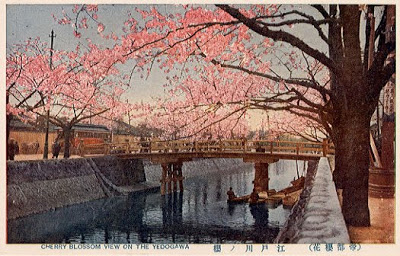 I love this poem, which I featured in one of my cherry blossom blog posts our first spring in Japan (all these sakura pictures are from 2009). I think its especially applicable now as sakura trees bloom over a strong and composed people, across a Japan that's endured more than 800 earthquakes and one killer tsunami in the last month.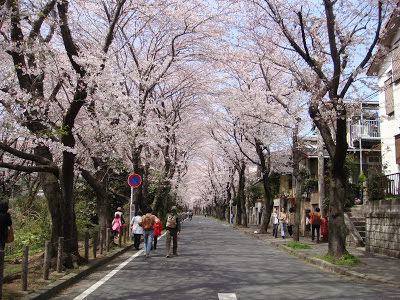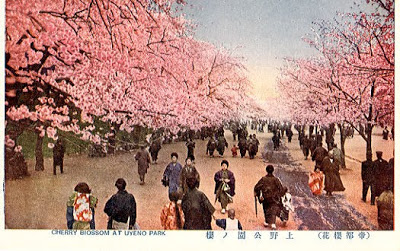 Chris is now back in our home along the Hikichigawa, the most beautiful place in Japan. He's continuing to work crazy hours (there's yet to be a day since the earthquake where he hasn't gone in to work, and yes, it's Saturday there now), but he said the Road of a Thousand Blossoms has in fact started to puff out in cherry blossom beauty. My life was in Japan for now (church, friends, job, Chris' job, home), but my future is elsewhere (baby, the house we'll buy this fall, next duty station, the rest of our lives).
I'm thankful to be in Texas away from the power outages, continued shaking, and uncertainty about what any possible/potential radiation in my off-base Japanese tap water might do to harm the Bean. I'm happy to have held my new nephews, who are just a few weeks and months old. It's so fun to have leisurely dinners with my parents and maternity clothes shopping trips with my sister.
But Japan is always on my mind and heart, and selfishly I'm sad that Chris was in Misawa and I was in Texas for the fun Tokyo hanami weekend I planned seven months ago—complete with hotel and dinner reservations that were canceled when the voluntary departure was issued.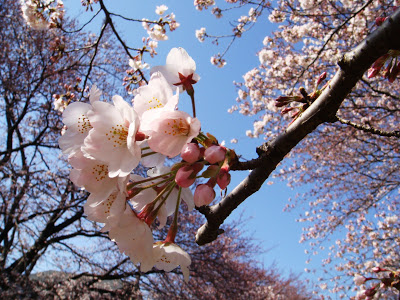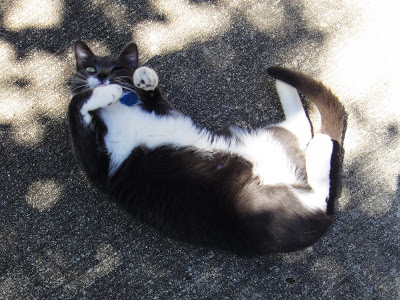 Meanwhile, the cats are loving Texas. Mouse likes rolling outside; Pounce likes afternoon nap time. A week from now, someone will determine whether the departure will be lifted. If that happens, Chris and I will have to decide where to go from here. He asked me to leave before the departure was announced, so its being lifted isn't our own criteria for returning.
"This is a society, remember, that has never experienced a popular grassroots revolution in its history. The result is that less cultural value is placed on fairness and social justice, more on personal perseverance and knuckling under — even if that means the environment gets poisoned and people die, either as volunteer fire department heroes or as silent victims after long-term radiation exposure. Afterward, we'll salute and mourn those who sacrificed themselves for the system, feeling sad for them but grateful that it didn't happen to us. It's a cost of living in Japan.
One would hope that Fukushima would occasion review and reform. But I doubt it will. Fukushima has illuminated how the biggest problems facing Japan will not get fixed — because the public cannot or will not force the state to take responsibility for its mistakes. Ultimately, this is what breeds Japan's undying fatalism."