Getting soused with sun and chlorine at the pool and playing Super Nintendo all afternoon—most noble of elementary school summer traditions—merited a full afternoon last week. Chris and I beat a couple of worlds in Super Mario World, then he played Starfox while I finished another James Bond book. Then I wanted some attention, so I lay down a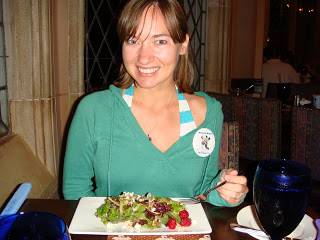 nd tried to look dead-ish, arms crossed over my heart, like Sleeping Beauty, and told Chris he had to wake me up with a kiss. I heard odd, heavy, thumping noises so I open my eyes and he's trying to make it sound like he'd gotten up in order to discover Princess Mari…without having to sit up from his Starfox-recline. I sent him out of the room and told him to quit being Prince Lazy and go get his sword. Prince Chris returned with his Texas A&M Saber, stood at attention, presented arms, then stabbed himself in the foot. There's a reason they don't make those very sharp. Anyway, Chris disappeared again and returned with his plastic sword from Cinderella's Royal Table, which he dropped on my face in his enthusiasm to raspberry my stomach. I hate that! Pleased that he is so very funny, he finally gave me a kiss. Boys never play along right!
As Mari Queen of Everything (or was that Boss of Everything? Daddy?) I made a knock-off of my first course at Cinderella's Royal Table. I had Castle Salad, and am calling my home-at-the-palace version 'Sandcastle Salad,' and it is delicious.
Toss baby spinach with cranberry-raspberry balsamic vinaigrette and top with chopped walnuts, blueberries and crumbles of blue cheese. Drizzle with honey. Yum! Easy as pie, and fit for royalty.