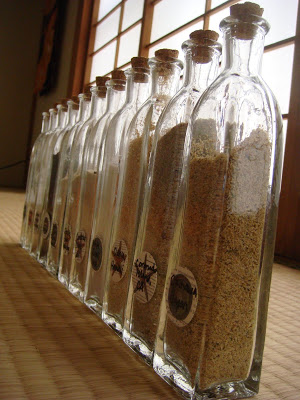 Here's what I like: seashells, maps, September, consistency. And now, introducing…my sand collection! Regrettably, my sand collection is incomplete. This is all my own fault. For the longest time I made a conscious decision to NOT collect sand. "Then I'll have to do it everywhere and it will be a 'thing,'" I thought. "I can't be bothered." Mainly, I couldn't think of a chic way to display sand, so while standing on foreign shores I'd look out across the beach and think, "Nope, not taking this with me."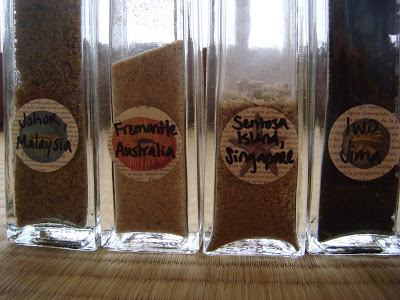 Then I started depositing Pensacola shells into a tiny cork-topped honey bottle. Soon afterwards I discovered these similar bottles at a craft store and I've been kicking myself ever since. Do I have sand from the Sahara where it touches the Pyramids of Giza? From Alexandria? From the shores around the White Cliffs of Dover? From Galveston Island, Texas? From the Red Sea? The secluded cove in the Bahamas where Chris asked me to marry him? No. But I do have sand from Malaysia, both coasts of Australia, and the Southernmost tip of Continental Asia.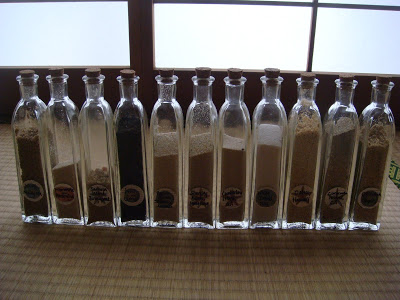 And Iwo Jima! I was pulling my suitcase along the road in Okinawa, Japan last March as I attempted to Space A myself through Hawaii to San Diego. A beat up old car pulled over and a nice guy who was maybe 19 poked his head out the window. "Need a ride?" I accepted (we were on a military base. Not so dangerous). En route to Chilis I asked if he knew where I could find some sand. "What, do you have a sand collection?" he asked. "Uh…maybe," I said. We arrived at Chilis and he pulled my suitcase out of the back, then said, "I just got back from Iwo Jima yesterday and my buddy told me to bring him some sand. Do you want some?" "Seriously? Yes!" "Ok, do you have a baggie or something?" I always travel with baggies, especially when I'm looking for sand (they're also good for packaging your own leftovers, which a lot of restaurants won't do). Score!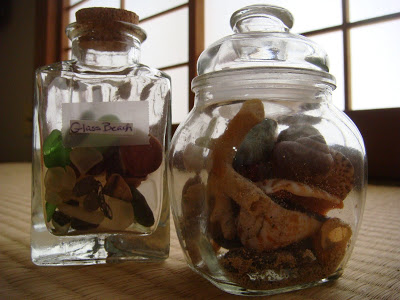 I mainly just have sand from places without interesting seashells. Costa Rica, Spain and the Bahamas are represented by little jars of shells. This is how it all started, actually. My grandmarm gave me a Beach Ball for my birthday when I was little. I would hold it in my hand, turning it over and over to watch the sand play over the tiny shells inside. Now I'm making my own! Special thanks to my mom, who sent me this jar of sea glass from Glass Beach, California for my birthday in remembrance of our family vacation there one summer.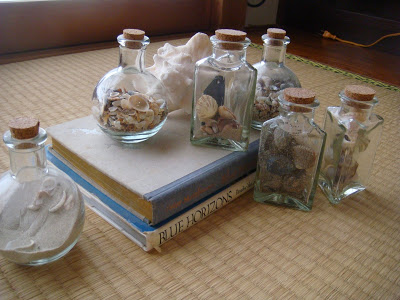 In this same theme is my new 2011 planner, which starts in September 2010 and continues through December 2011. My map and seashell stickers personalized it; I used the same seashell stickers as the sand labels. That was Mary's idea after she saw my planner. Thanks, Mary!