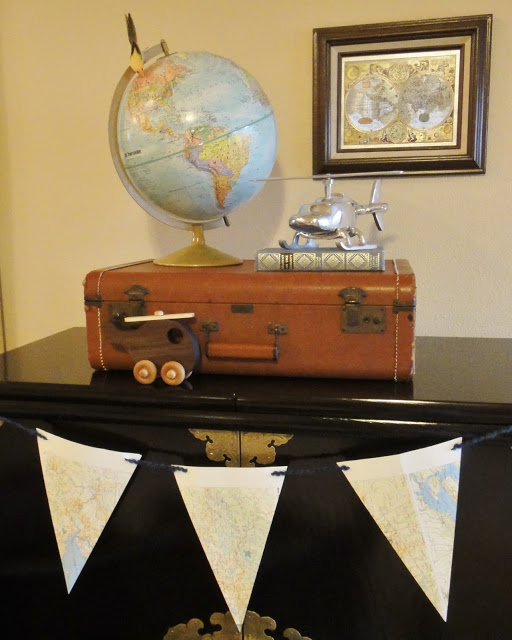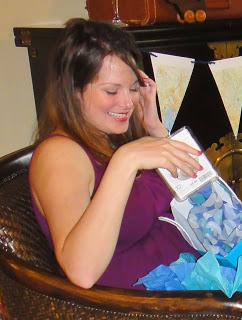 There were presents!
So I hadn't seen my buddy Sarah in over a year, since we left Japan. She and her husband are on their way over for dinner when she TEXTS ME she's having a baby. BOOM! That was months ago.
This weekend, friends from near and far gathered at my house to delight Sarah and share enthusiasm for BABIES! Baby showers used to freak me out! I don't know why! Maybe it's the gross games! Eschewing baby shower games, we opted to have mimosas instead.
Sarah's baby nursery is a sophisticated world traveler theme—slate, navy, black lacquer, bold red. She framed passport stamps, currency, and an antique Japanese kite. Really, she should do a guest blog post about their very chic children's quarters. I want to steal everything in it.
After asking her if I could please, please throw her shower, I panicked about theme. But really the choice was clear—Sarah and I met when we first lived in Pensacola, our husbands fly helicopters, we've hung out across multiple continents, our babies are boys. My baby's room has a similar theme, different colors. So I wanted to do a vintage helicopter travel theme. The only problem: too close to my usual decor? Would people know I decorated?!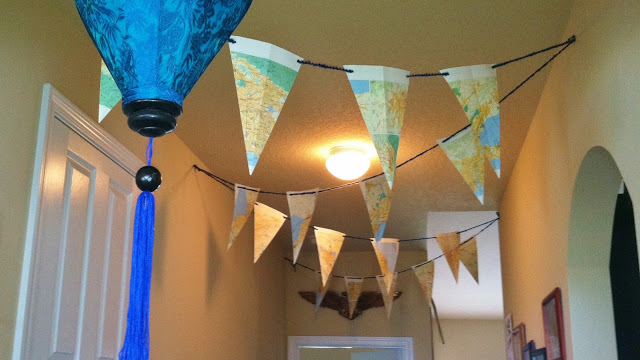 It's for SARAH'S SHOWER!! IT'S NOT ALWAYS LIKE THIS!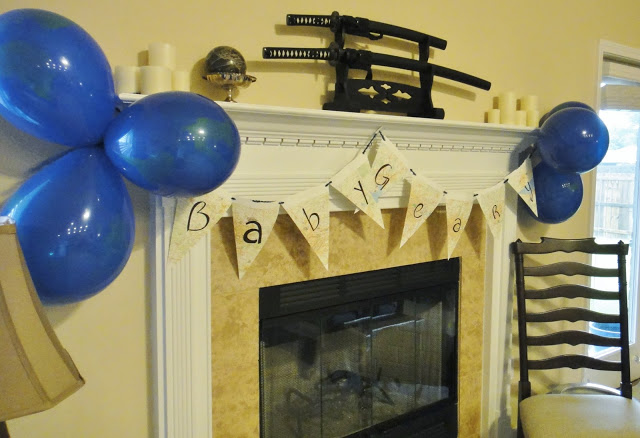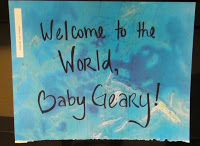 This sign was on the microwave.
It's feels weirdly invasive to blog about someone else's shower, even if it was at my house. The goal of this post is that our friends who would have liked to come can feel like they were there. Also, Sarah said it was alright to blog about it.
So let's walk through it. First of all, it was raining—a steady, calming, downpour. I dashed through the rain to affix blue earth balloons to the mailbox, and more to the door with a "Welcome to the World!" sign.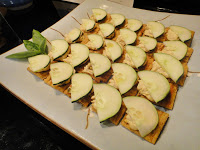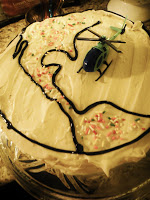 Gel food coloring, not icing. Whoops.
An atlas-page pennant banner zigzagged down the hallway, and more banners swung across the kitchen cabinets and draped across the front of the bar. Now, I am NOT crafty. In fact, aesthetic genius Sibella Court had a similar banner in her inspiring book, "Nomad" and I thought, "JUNKY." Yet it came to mind as I flipped through my 10 cent, 1981 atlas, wondering how I could turn it into baby shower decor. The city maps had such perfect baby boy colors—blue, green, orange. I strung it onto a chunky azure yarn I had sitting around from when I failed to knit it into a scarf. The banner is still up, delighting me daily.
"I didn't know you had so many globes!" Sarah exclaimed.
"I didn't!" I said.
A recent foray into Alyssa's Antique Depot yielded up three vintage globes.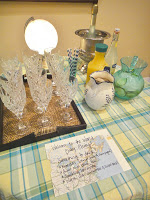 The smallest illuminated the drinks table, holding court over a dozen crystal goblets, a pitcher of sweet mint black tea, mimosa, French lemonade, and cucumber-sweet basil water. Striped paper straws—why? They disintegrate rapidly, but seem to be the thing for showers, so we had them.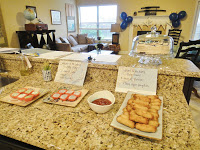 Another globe sat atop a vintage suitcase my mom found at the famous Round Rock, Texas, antique fair a decade ago, alongside a silver helicopter borrowed from my friend Liz. I found a bird in my jewelry box that came on a fruity drink at a Yokohama Hawaiian restaurant (Mary) and affixed it to the globe. Isaac LOVES that.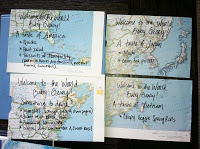 Tastes of three countries welcomed Baby Geary to the world, each listed on a bit of atlas. From America: quiche (thanks Allison!), fruit salad and Triscuits of Tranquility—red onion brown rice triscuits with pine nut humus topped with a cucumber slice. YUM! From Vietnam: crispy veggie spring rolls with a sweet dipping sauce. From Japan: mochi and green tea Pocky.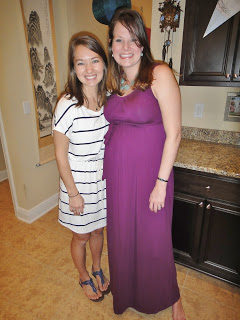 Sarah and me
I went with a dense cake that has lots of Greek yogurt in it, because the layers come out really flat and even, then iced it with a butter-cream cheese icing flavored with a touch of vanilla and caramel chai. I thought we had blue and green decorative gel icing. In fact, I free-handed the Americas onto the cake in gel food coloring. WHOOPS. Hopefully all anyone noticed was the cute helicopter on top. It wasn't very noticeable until we started enjoying it, at which time green and blue coloring appeared everywhere. Hee hee.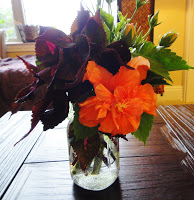 Instead of doing roses or anything, I duplicated a stunning display I'd made by accident a few weeks ago. I picked several hibiscus buds I thought likely to bloom by the next morning and paired their bright green leaves with bold, deep aubergine coleus leaves. I LOVE coleus. It's currently taking over part of our yard that used to be controlled by weeds. At the last minute I tucked in some big caladium leaves too.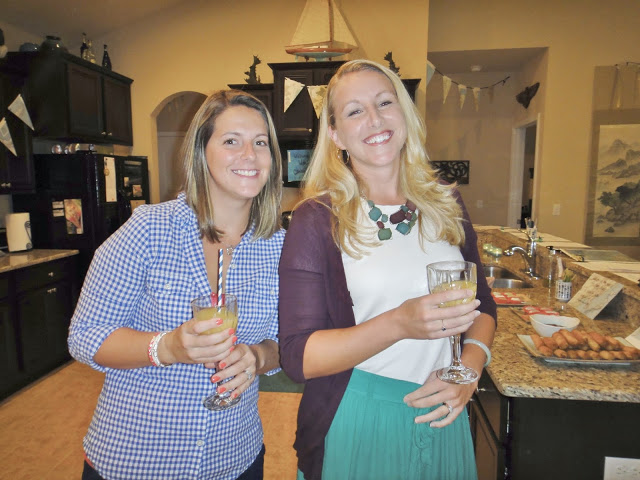 Allison and Tami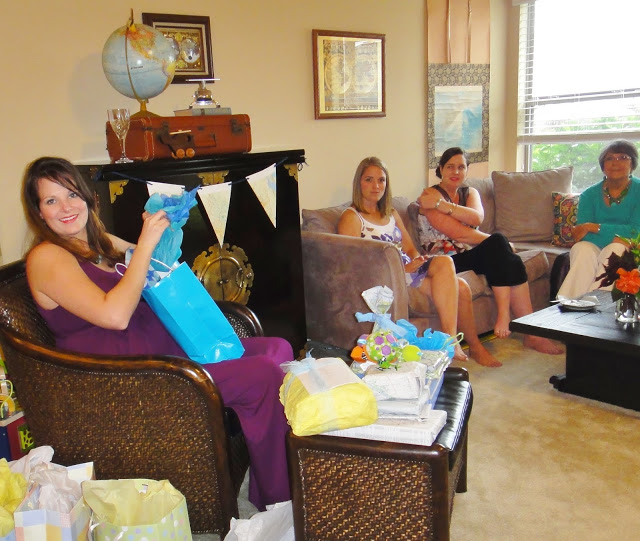 Sarah, Heidi, Liz, Arden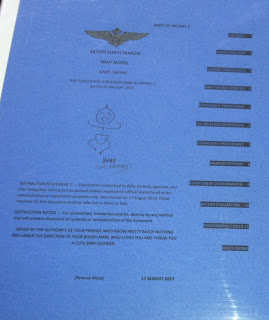 BATOPS
I wanted to find a way to set apart the gathering as a baby shower even though we don't do games. Presents helped, as did the presence of our lovely pregnant Sarah. But since her husband and my husband were both NATOPS (Naval Air Training, Operations, Procedures and Standardization) Officers in their last squadrons, I had another idea: BATOPS.
"Ooo, you know what you should do?" said my husband when I pitched the BABY EMERGENCY PROCEDURES to him a few weeks ago.
"Actually, I was hoping YOU could do that," I said.
Chris turned in his best wisdom for John minutes later.
The morning of the shower, everyone was invited to read the prompts and contribute advice in sections on NORMAL PROCEDURES, INDOCTRINATION, BABY CHARACTERISTICS, WEAPONS SYSTEMS, etc.
Everyone added anecdotes of funny, unhelpful advice strangers have offered, favorite games to play with babies, the value of keeping emergency towels/wipes/diapers/clothes for everyone in the car, and more! I need one of these!
John and Rebekah Butterfield sent in their advice from afar. I hope they don't mind my sharing it here:
"BATOPS publications provide the best available operating instructions for most circumstances, however, no manual can cover every situation or be a substitute for sound judgement. Warning: sound judgement may be compromised by lack of sleep, stress, close proximity to high levels of repetitive noise, breastfeeding, bottle feeding, being pooped/barfed/peed on, trying to use baby fingernail clippers, attempting to swaddle a thrashing infant, attempting to soothe a trashing infant, attempting to diaper a thrashing infant or having a baby in general. Also, toddlers eat their own poop. Read this manual from cover to cover.
UNCOMMANDED FUEL DUMP
Possible indications of impending fuel dump may include: There are no indications of uncommanded fuel dump. Therein lies the problem.
If reflexes and time permit:
1. Close mouth and eyes
2. Cover volatile orifice with burp cloth, towel or hazardous waste bag
Once fuel has been jettisoned:
3. Place child in bath tub
4. As soon as practicable, perform Contaminated Child EP
5. Perform Contaminated clothing, couch, floor, car or husband EP, as required, as many times as required
6. Place child on drop cloth in the middle of floor. It's about to happen again.
NOTE: Fuel dump may jettison from any orifice and may be pre or post-processed.


Nick and Brittany Holman had some more helpful EMERGENCY PROCEDURES (EPs):
Warning: Be prepared for the projectile bodily fluids. If time permits pack multiple outfits for every occasion for both BABY and Parent At Controls (PAC). Parent Not at the Controls (PNAC) may need backup outfit(s) as well.
EP
Mother Lost Her Mind (MLHFM)
Possible indications of MLHFM are not limited to but might be indicated by the following: stress sweats, loss/increase in appetite, yelling or crying for unknown reason, unusual sounds, unkempt appearance, clothes pile above normal limits and/or sexual desire shutdown.
*1. Close Mouth and Listen (CML).
Under no circumstances offer any advise or direction.
*2. Remove child and self from dangerous situation.
*3. Exit Weapon Engagement Zone (WEZ)
4. Go to store and buy large tub of Ben and Jerry Ice Cream.
5. Buy and deliver large bouquet of flowers.
I have very funny friends. Here's excellent advice from Mary Fox:
During NORMAL PROCEDURES: Oh wait, there is no such thing as a normal procedure. You may think this is your chance to relax. You've been there, you've done this, you've got this covered. DO NOT RELAX. MAINTAIN A HIGH STATE OF READINESS. EX: Your four year old may have been peeing in the potty like a champ since she was a two and a half, but this time she races right past the potty and pees in the trash can, instead. You better hope your trash can is ceramic and not a basket. Children inherently take a system that has been perfectly functioning and ruin it. Do not fall for any so-called "NORMAL PROCEDURES." THEY DO NOT EXIST.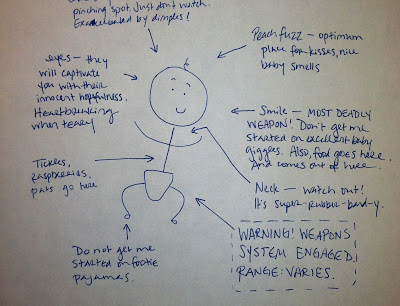 Page 1 — THE BABY

Chris says he had never changed a diaper until we took a baby class where he diapered a doll, so he offered helpful instructions for the first-time diaperer from a now-pro:
C. Dirty Diaper
*1. Guilt other parent into
changing the diaper.
WARNING
– This tactic is recommended only for mothers.
Fathers engaging in this tactic are at risk of it backfiring and
resulting in extra diaper changing, an unhappy wife, and loss of sex.
If unsuccessful or other parent is unavailable:
*2. Pick up baby and place
on changing table.
*3. Remove baby's lower
clothes.
*4. Have fresh diaper and
babywipes on standby.
*5. Unfasten dirty diaper
and fold the top half away from the baby.
*6. With one hand, hold
baby ankles together and away from the dirty diaper. With other hand,
wipe thoroughly the affected areas of the baby.
NOTE –
Multiple wipes are authorized, inventory permitting.
CAUTION –

If subject baby is female, wipe front
to back.
CAUTION –

Baby may inadvertently urinate or
defecate on parent during emergency. If this happens, return to step 1,
and be faster next time.

*7. Remove dirty diaper
from baby, placing used wipes inside the diaper and folding it to prevent
inadvertent waste release. Place diaper in garbage can.
*8. Place new diaper under
baby's bottom, lower the ankles onto the changing table, and then fold the
diaper front over the baby and attach the diaper wings.
*9. Reinstall clothing on
baby, and wash hands.
I did a section on FLIGHTCREW COORDINATION and BATOPS EVALUATION, but this is getting way too long.
What would YOU like to contribute to the BATOPS manual? Like we told Sarah, "Babies don't come with an instruction manual. Oh wait, the Navy issues manuals for everything." I especially liked this project because talking about babies in BATOPS language seemed to be a fun way to get the guys contributing a new perspective to a baby shower.
SO, when planning the morning, I had a clear goal. I thought back to a Santa Baby Party we had shortly before Christmas when they guys had emergency deployed thanks to North Korea. That night, Sarah said, "What a fun party. I just feel so special." Baby shower goal: make her feel special. Verbal report: SUCCESS!! Thanks to everyone who came or contributed!! Congratulations, Sarah and John…we're excited for y'all!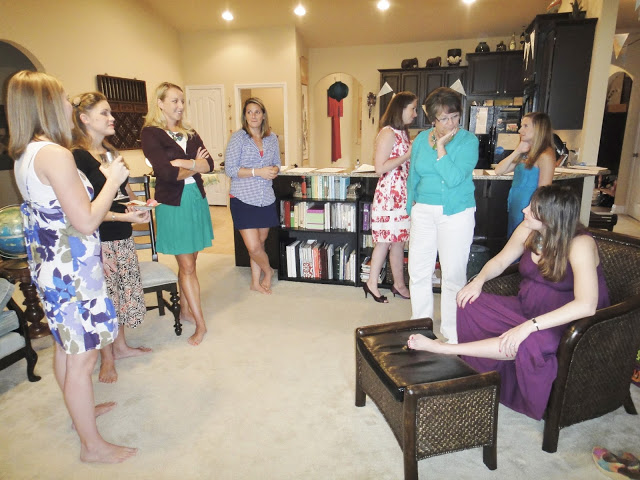 Heidi, Brandy, Tami, Allison, Liz (flew in from Virginia!), Arden, Kristin, Sarah