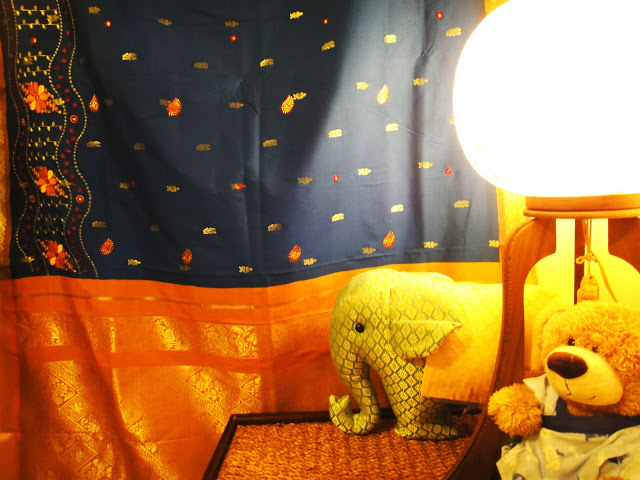 Huge omission! The whole room theme centered on this precious silk elephant from the Bangkok Night Market. He's aqua and gold with a peachy saddle. And the lamp he's next to is a traditional Japanese Obon lantern that symbolically guides you home.
I bought saris in Singapore because Jill and Chrissy did. Jill unfurled yards and yards of glistening silk across her living room, my heart salivated, and I then and there decided, "I want that." My problem is, as previously mentioned, I am not crafty. Jill has probably done something awesome with hers. Mine have been sitting in a box. Until now! I utilized my 'arrange-y' talent and stuffed the corners over part of the blinds, doing my best to drape it in a way that best displays the ornate end. Ta da, curtain!
The nursery trunk, full of toys and things Isaac's not quite old enough for yet, is carved with a pattern of Asian sailboats. I have more Southeast Asian decor options for this room, but didn't want to overcrowd it. A trio of Vietnamese ink paintings, a handmade Thai parrot, more elephants.
And almost everything in the nursery came from family, friends and Warlords. I continue to be blown away by the love that came showering in for Isaac before he even arrived. Every time I start mentioning names, I think, "and I need to add her, and her, and her! But what if I don't mention someone and hurt her feelings?!" So I chickened out of the grand nursery shout out. Sorry. But I hope you got your thank you notes a long time ago, and I still mean it! Thanks!!