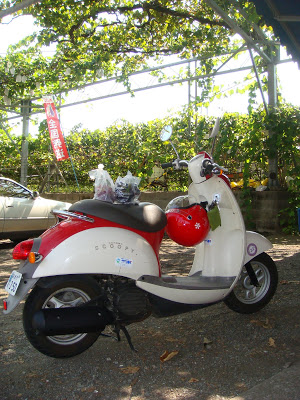 I must repeat it: I love zipping around Japan on the Scoop. The wind tearing by, the smell of a bamboo grove or the river for a fraction of a second, the sunshine on my skin, and the amazing visibility of my helmet instead of a windshield…my love affair with the Scoop continues.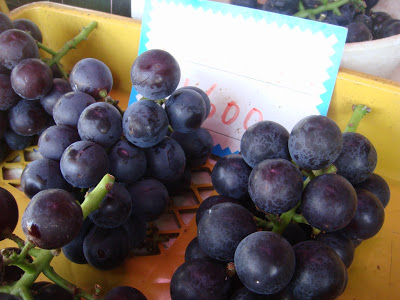 I can see everything! Take today, for instance: after church I decided to take a shortcut from Shonandai through Chogo to Ayase City and Atsugi base. Somewhere between Chogo and Ayase I saw a fluttering flag featuring fresh grapes. (screech of brakes…turn around!)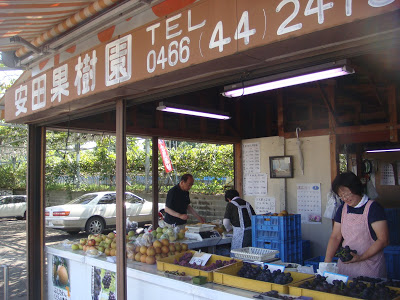 I parked under a lattice of grapevines and approached the produce stand. The only things on the menu were Asian pears, several kinds of expensive grapes, and samples. Sample sample sample MMMMMMmmmmmmm!!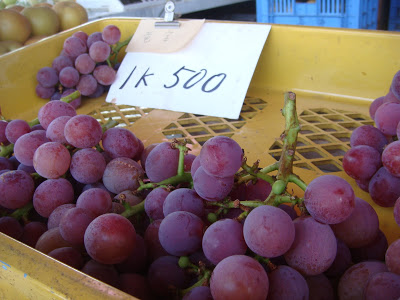 I bought two bunches of grapes that taste like candy (lunch: grapes. dessert: grapes. breakfast: grapes). Chris, while my happiness was great, my joy was not complete. I kept feeling guilty or just sad thinking about how much you LOVE Japanese grapes.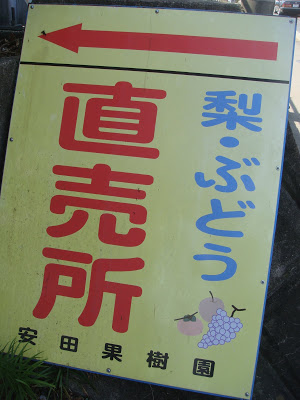 A year ago Chris came home as a front blew in and after a summer of rain he and I spent a warm and sunny September celebrating our birthdays, enjoying Japan and eating enormous, delicious grapes! Now the grapes are again in season but Chris is not here to enjoy them.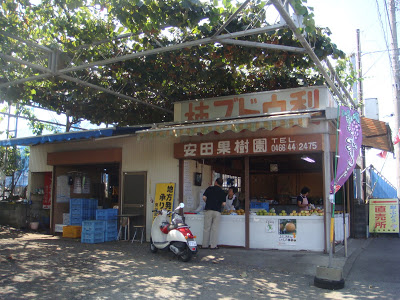 Anyway, the lady thought it was funny that I was taking pictures of grapes. She asked where I was from and I told her. "You don't have grapes in Texas?" she asked. Ha ha. I made a circle with my fingers to show her how big Texas grapes are. Unlike everything else, grapes do not seem to be bigger in Texas. These Japanese grapes are bigger than apricots!
They're sold by the kilo and I thought each bunch would be about one kilo, but no. I picked one bunch of smaller, reddish grapes from the 500 yen/kilo crate and one plum-sized-grapes bunch from the 600 yen/kilo. Each bunch was about the same size. Yet the huge grapes cost more than 1,000 yen (about $12 US) while the reddish grapes—similar jelly flavor—cost just 200 yen. The main difference is the reddish bunch has seeds. Both = delicious!! Chris, I will buy you seedless grapes and put them in the freezer to await your return!!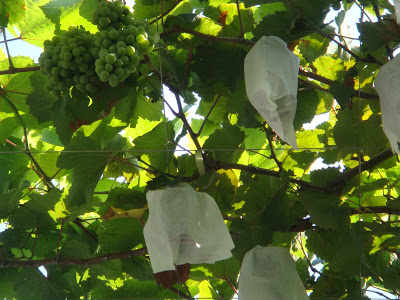 To get there from Atsugi Base, exit the main gate and take an immediate left. At the next light, take another left (away from the Tomei Expressway). Continue along the west side of Atsugi Base. Pass Koryo Park, the West Gate, Yoshinoya, an Enos gas station at 45, and a long cement wall in front of big, pretty pine trees. The road forks but continue on it as it veers slightly right and winds around. You'll go down a hill, under an overpass past a bamboo grove, up a hill past another bamboo grove and through a town with a few shops and konbini. Then (after about 15 or 20 minutes from the front gate) you'll pass two grape stands, one on the left and one on the right. The parking area is shaded with grape vines!