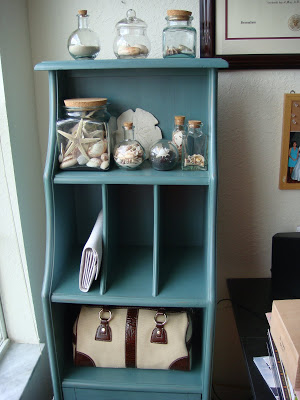 Oh, how my heart swoons and is inspired to poetry by my new Sea Shelf…tall and skinny, perfect for Japanese apartments (Pier One's Emmeline Blue Cafe Shelving).
Secrets and seashells on sunset-sea blue
Sand-dollars, starfish and shells old and new.
My passport and journals in its cabinet
It's perfect and lovely and everything fits!
Whoa, over the top. But it was on sale…could anything be better? I hope Chris lets me keep it. It was a price that warranted getting a stamp of approval, but he was unreachable…oops.
These adorable jars of seashells is something I've always wanted to do but only started doing recently—little seashores from places we've lived or visited. It's in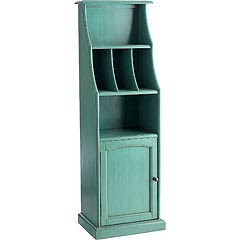 complete, which is dissatisfying, but I'll try to flesh out places I skipped. For example, I did not get any sand from the Bahamas when we got engaged. Dumb! I didn't have a baggie or water bottle or anything to put it in, or forgot, or both. 🙁 But starting at the top and going left to right I have: Corpus Christi, large sea shells from Pensacola, Coasta Rica (Pacific), Jacksonville and Pensacola largest shells, Pensacola shells and beach, Beach Ball from Grandmarm that inspired the idea, and Spanish Mediterranean.