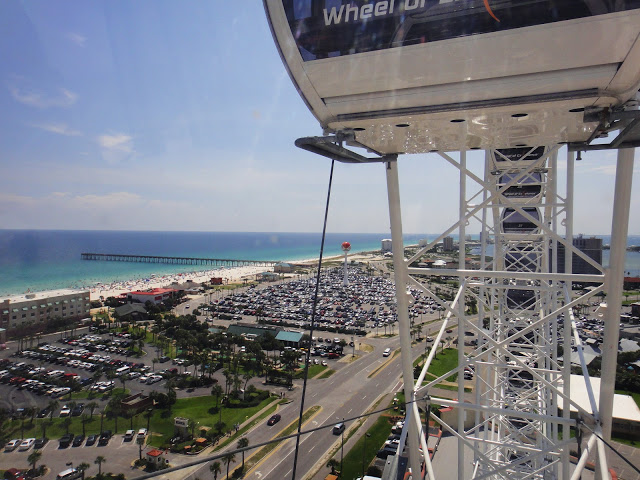 Wheel of Excitement, Pensacola Beach
I LOVE PENSACOLA BEACH!!
It was agreed: a day at the beach must begin with a ride on the new Ferris wheel. "Do you have any questions?" the girl asked as we waited for the revolutions to slow. "No. Yes! Do the doors lock?" "The doors don't open from the inside until I unlock them at the end," she assured me.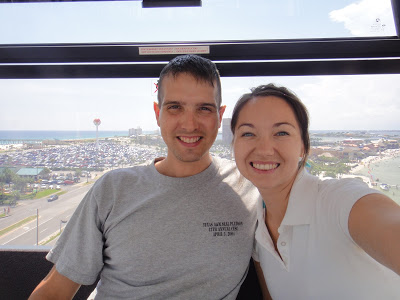 I only asked because my last memory of a family ride on a Ferris wheel (who knows where) is of my brother Simon saying, "Ha ha, what if these doors opened?" trying to freak out our sister, Hannah. Except when he stood up in our open-air buggy and pushed on the doors, they DID open. He sat down immediately. We all stared at each other. And tried to casually hang on for dear life while looking like we weren't.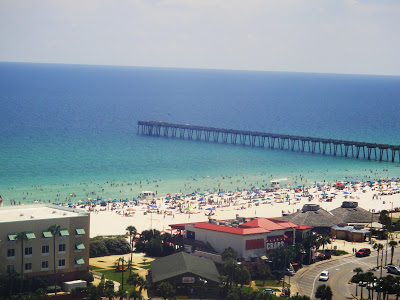 Sizzling August day at the beach
Lest we forget where we are, we passed three (inebriated?) trashy guys peacocking around each other, circling and sniffing and hollering insults, challenging each other with arms spread aggressively wide and chins receding dangerously far back into their necks before thrusting out into the air. It was kind of like watching chickens scratching and pecking. Some girls tried to get the guys to cool down and separate, only to verbally unleash themselves at the first provocation.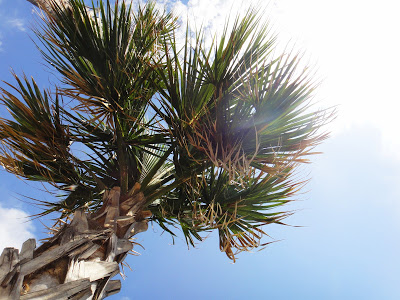 We passed them as we shuffled through the famous sugar white sand with our blanket, boogie board and baby, minding our own business, heading to the less crowded far side of the pier. Rooster #1 pushed Rooster #2 off a wall into the sand. It was unclear what the third guy was doing. At this point someone went to get a lifeguard. Ah, Pensacola.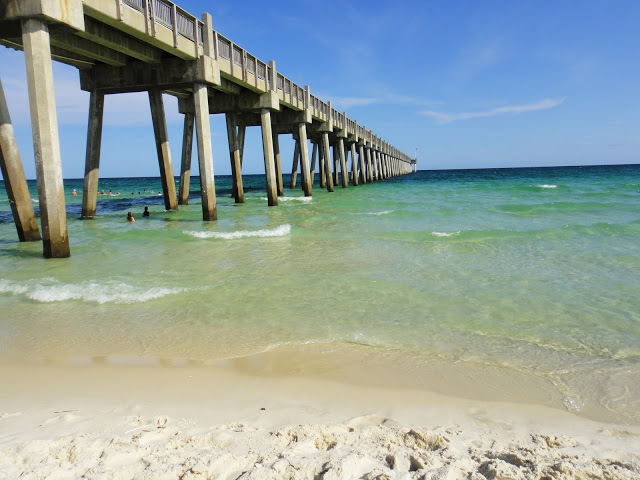 Here we are.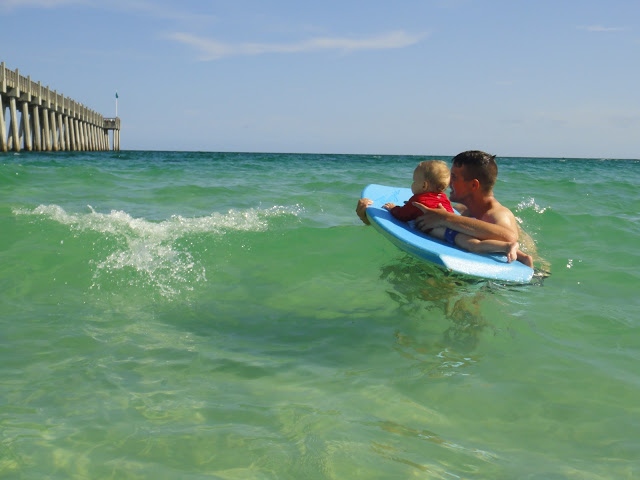 Captain Goodbaby commands the seas.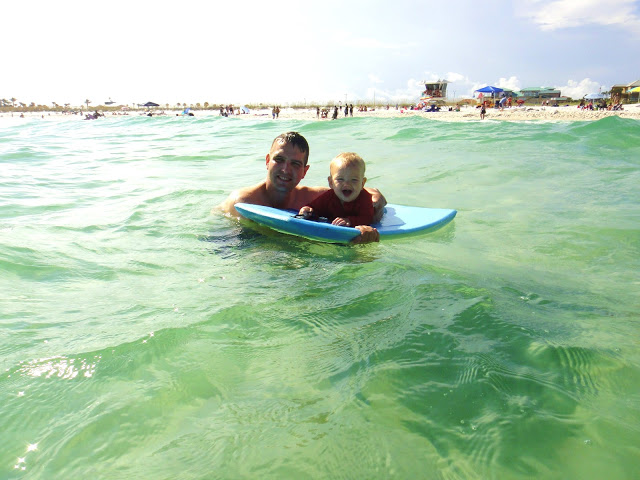 First the Ferris Wheel and now this?! Fun place, Dad!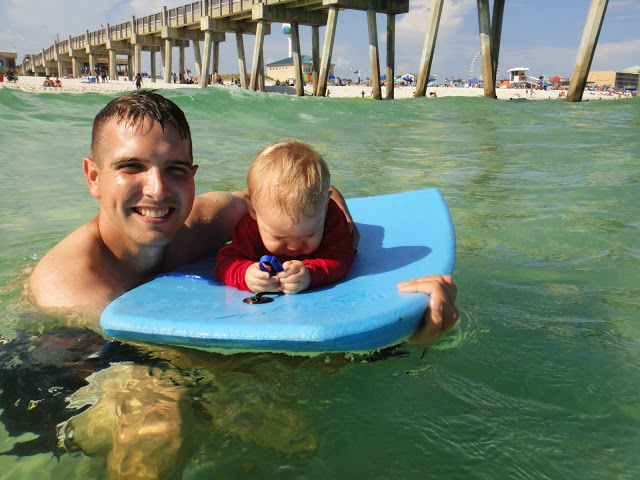 Green flag today. All is clear and calm on the oceanfront.
It seems like as long as Isaac is outside with a nice breeze and plenty of ambient activity, he doesn't get fussy when he's tired. We swam, we fed our little monkey some bananas, we rinsed him off and changed him into a polo onesie, then walked over to Crabs. I had crab cakes; Chris had crab mac and cheese. Isaac shared Chris' noodles and my coleslaw.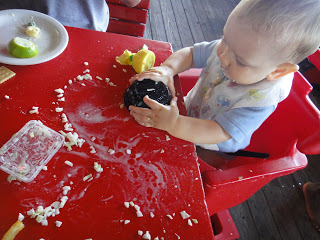 Below the second-floor balcony where we sat commenced the hermit crab Olympics, complete with theme song and qualifying races. Maybe Captain Goodbaby will compete when he's old enough to hold one without eating it!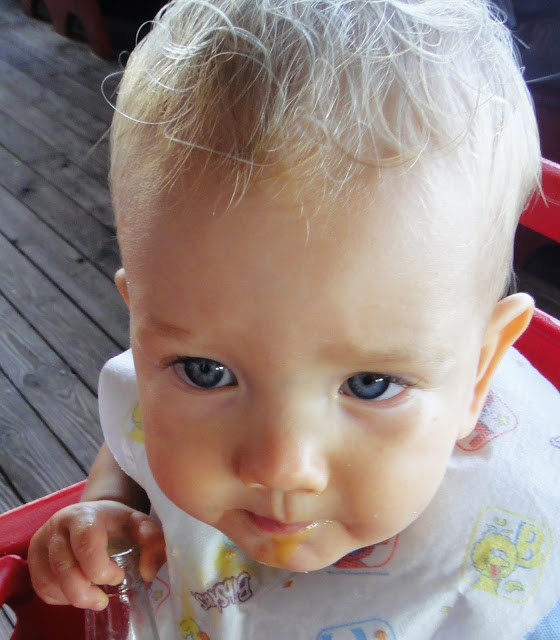 But I really want to eat one.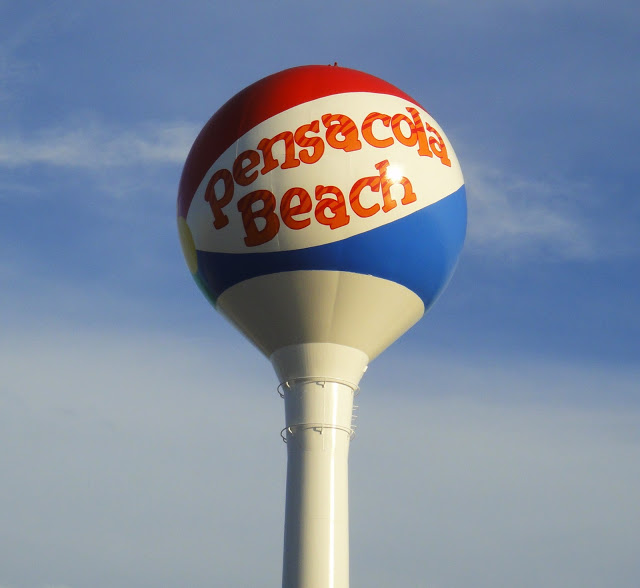 The eponymous beach ball.
Between (impressive) daily thunderstorms and getting knocked out by strep, we have not seen as much of the beach as I thought we would this summer. Or as much of ANYTHING lately as I thought we would. But thankfully days like this make everything seem possible.
Captain Goodbaby even convinced us we can conquer the world by sleeping the whole way home. Sweet dreams, precious baby!