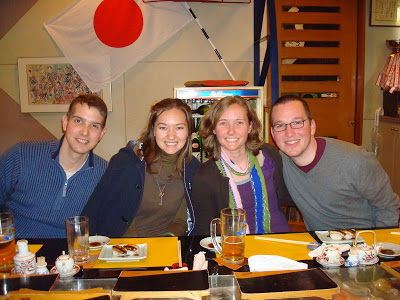 Shin-san's sushi bar seemed like the perfect way to celebrate Hannie's 24th birthday! Hannie was born in the Year of the Tiger and now it's the Year of the Tiger again!! Perfect timing for a Japan 2010 birthday.
We started the evening with some Japanese beer and Kobe beef—the kind massaged, fed beer and loved on until it's double super tasty…because happy cows = happy cow-eaters, right? I'd heard it can be a little fatty for Western tastes. Not this cut! It was so good we ended the night with some more. The Kobe beef was followed by whale (below).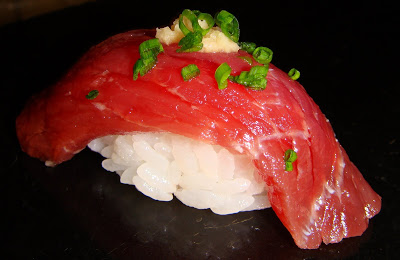 Then Hannie said she needed to expand her comfort zone and suggested we all try eel. I wasn't sure I could eat it again after seeing it
almost live at the fish market
, but when Chris said he was willing to try it too I kept my mouth shut. It was, of course, delicious. Next on the menu was grilled scallops with asparagus, negitho rolls of tuna belly and green onion (my favorite!), salmon sashimi, crab rolls, and the final Kobe beef. Hannie and Justin had never seen sushi prepared before and we all had a ton of fun sitting at the bar with our feet on the heated floor while Shin-san worked his artistic magic right before our eyes. And then we got to eat it!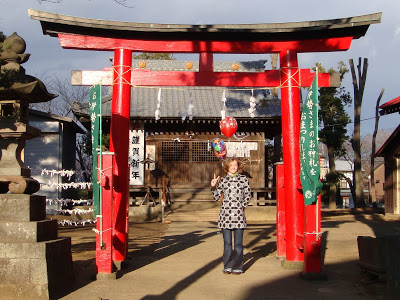 This was a joint celebratory dinner, too: Not only was Hannie a joyful 24, but Justin also recently graduated!! Omedetou-gozaimasu!! Congratulations to both!!! (This is the birthday girl under the torii gate across the river from our house shortly before dinner)