New Year's Cultural Activity: wishing for luck at the temples of the Shichifukuhin, or Seven Gods of Good Fortune.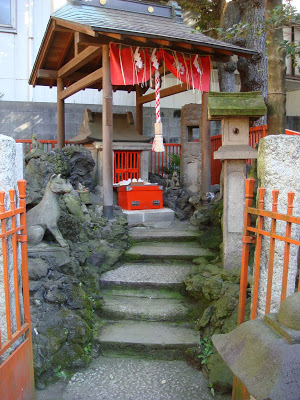 Here's a little part of the shrine whose name means 'white fox' or something. A successful man revisited this shrine and found it in ruins hundreds of years ago. While he was surveying the degradation, a white fox appeared and ran the perimeter or the shrine three times, then disappeared. The man paid for all the restorations and the shrine is here today.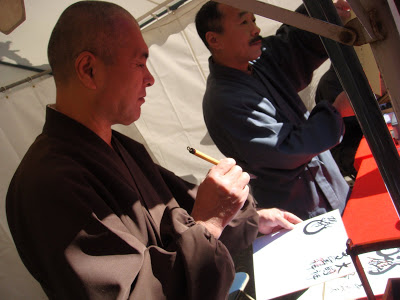 Asakusa has six shrines and temples to the seven Fortune Gods within walking distance of each other. You can buy a little book and pay the monks at each temple/shrine write its name in calligraphy. Of course I did this. I love little books. There's a photo of mine at the end of the post. There are also stamps of each location which you can stamp in a separate book you can buy for 300 yen at any shrine, or on the Fortune God map available at each stop, too.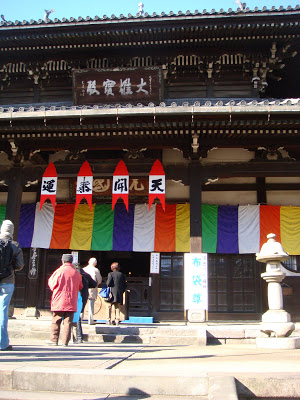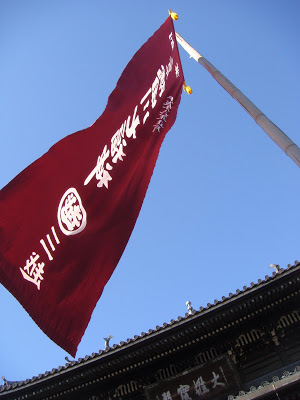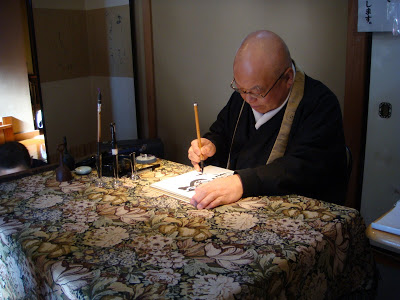 When we got to the temple for Benzaiten, the goddess of music, a small performance was going on with traditional costumes and dancing. Everyone talks about how spry Japanese women are, and it's true! A lady in her 50s (or more!) was springing gracefully out of a squatting position, dancing back and forth, then balling up into a squat, then springing out again for kind of a long time, and then she was barely out of breath.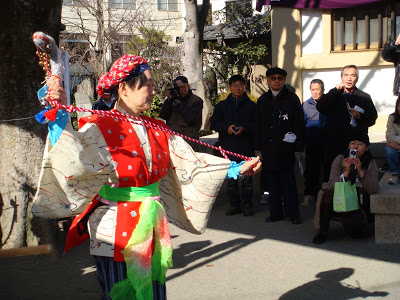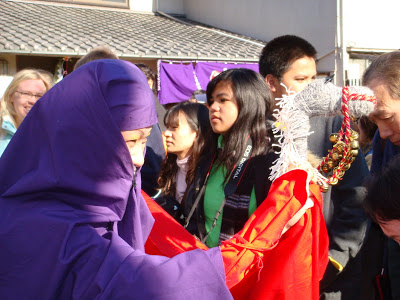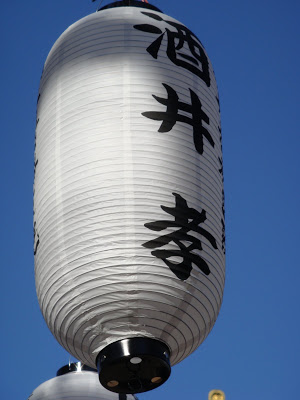 The entire area was pleasantly crowded. It was cool to watch families enjoying the beautiful New Year's weather together.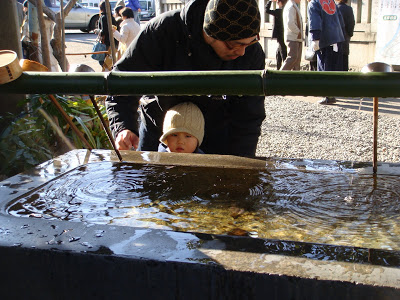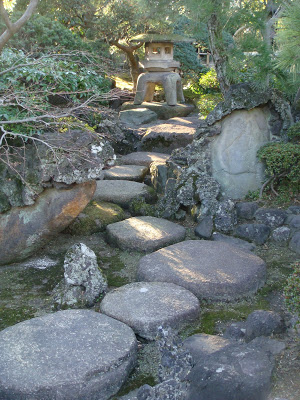 Here's that New Year's traditional mochi ball and rice tower.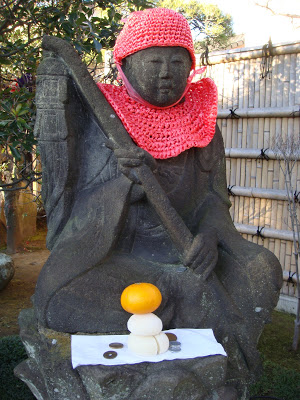 At the last temple of the day, a volunteer firefighter corps showed up to promote fire safety with age-old acrobatic techniques. I'd read about this online in other areas and was so glad we were at this temple at the exact right time! This bamboo ladder is supported by other firefighters while one climbs to the top, gets situated, then claps, holds a pose, does another, claps, presents! I should post some videos.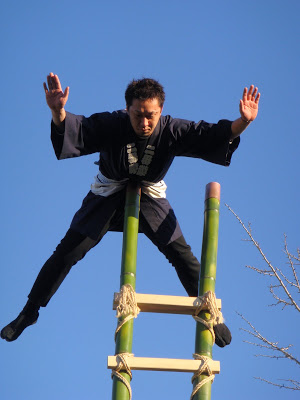 Anywho, this was my and Chris' first MWR tour and we were pretty impressed. We got a bus ride to Asakusa, a smiling guide, and a lesson on:
Ebisu (god of fishers or merchants)
Daikokuten (god of wealth)
Bishamonten (god of warriors)
Benzaiten (goddess of music)
Fukurokuju (god of longevity)
Hotei (god of abundance)
Juroujin (Kichijoten) (goddess of happiness)