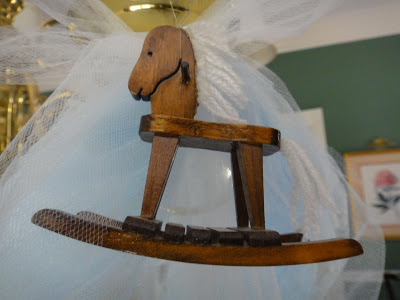 "I will send down showers in season; there will be showers of blessing." Ezekiel 34:26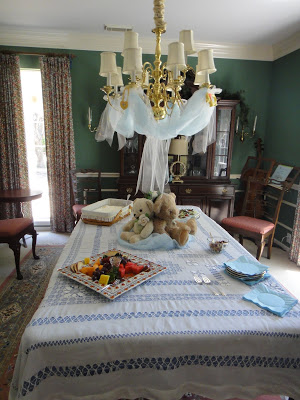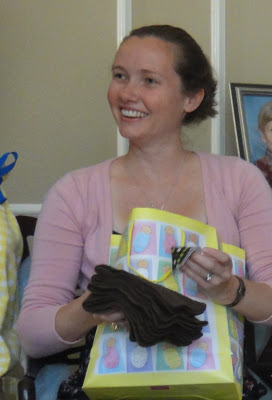 Last week my mom's prayer group friends threw a shower of prayer for my and Hannie's baby boys. They prayed for us and our husbands as we become parents, and our babies' safe deliveries, health, and futures. We prayed they will grow strong and walk in the Lord: "He said to them, 'Let the children come to me and do not hinder me, for the kingdom of God belongs to such as these. I tell you the truth, anyone who will not receive the kingdom of God like a little child will never enter it.' And he took the children in His arms, put His hands on them and blessed them" (Mark 10:14b-16).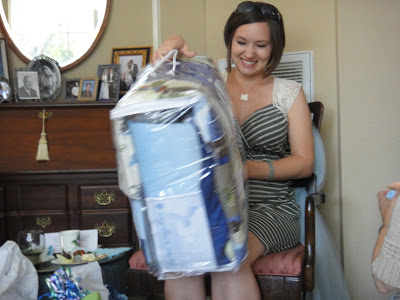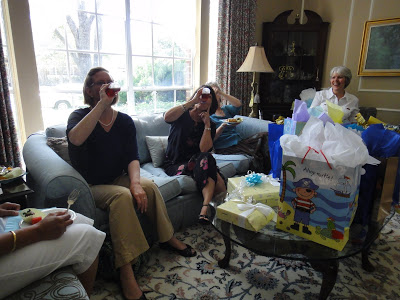 My mom, Amber, Hannah and I had to race to drink fizzy pomegranate juice out of a bottle. My mom won by a lot! Hannah and I got last and second-to-last in this game and the 'guess the baby food' game. We have a lot to learn!
It was a wonderful afternoon, and it meant so much to us that these godly women who we've known for years and years would take time out of their weekends to shower us and our babies with prayer and presents. I feel so much better prepared…well no, but encouraged anyway…to take care of a tiny human thanks to their sage advice, jokes, anecdotes and admonitions. But more than anything, it's comforting just knowing people will be praying for us back home. What a picture of Titus 2: 3-4: "Likewise, teach the older women to be reverent in the way they live, not to be slanderers or addicted to much wine, but to teach what it good. Then they can urge the younger women to love their husbands and children."
And who has ever seen anything cuter than a diaper scooter?! Hannah's is a diaper tricycle. Thank you, ladies, for blessing us way more than we deserve. It was not in my plans to evacuate to Texas, but from that came unanticipated blessings: a dual baby shower with my sister! Thank you so much!