Now I'll start at the beginning. I left my house around 5:30am and took a train to Yokohama, where I caught the express train for Narita Airport, then took off for Kuala Lumpur, Malaysia.
I stocked up on my favorite Origin's face scrub and wandered through the Kuala Lumpur International Airport Jungle Boardwalk, then realized I had to get processed through immigration to get my bags and catch my connection. That took forever—more than an hour of my five-hour layover. I asked someone at the info desk where I could check in for my Air Asia flight. "Oh, it's at the other terminal," she said. "No problem," I said, thinking of the efficient, free, seven-minute shuttle that zips between terminals in civilized Japan. "No, but there's a bus downstairs and over that way," she said.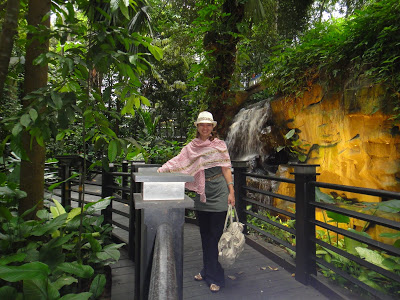 A sign said buses came every 20 minutes. Forty-five minutes later I was getting a little nervous, but finally one pulled up. Fortunately, I had some Malaysian ringgit on my from our foray into Johor this August. The bus left at 6:32pm. My flight was scheduled to leave at 9:20pm. At 7pm the bus was still lumbering along past blue-domed mosques and miles of palm trees—no airport in sight. What if I was on the wrong bus? What if I was going to the wrong terminal? I started to get a little frantic. THIS is why you book tickets all the way through instead of booking each leg separately! Who knew the terminals were practically two separate airports?! What if I hadn't had a ridiculously long layover!? Finally we pulled up to a terminal but all I saw were domestic flights. Eventually I found a tiny sign for international flights, skipped the miles of Australians heading back down under and used the self check in kiosk. Whew! I barely had enough time to grab some Malaysian food before dashing to my gate. That was the shortest five-hour layover ever!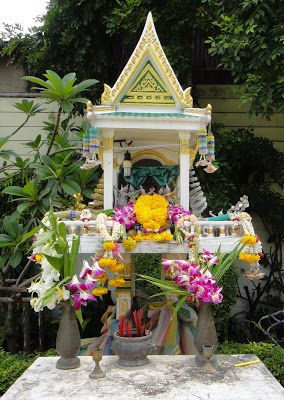 I was sleepily waiting to board when an old lady grabbed my elbow and steered me out of her way. Then she stopped to yak to another lady, so I inadvertently ended up right in front of her again while we were ascending the stairs to the airplane. I obviously couldn't move forward, but regardless, this same lady felt it necessary to put her thumb on my hip and push me forward! TWICE! This time I turned and looked at her. She stoically faced forward making no eye contact. Guess who my assigned seat happened to be next to? I tried to trade seats with her friend, who ignored me and marched off. Of course my seatmate put her forearms on both seat rests and poked me with her elbows the whole time. I put in earplugs, leaned forward so my head mushed against the seat in front of me and slept the entire two-hour flight from Kuala Lumpur to Bangkok. After the rather turbulent journey she pushed past me to get off first and I was happy to allow it.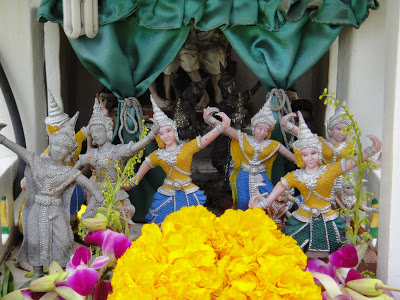 Anyway, in Bangkok's Suvarnabhumi Airport I easily found my travel buddies, who flew in directly from Tokyo, and we went in search of the hotel van I hired to pick us up. We never found it, so eventually we rented a van, which got lost, then finally found our hotel behind another building. Thai people don't like confrontation but prefer smiles (hence, "Land of Smiles"), said the guidebook, and getting visibly upset makes everyone lose face. So when we arrived at the
Bangkok Natural Spa and Resort
after midnight I smiled to the guy at reception and said we were here to check in. He asked if we had a reservation and I showed him my emailed reservation confirmation. "This is from this hotel?" he asked. I pointed to the hotel name and he nodded. I smiled and said slowly, "The reservation shows the price including airport pickup, but we couldn't find our van so we would like to not pay for that." (smiling, smiling, nodding, smiling) He looked surprised again and peered more closely at the email in his hand. "Yes, the reason for that is there was no one there for you," he said. "We didn't know you were coming. Don't worry, we have rooms available, but we didn't have a record of your reservation." Eyes wide…still smiling…probably looking creepy…whatever, we got our rooms and conked out.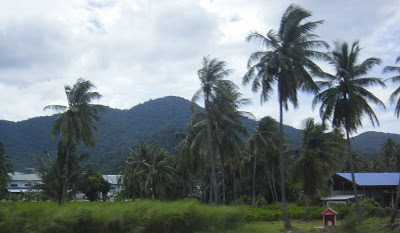 The next morning we were shocked when the van we hired to drive us two hours south to Pattaya actually arrived—on time, too! Shocking. We drove past endless palms waving against a backdrop of steep rooftops, Thai temples and hazy mountains as a storm rolled in, doused us with rain, then cleared and the weather became sunny again. Welcome to Thailand!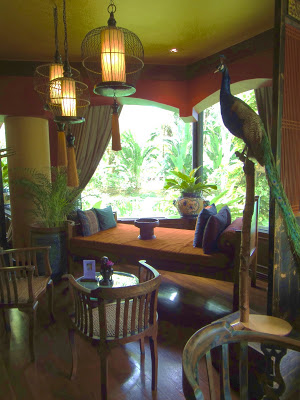 Our hotel—the
Siam Bayshore Resort and Spa
—was nice and tropical, but the beach wasn't the Thailand beaches you usually see in pictures. Those are on the west coast. We were on the east coast. Either way, I'm a sucker for sandy shores and palm trees!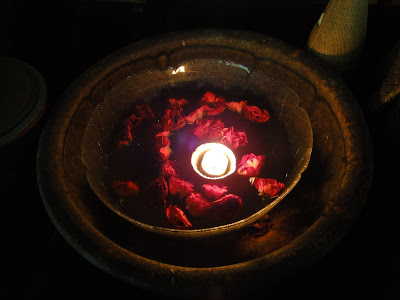 Some of the wives were gathered in the Explorer Bar to await the arrival of our husbands. I sipped a Coral Island, named for the island somewhere nearby. Before I knew it, Chris was dropping his bags beside me and scooping me up for a big hug! Yay! Let the port call begin!!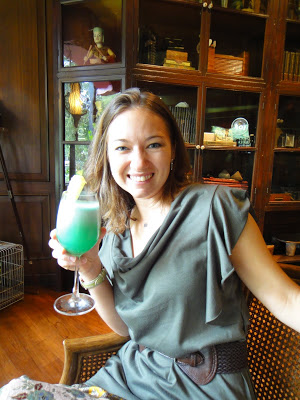 We walked around the swimming pools, the little beach and the gardens, then had a late lunch at Sunrise Sunset—the hotel's lunch spot overlooking the end of Walking Street and the water.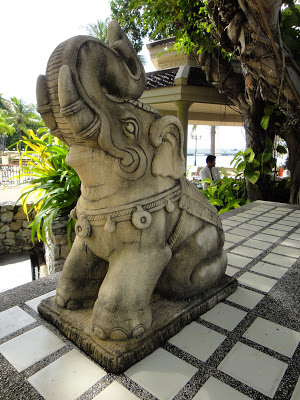 I had the curry chicken salad, served with sliced apple in a pineapple. I'd seen it go by on its way to someone's room and thought, "Yum! That's exactly what I want!" Later my friend Mary told me it was on its way to her! ha ha, excellent taste. Chris had pad thai. We both had a Healthy Coconut 'health drink.' Delicious!
And all the travel and time changes are so worth it when I get to see Chris! The first day of a port call is super-happy and nice because we have the whole four days stretching ahead of us—from that vantage point it seems like a really long time together, even though it always flashes by so fast!