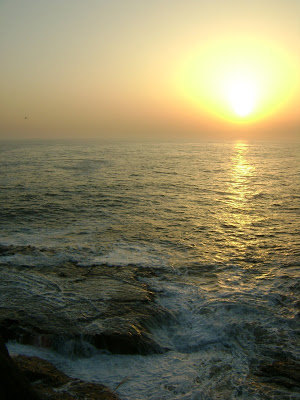 It was really warm and sunny for the first time (in my opinion) Saturday. The sun rarely conquers the clouds for more than an hour or two lately, so I headed directly for the pool. UV light has been proven to make you happy and give you a little fix in kind of the same way nicotine does. The pool speakers streamed Jimmy Buffet, which coupled with the warm weather to make me want to cook dinner. Ah, I loved cooking in Florida. So lying in the warm sun I thought about food and my Florida summer favorites: Pineapple Chicken, Spiced Floridian Chicken, etc. (both photos are Enoshima Island, Japan, not Florida or Singapore)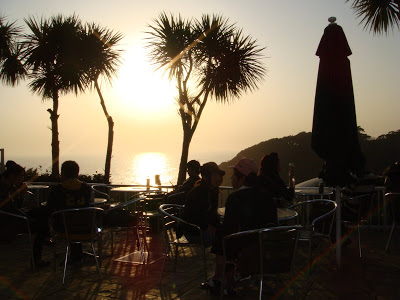 That made me think about how just about a year ago Chris and I spent a nice day reading and swimming in Jacksonville, then as some storm clouds rolled in and we turned to figuring out what to do the rest of our Saturday evening, we decided to go get the third Pirates of the Caribbean movie. And then we drove by Chili's and decided to have dinner first. It was the perfect summer date: beach, dinner near the beach, summer movie at home. I had the usual: those Shanghai Boneless Buffalo Wings in the wasabi ranch sauce that they discontinued. We probably shared the 2 for 1 margaritas. So musing over this inspired my dinner, and the result was tasty and made it feel like a normal Mari-Chris summer weekend.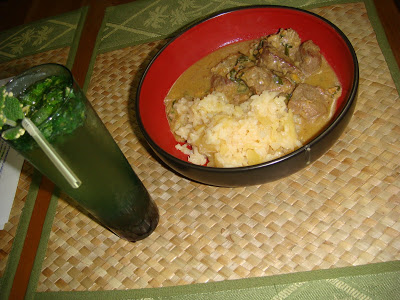 Singapore Pirate Curry
Heat 1 can coconut milk. When it boils, add a few tablespoons of sweet red curry, then add 1.5 lbs beef chunks and cover until cooked. Stir in a half-cup of crushed, roasted peanuts, a dash-ish of chili pepper, salt to taste, and some basil in the amount that the wind broke off the plant. Optional: Add some sugar. I did not because I ate it with the sweet rice below. Serves 4, or two normal-sized people and one Chris.
Spiced Pineapple Rice
Boil two cups of water in a saucepan. Add one cup of rice and a can of crushed pineapple, plus galangal, sweet Thai cinnamon, and cardamom (all from Penzey's). Reduce heat and cook until fluffy. Top with Singapore Pirate Curry and eat while watching a pirate movie!
Jade Mojito
Muddle fruit mint with a hint of brown sugar in the bottom of a glass. Fill halfway with limeade, splash with coconut rum, top with club soda and garnish with fruit mint.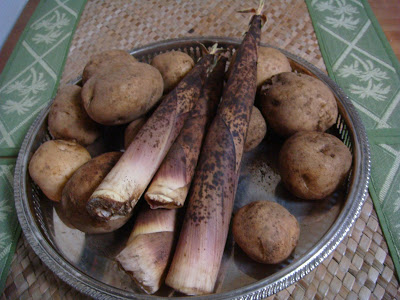 In other food news, a nice elderly Japanese couple at church this morning brought potatos and bamboo shoots fresh from their garden. I'm excited about my local, organic Japanese produce…..but what do I do with bamboo shoots?? Please advise!
Note: just found this on chinesefood-recipes.com: "Fresh shoots are sometimes available in Asian markets, however they must be parboiled or they will be toxic. To prepare raw bamboo shoots, cut them into sticks, cubes, or slices and cook them in lightly salted water for thirty minutes or until tender; then prepare them according to the recipe directions. Fresh bamboo shoots will last for several days in the refrigerator." GOOD TO KNOW!