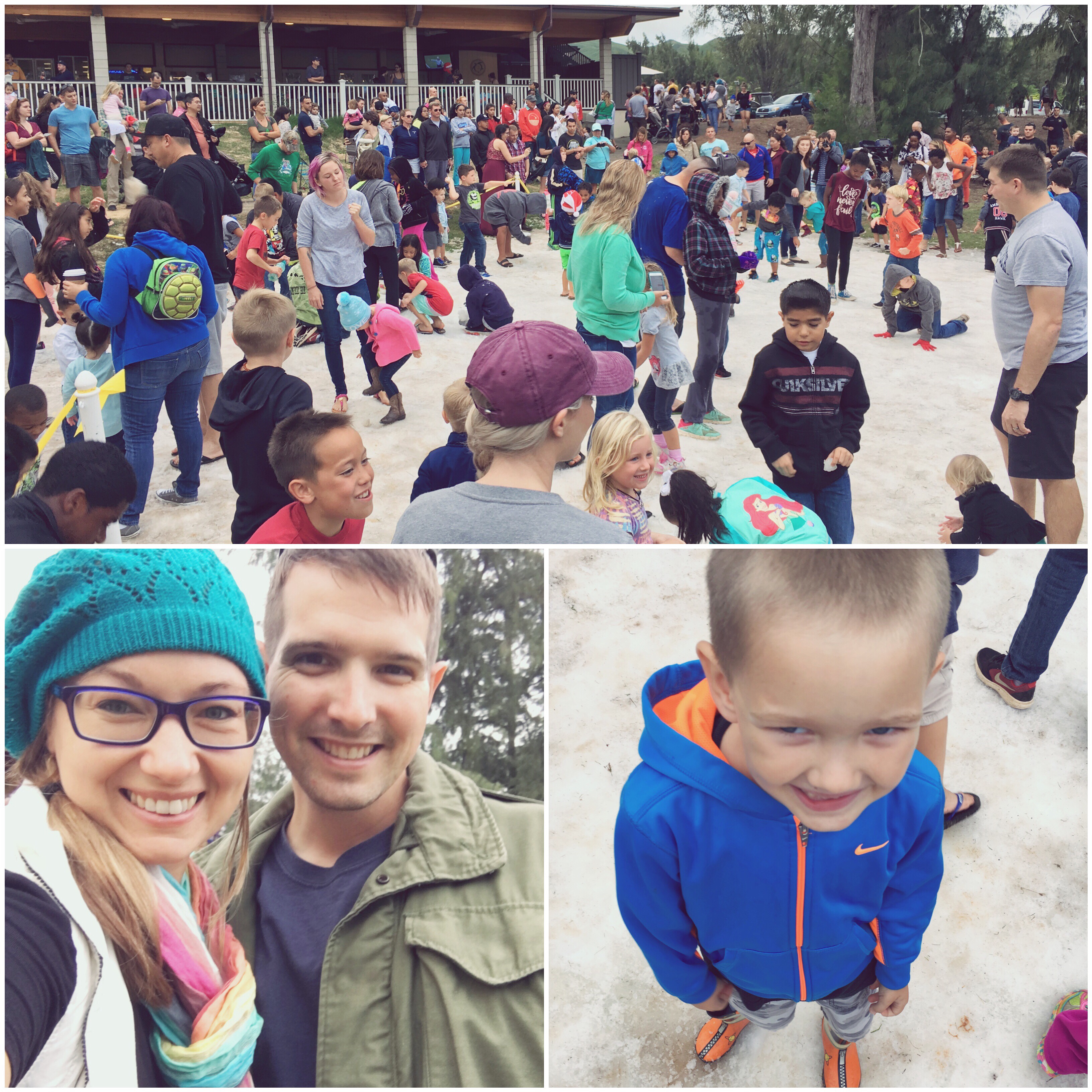 This was a really good…try. Bellows Air Force Rec facility does great squadron picnics and events and stuff, and it's right on the water between Lanikai and Waimanalo. So when we heard they were doing Snowfest with TWELVE TONS OF SNOW, hot chocolate, pictures with Santa, and shave ice, we were there almost as soon as it started! IT WAS MADNESS. SnowMESS was more accurate. I wasn't sure what 12 tons of snow would look like, but it wasn't much—a tiny little patch of brown, iced over snow being hacked at and lobbed through the air. What could go wrong, right?
We met up with our school and squadron friends and the kids went nuts— snowballs flying, kids slipping, tots crying. We avoiding major injury but Isaac has some red splotches where he got beaned with icy snowballs.
Everyone was kind of like "what the what?! This is scary!" but the kids were loving it. Until they got pummeled or something. I wondered if they were expecting this many people. "I bet they don't do this next year," I said. "They should have separate patches for little and big kids," suggested Amber as another huge kid flew by.
The event ran 4-8pm, and by 5pm or so the MPs drove over and disallowed snowballs. That calmed things down. The kids slipped and slid around, clawing at the brown gray ice to push together enough pieces for a snowman. A tot with sand toys scraped ineffectively at the cold ground. By 5:45pm MPs closed the snow patch down completely; too many injuries, including a pregnant lady who ended up in the hospital.
Some of our friends sat in Waimanalo tragic for an hour and arrived right as the snow was closed. I felt bad for suggesting we all come. Sorry, friends!
Snow by the beach—such a fun idea! Execution needs some work!