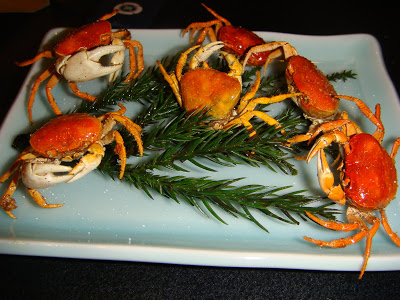 How would you complete that statement? I'm so hungry I could eat a…horse? Whale, perhaps? A plate of crunchy crabs in their entirety? Yes to all of the above!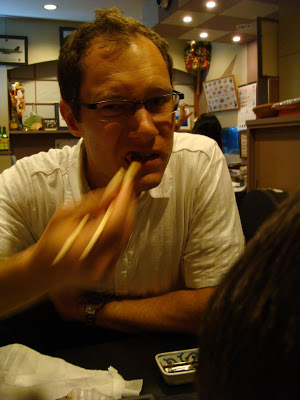 We started off the evening right with (cooked) Kobe beef sushi previously enjoyed with Hannie and Justin. Just as delicious as we remembered! The beef was followed by whale. "Mmm, mammal!" said Luke. Luke was also excited to see horse meat on Shin-san's daily specials menu. "Ooo, we have to try that!" Chris and I sampled raw horse our first night out in Tokyo—at the time we thought it was undercooked roast beef. Tonight's was totally different in that it was intentionally ordered and was more like undercooked pepperoni. Yup, still prefer all red meat cooked.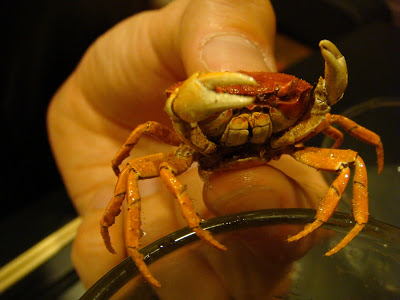 Then came our next dish: fried crab. We tried to alternate adventurous food with more common tasty dishes. Fried crab seemed safe until it appeared on the table practically clicking its little pinchers at us. We stared at each other. We stared at the crabs. They stared back at us.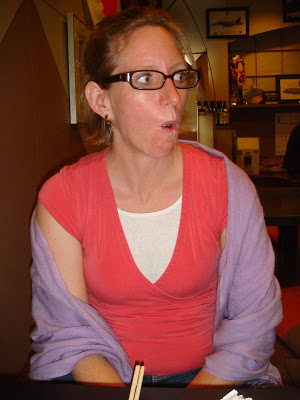 I was very impressed when Amber said, "I'll try one! It's sushi I can actually eat!" and popped one in her mouth. The crunch was a little surprising, but she declared them not only edible but pretty good. Think crab-flavored popcorn…with legs. "They're almost too cute to eat," said Luke, investigating a decoratively posed specimen.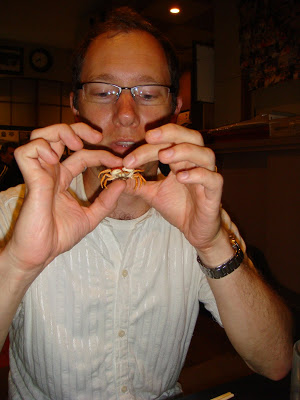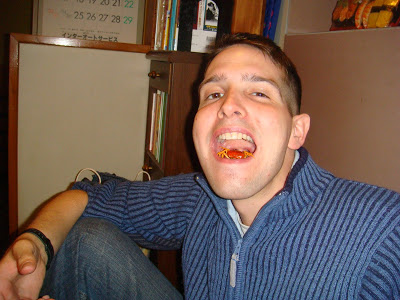 The little guys were salted and served whole. Just pop one in your mouth, chomp chomp chomp and yum! Some salty crabbiness replaces the spindly prickly pokey crustacean legs…eventually. Three each!
We also had scallops with asparagus; veggie tempura with daikon (Japanese radish), bamboo and mushrooms; whale sashimi; fatty tuna roles and Japanese beer-u. Yum! Shin-san prepares and serves each dish separately for a very relaxed meal pace. Much fun was had by all, especially when those crabs crawled out (not really, they were cooked. But still whole!).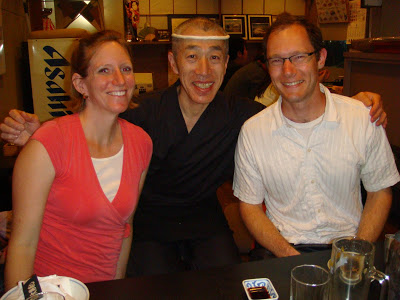 Other evening entertainment included a base tour comprising Chris' squadron and Ichiban Collectibles. We appreciated their interest in what we do here!!