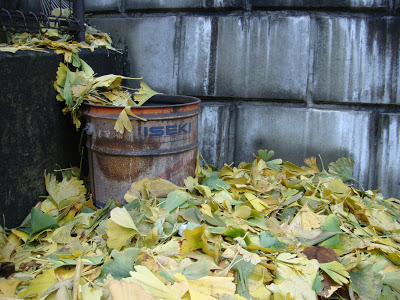 So I'm walking along and I pass by this Japanese graveyard. Most Japanese prefer cremation, so I've been surprised at the number of graveyards dotting the area. I went in for a look. Rectangular tombstones are pretty standard, even with angels and saints switched out for Buddhas. All these ginkgo leaves had piled up around this bucket over in the corner. I love the color contrast.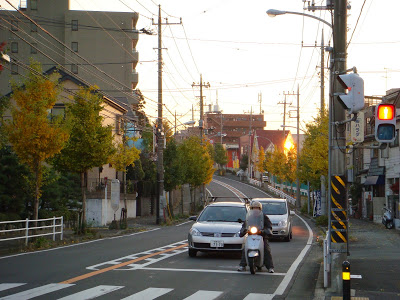 This is my corner, just a couple blocks down from the flower shop below. There's a ¥500 ($5) noodle bowl restaurant right here, inches from our house.
It may be cold, but a great thing about the chilly weather/higher latitude is wonderful lighting for photos all afternoon. Most of these were taken barely after lunchtime, but it looks like sunset. Excellent.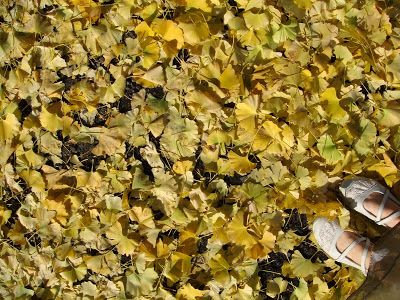 This is one of the grossest things I've seen in the grocery store so far. Other nauseates include: entire squid, with instructions on how to pull out their insides, peel, stuff and cook them; shrink-wrapped cow tongues; assorted nasty sea life; freeze-dried whole jellyfish; tentacle jerky.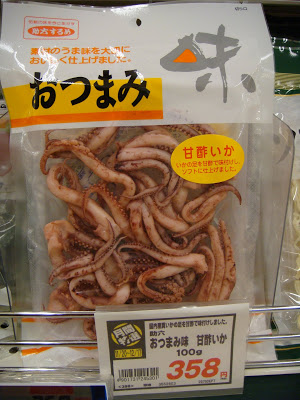 Our house is coming together nicely; eventually I'll post photos around the time we start inviting people over. As in, once it's presentable and less chaotic.
I had previously discovered Mount Fuji is not visible from out balcony like we thought it might be. Then a week after we moved in, Chris goes out there and starts hollering. "Look! Mt. Fuji! We can see it!" I went out there, careful not to smack my head like I've done every other time crawling out the bedroom window. I could see it not. "It's right there!" Chris said. "I don't see it!" I said. Chris looked down at me. "Oh. You're too short. We'll have to get you a stool." For the rest of the day he kept saying, "Wow, we can see Mt. Fuji from our balcony," to which I would respond, "No, YOU can see Mt. Fuji from our balcony!"
And while his height is a benefit when it comes to scenery, unfortunately the door jams are all right around forehead level for Chris. Once or twice a day I hear [THUMP], "Oooooowwww!!" Win some, lose some, I guess.