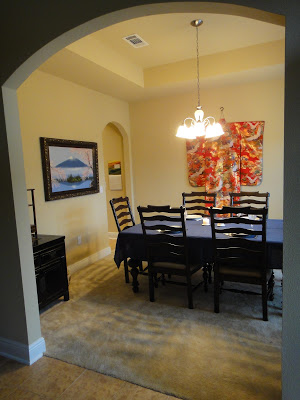 The first thing you see upon entering our home is the dining room to the right. Please note the nice big table with extremely comfortable chairs. We plan to rotate out the wedding kimono based on the season. Chris actually picked out this kimono at one of our last visits to the Yamato Open Market. Chris also found this painting of Mt. Fuji surrounded by cherry blossoms on a port call in Korea. And if that wasn't enough, he had it stretched and selected the frame last week, too! Nice work, Chris!! This will stay up all the time.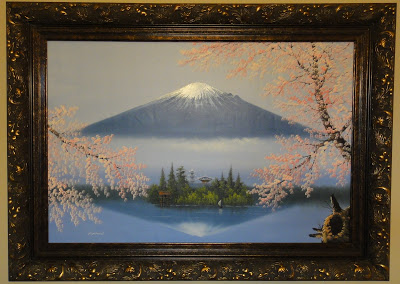 The scrolls framing the window feature blossoming plum branches and mejiro, a little green Japanese songbird often spotted in plum trees when they're in bloom. That makes them seasonally correct for February and March. After that, I'll switch them out. You may have noticed we have a few more scrolls (scroll bowl). We are real big kids now: we could have eight people over and all eat on matching dishes and have somewhere to sit. That is a first for us. And just to make sure we aren't in any danger of making people think they're actually anywhere Japanese, we went way way way way over the top and hung a couple of coordinating obi on either side of the entrance arch. The colors are somewhat muted to avoid smacking you over the head with chaos.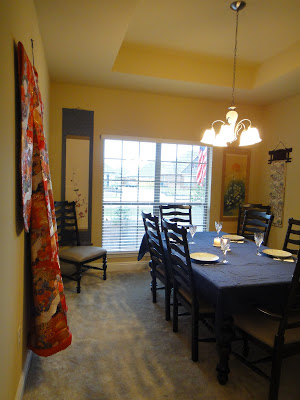 This room has the most Japanese items displayed. We toned it down in the rest of the house. Sort of. Did we reach our goal of staying below Asian saturation, of looking like we lived there for three years without hitting guests over the head with Asia? Please come over and judge for yourself!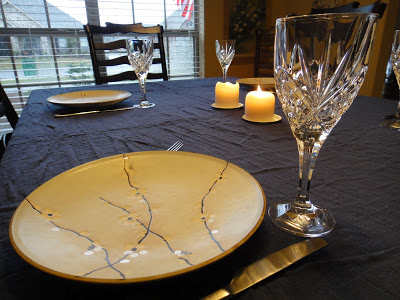 Hi, my name's Mari and I'm physically incapable of blogging without including pictures of my tiny baby:.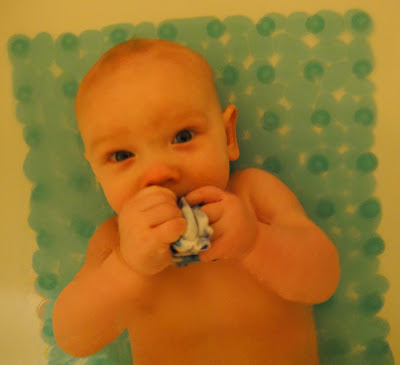 Isaac loves bath time!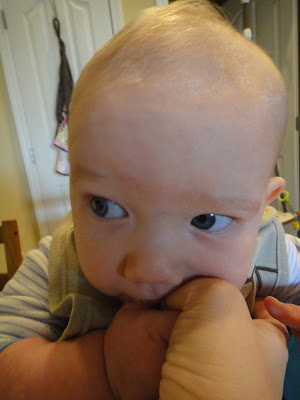 Pears: good, but not as good as mom. YUM.
We are going to go on some adventures someday, Isaac and me, but for now we are reeeeeeeeeeeeally enjoying our down time at home. We've been in our house about six weeks now, which is the longest Isaac's been in one place! We like to swing outside in the morning, play on the play mat, take naps, bake things with the mega-mixer, get groceries, make dinner, snuggle in the glider, go on walks, vacuum, observe Cleaning Day, celebrate Leap Day by doing not much, annoy the cats, hang stuff up, and………unpack boxes. Actually we're mostly past that and into the organizing. All the storage stuff is out of the garage and put away, the bedroom looks GREAT, and I just need to organize the closet better, etc etc!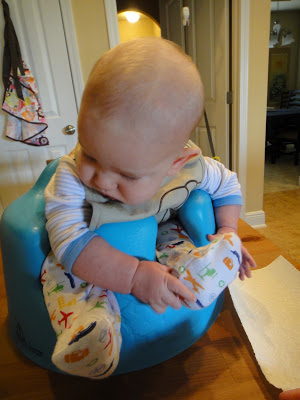 The End.