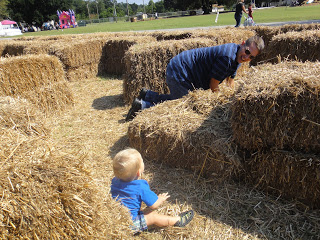 The Boys in the Mini Maze
"He felt with the force of a revelation that to throw up the clods of earth manfully is as beneficent as to revolutionize the world. It was not the matter of the work, but the mind that went into it, that counted—and the man who was not content to do small things well would leave great things undone."
~Ellen Glasgow
Now that it's autumn, let's pretend like we know anything about harvest or farming. Well, here's what I do know: I noticed the huge hay slide being set up at the elementary school near us and thought, "Oo! That looks fun!" A couple days later Chris said, "Hey, have you seen that hay thing at the school? Doesn't that look fun?" So it was unanimous—we would go to Haystackular.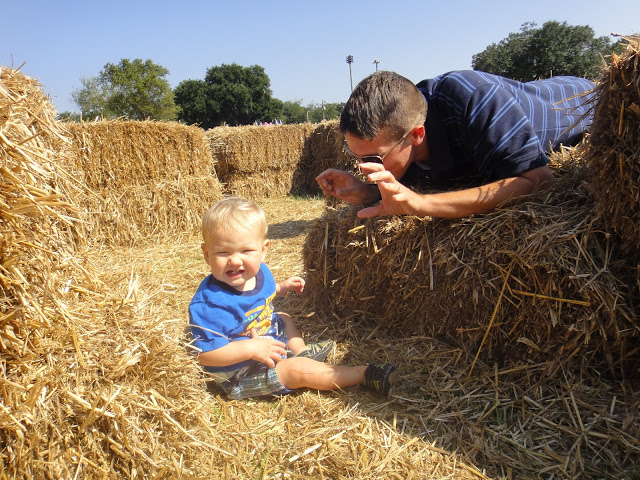 Boo! Who thought of a mini maze?! Genius!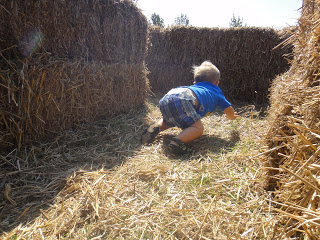 First stop: Mini Maze. I'm not sure who had more fun between Chris and Farmer Goodbaby. Previously I would have thought, "That's dumb. How does that even count as a maze?" But it was perfect for the Goodbaby. I'm glad other people know things about babies.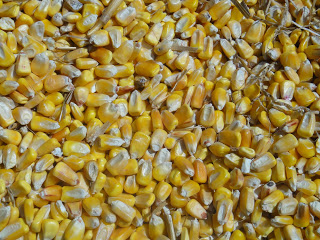 Second stop: Corn Crawl. I wish I could have sat in here with Isaac. It was just a big pit of dry corn. It made a nice pattering sound when you moved through it. An older kid was sort of diving around through it like Scrooge McDuck in his money bin—FUN! Isaac didn't really know what to think about it. He finally got sort of into it and windshield-wiped the surface corn with both hands in the same way he clears his highchair tray when he's all done.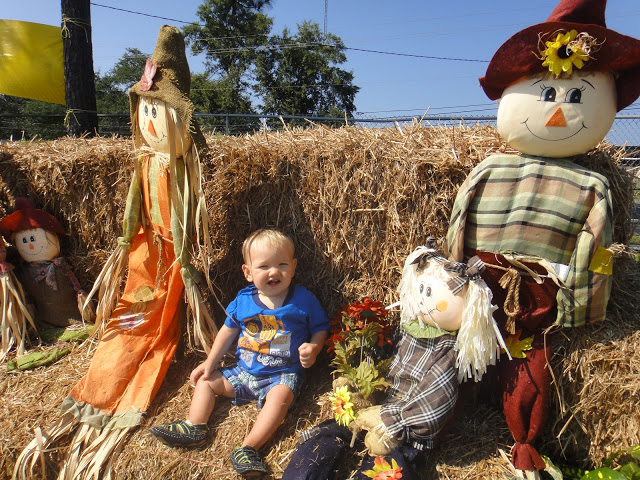 Four scarecrows and a little pumpkin.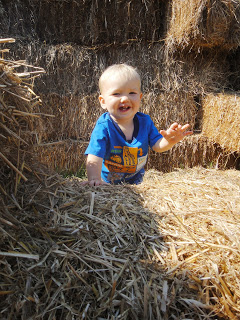 "Bittersweet October. The mellow, messy, leaf-kicking, perfect pause between the opposing miseries of summer and winter."
~Carol Bishop Hipps
Then it was onward to the Maze (with a brief stop at the scarecrow photo op. Sorry, Isaac). This was so excellent. A couple of sweaty kids ran by us several times getting increasingly loud about being lost. A lady on a hunting stand kept watch over the hay maze area, but when someone asked her if she could see the rest of their party she said, "Mmmm, you'd be surprised how little you can see from up here." It was really well done, and the only clue that kept us from getting turned around was the path going the correct direction wearing away the grass. So fun!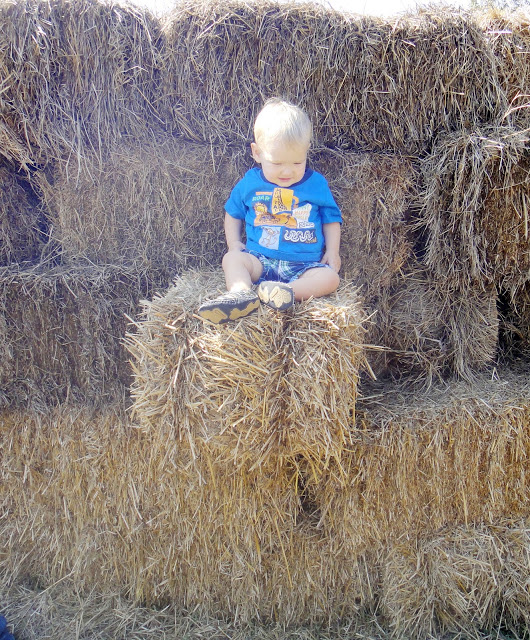 Haaaaaaay HAY baby! I want to know if you'll be my boy (do do do DO!)
"It was one of those perfect English [American] autumnal days which occur more frequently in memory than in life."
~P.D. James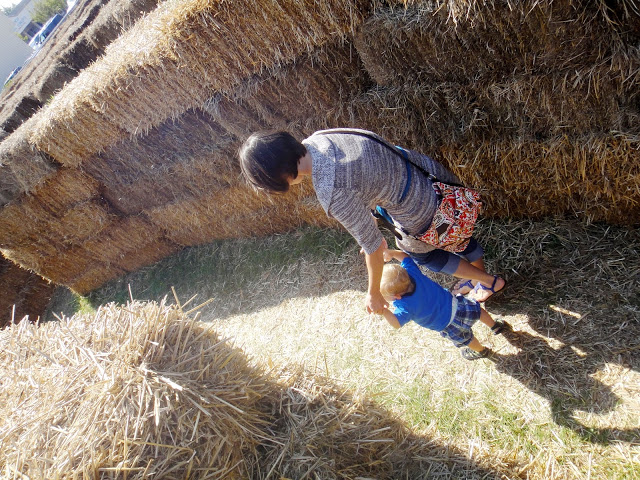 Right this way, Farmer Goodbaby.
"I can not endure to waste anything as precious as autumn sunshine by staying in the house. So I spend almost all the daylight hours in the open air."
~Nathaniel Hawthorne
Chris was a little ahead of us. I said, "HAY!" He turned around. "What?" I shrugged. He said, "Oh. That's dumb."
After the hayride Isaac and I sat in the shade while Chris went to get us a ticket to the hay slide. Isaac was walking funny so I took his shoes off. Hay, corn, sand. There, that's better.
I was sure I would die of longing for Japanese fall, so I've been pleasantly blown away by Florida Fall 2012: the promised hummingbirds and butterflies, mums on every doorstep and gracing our patio, the smell of burning leaves, dry air, the faint yellowing of the live oaks, poison ivy turning golden, colorful berries popping up everywhere, a month of sunshine after a summer of rain, bluebirds in migration, bike rides in the evenings, and black-eyed susans all along the road. And a one-year-old.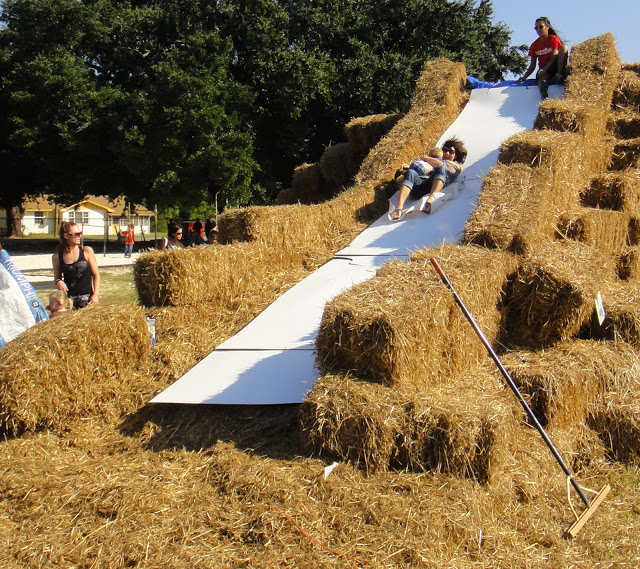 The slide was awesome. Clearly. Farmer Goodbaby wasn't so sure.
"The leaves fall, the wind blows, and the farm country slowly changes from the summer cottons into its winter wools."
~Henry Beston
It turns out this area is known for its fun fall Oct-ivities all month. Looks like we'll be pretty busy the next few weekends!