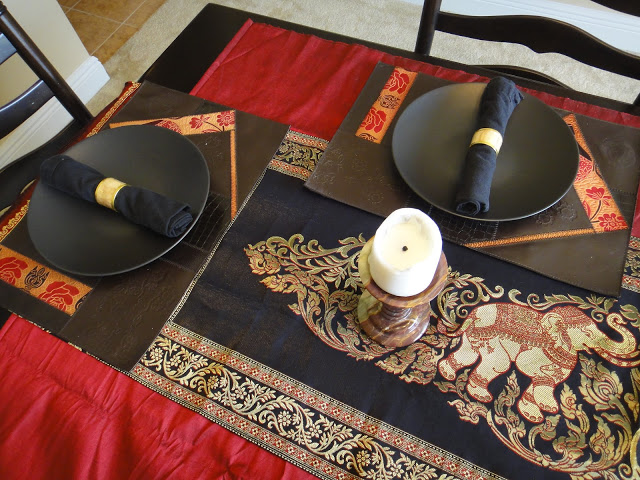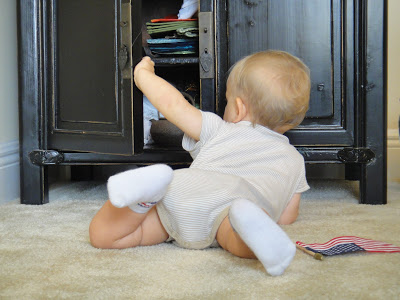 Aladdin enters the Cave of Wonders.
Four yards of Cabernet Thai silk is what I found in the bottom of the shoe bin I organized a couple months ago. I brushed the dust off and sat it in the corner of our bedroom to think about what to do with it. My friend Mary sent me a picture of a wall hanging of similar deep purple Thai silk with a decorative runner down the middle. The Baby of the House has figured out cabinets and drawers and things. He rifled through the dining room cabinet and found a black, red and gold fringed runner Chris picked out in a Bangkok night market. The reds were the same. How inspiring. Thanks, Mary! Good finding, Chris and Isaac!
Obi detail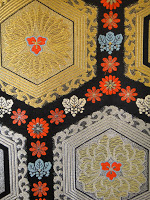 Obi detail
The new tabletop colors clashed with the pale blue silk kimono on the wall, so I switched it out for a cream, silver and gold phoenix wedding kimono. This design symbolizes feminine beauty. The blue obi flanking the arched entry way gave way for black and metallic designs that pull the table and kimono together. Finally, I refreshed the two scrolls on either side of the window with black and white mountain sketches.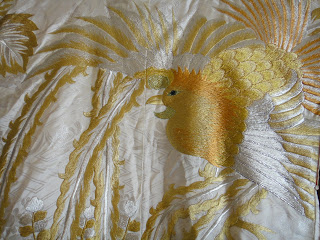 Wedding kimono detail
I love switching out the entire dining room with the seasons! Or for no reason! It's so gratifying, finding the right complements in coordinating thread tones, busyness of the pattern, a complimentary dish, etc etc. Chris and I dine in here a few times a week, whenever we're eating without Isaac but not on the back porch (Moon-Viewing Platform). It makes me feel sophisticated and elegant. Sometimes the babykins has already finished dinner and crawls around our ankles under the table, or crawls laps around the room after a kitty. A most enjoyable room.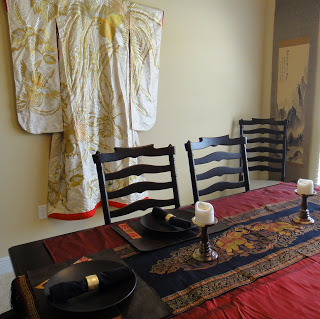 Within the cabinet Isaac also uncovered an iron teapot I bought at the Yamato market for making boiled green tea leaf stem tea. It has an aluminum tea leaf strainer inside and all that metal makes a tremendous racket. It immediately joined his Top Five List of Favorite Toys, which is great, because it's pretty much indestructible. Now I find all kinds of things inside the teapot, like chopstick rests, his plastic stacking cups, or the shiny napkin rings Chris got me in the Philippines. What can I say? My boys have good taste.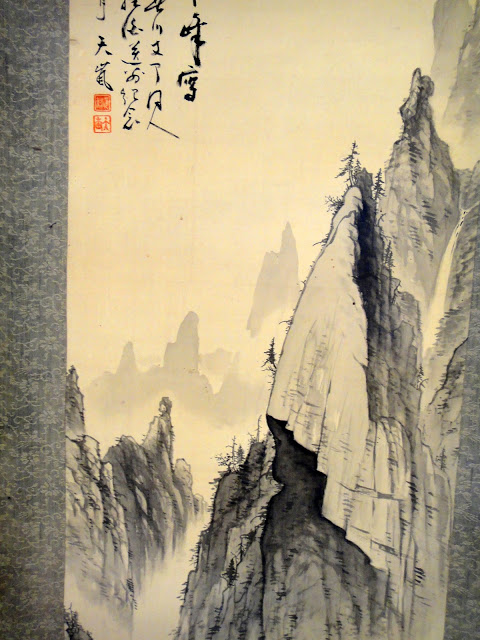 Scroll