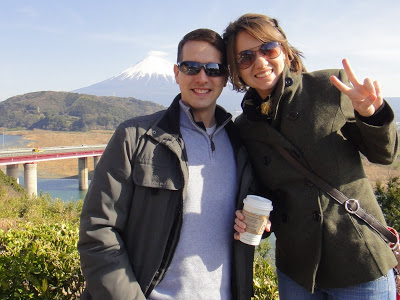 This is what Chris and I were doing five days before the big earthquake: strawberry picking! The week before we'd gone on possibly the worst day trip ever—it was cold, Chris had an awful cold, I was nauseous, the bus driver was making everyone sick (literally…gross) and traffic was so clogged that we ended up spending the vast majority of our time lurching around on the bus. So we did not have high hopes for strawberry picking, but we ended up having a really fun day! This cold, clear morning began with sakura lattes and a sakura danish at the most scenic Starbucks ever—good morning, Fuji-san!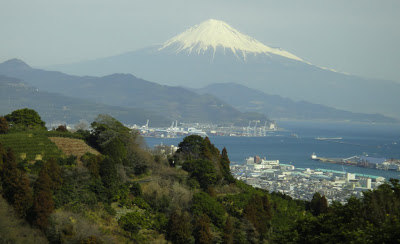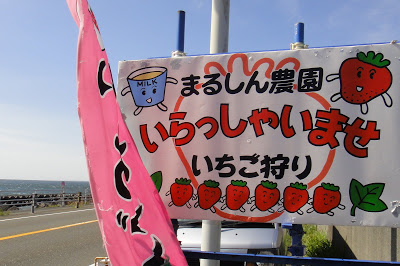 We drove through tea-covered hillsides to the Strawberry Seaside Highway. Here, dozens of strawberry farmers grow candy-flavored strawberries in low greenhouses overlooking the Pacific. Peak season runs from January through May. Have you ever tasted Japanese strawberries? They're ridiculously expensive…and so worth it. Mary Fox—great idea to go on this tour! We got little cups of sweetened-condensed milk to eat with as many strawberries as we could pick in half an hour. I was just emerging from feeling nauseous all the time to being hungry all the time. What good timing. Chris and I had a strawberry eating contest and although we lost count, I'm pretty sure I won. Snarf, snarf!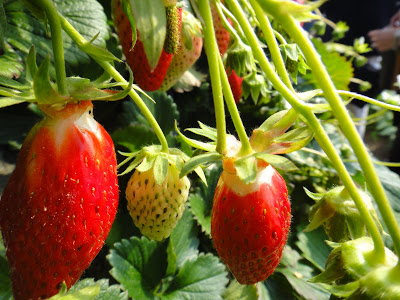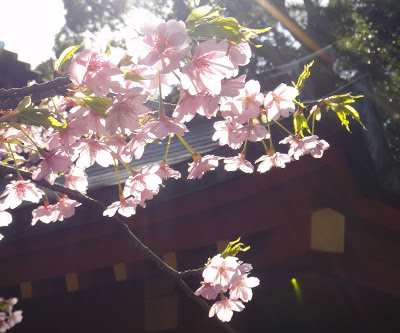 After that we swung over a precipitous drop in a very full cable car to get to Kunozan Toshogu Shine. The only other route involves climbing thousands of stairs from the seaside. Shizuoka Prefecture's temperate, sunny weather had already coaxed some of the shrine's cherry blossoms into bloom and they shone in the sun like so many glistening pink pearls.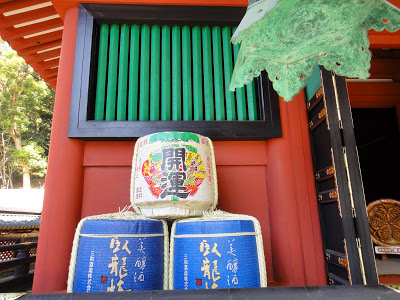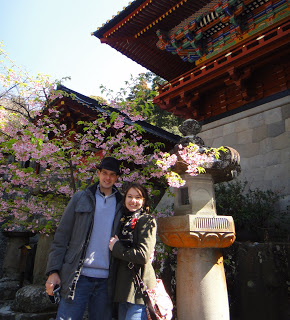 All this was built to honor the first shogun of the Tokugawa Shogunate. He was buried somewhere else originally, but moved here when an enemy took over the previous hilltop, but then moved somewhere else entirely I think. So what's the enduring point of this shrine…?
A fine question. It was really pretty.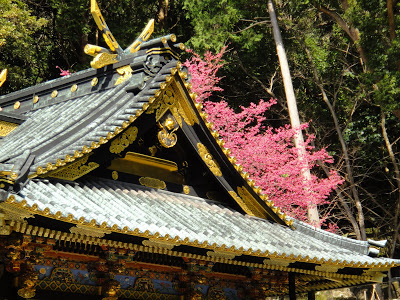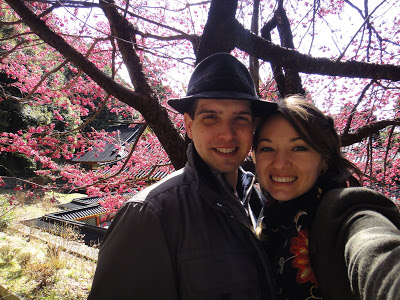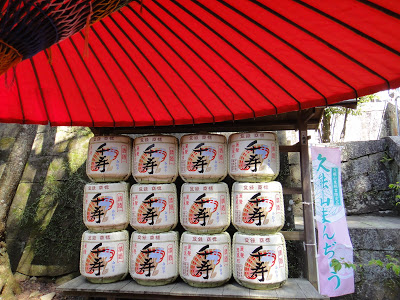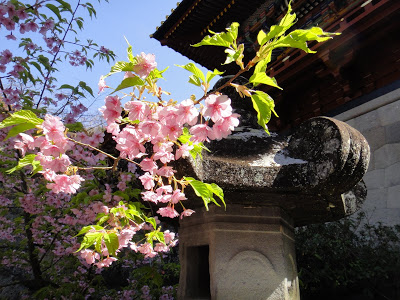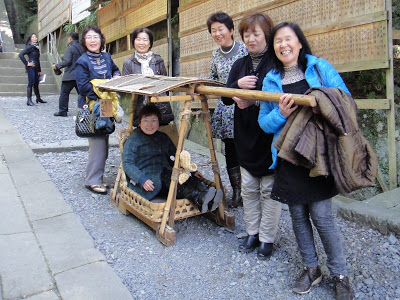 Then we stopped at a fish market for some really fresh sushi on a convenient go-round. We accidentally snagged a plate that cost 800 yen ($10) and it wasn't even our favorite! Oops! We walked around after that, stopping to be grossed out by the enormous tuna head decorated with silk spring blossoms and gaping up at the ceiling, then browsed a shop with more Hello Kitty phone charms than I've ever seen. While I was perusing these and debating whether I needed a Hello-Kitty-in-onegiri charm, Chris beckoned me over: "Come look at this!" "Hmm?" I asked. "Come here!" he said. "Can you hold it up?" I asked, not tall enough to lean over the aisle. "No, I am not holding this up in here," he said. (photo below) Ha ha! This is a kids' store! Japan is so crazy!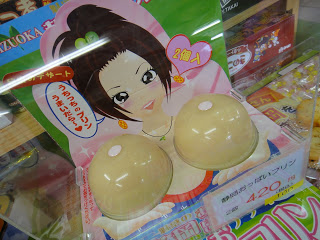 Also, I thought it might be funny to note that as of this day in early March, we were congratulating each other on being close to finishing the most challenging part of the spring. Chris' squadron's NATOPS evaluation was finished, I was leaving in just three days for the Thailand buy trip—what I'd hoped would be my last international flight before we moved—and we were looking forward to cherry blossom season and our first real stretch of time together at home in Japan. Ha ha ha! Ah…we make plans; our sovereign God laughs.