You know how every year in September when the candy corn first hits shelves you buy a bag and put it in a cute decorative fall candy bowl in the shape of a pumpkin and have a couple pieces…then a couple more…and then a handful…until that awful moment when the sugar does its evil victory dance and you get sugar freeze, or whatever the sugar equivalent of brain freeze for your teeth would be? Well, this post is the baby picture version of brain freeze or toothy sugar overload or whatever. So cute it hurts.
Isaac is not quite seven months old. He is looking forward to visits from all grandparents in the next few weeks so he can show off his tricks, the newest of which include: mostly sitting up, holding on pretty tight, occasionally stiffening his legs to practice standing, refusing to roll onto his stomach, eating two containers of baby food at a time, and generally being the most contentedly immobile baby you've ever seen. He also loves to chirp. Angel Baby may be saccharine-sweet in these photos, but make no mistake: he is 100% boy. By this I mean he giggles anytime anybody farts, including himself.
Also, he is extremely ticklish. Don't you just want to scoop him up and display him in a pumpkin bowl??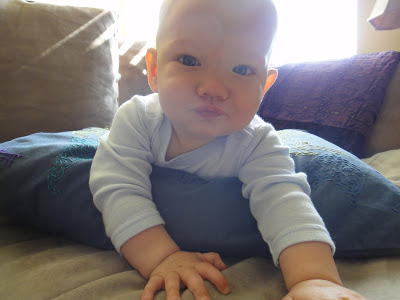 No pumpkin bowls, please. Sheesh, Mom.