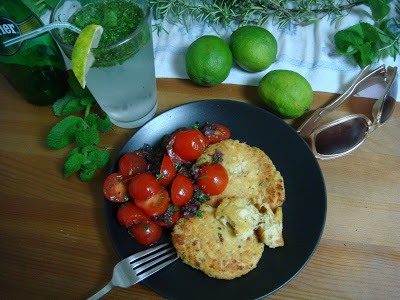 My favorite cookbook, "French Women Don't Get Fat," advises use of napkins, plates, silverware—all the formalities—even or especially when dining alone. And if you think that sounds like a pain, the book says, how does the trouble of washing dishes compare to the trouble of being fat? ha ha ha! Make mealtime about more than just satiating hunger, the advice continues: a meal that's visually stimulating, smells delicious, took some effort to prepare and is satisfying greatly reduces feelings of hunger.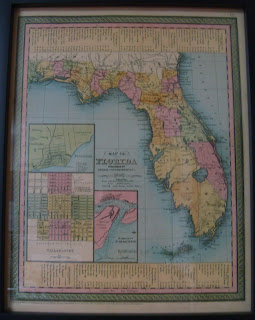 Usually I toss that to the wind when Chris is gone because I hate making something I'll have to eat again and again…alone. But tonight I took the small trouble of baking crab cakes I found in the freezer section to provide a base for my Satisfying Summer Salsa and accompanying Mari's Mango Mojito. Can you tell my mint plant is taking over my house? Good food, summer and enjoying cooking always make me think of Jacksonville. Add some Burn Notice for dinner entertainment. Ah, summer!
Satisfying Summer Salsa
Halve a handful of sweet cherry tomatoes, then chop a handful of pitted kalamata olives and lots of fresh rosemary and mint. Mix in a bowl and top with a splash of garlic-infused olive oil and a squeeze of lime. Serve immediately. (The saltiness of the olives compliments the crab cakes!)
Mari's Mango Mojito
Muddle a handful of fresh mint leaves with fresh lime juice in the bottom of a glass, add mango-flavored rum and top with chilled Perrier. Sweeten if desired.