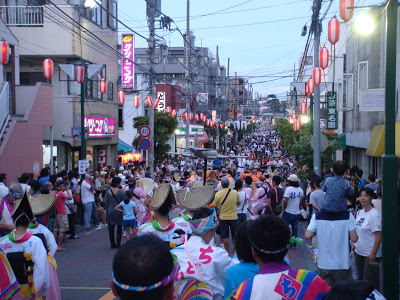 Rain sprinkled across my windshield as I pulled into the JMSDF building where we costume up. But thankfully by the time we boarded the buses to Higashi-Rinkan the cloud layer had risen and the evening was beautiful, if humid.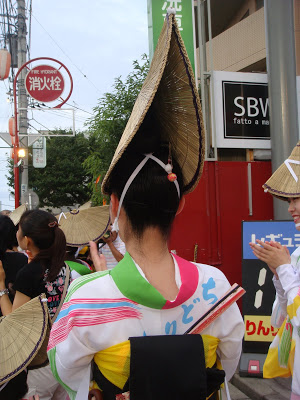 Tonight was even more fun than yesterday. We knew the route; we knew the drill. We're all more comfortable together so we progressed into junior high teasing: "The boy with the camera—do you know him?" I asked one girl, "because he's always smiling at you!" This got a lot of denials and giggles from her and her friends and we all made a point to get her to turn around every time he was right behind her. ha ha ha!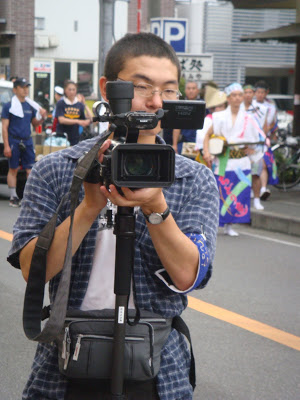 Tonight my feet didn't hurt; I wasn't exhausted. The crowd was livelier and friendlier. Kids in seersucker yukatas looked up at me and waved or asked to see my fan while I waited on the side of the street as the boys danced. A lady posed for a picture as we walked by in the background so I paused and smiled over her shoulder. She and her friend taking the picture erupted in squeals and smiles and bows. Rewarded for hamming it up? Dancing all night? I think I found my calling.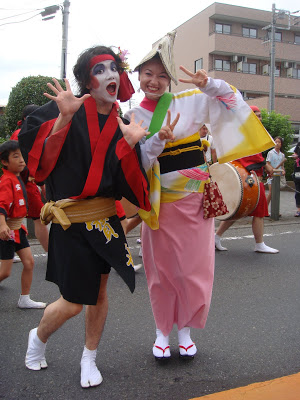 "Is this the last dance?" I asked at the final station. "No, no," everyone assured me. "More dances!" After that dance we set off around a corner. Everyone looked at each other, then crossed their wrists under their chins and straightened their arms out in either direction like air traffic control. "Finished! Finished!" A moment of confusion ensued, then the drummers decided: no. BOOM ba boom boom BOOM ba boom boom BOOM ba BOOM ba BOOM ba boom boom!!!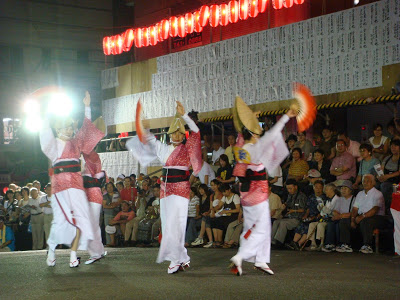 Immediately all the dancers poured into the middle of the street. People crowded into the tiny street from all sides and from the nearby train station. Children, their parents, shop owners, groups of friends—everyone joined in the dancing or laughed and clapped in time. Our lead girl gave the call for a chant we hadn't done in two weeks but everyone immediately fell into place.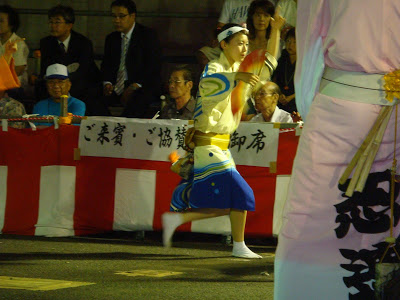 Suzu-chan: Ichikake nikake sannkake te
Us: Shikateta odoriwa yamerare nai
Suzu-chan: Gokake rokukake shichikake te
Us: Yappari odoriwa yamerare nai
One, two, three and—
(word play on four) Is this some trickery to stop our dancing?
Five, six, seven and—
(word play on eight) Never will we stop dancing!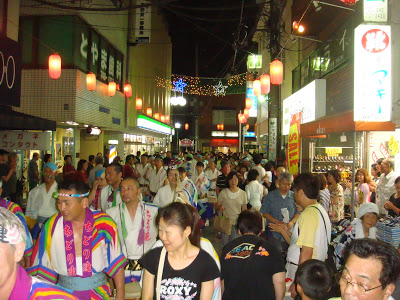 And with that the festival ended and it began to rain. Just a few drops at first, splashing through my straw hat and dripping down my cheek, then more and more until we were swallowed up in an August thunderstorm. With satisfying finality this last curtain of rain closed behind my Summer of Awa Odori—the perfect ending.