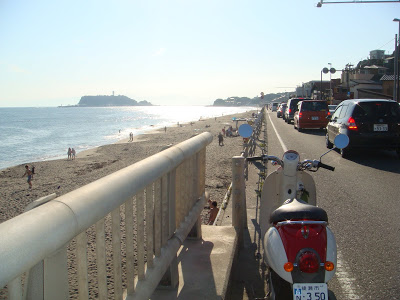 I'm not really a "Beach Trip for One" kind of person. I don't mind the odd solo search for seashells by the seashore, but when it comes to a day at the beach I prefer a beach buddy—specifically, a Chris. (Cute story: to get off ship in port you have to have a Liberty Buddy at all times. When I'm there I count as Chris', but otherwise he has to convince people that the forts really will be fun. Surprise, turns out Chris and I like to do all the same things together, so he emailed me, "Will you be my liberty buddy forever?" Of course I loved it!) Today I discovered the best way to enjoy the sun and shoreline alone: scooting! The Scoop and I left Shonandai around 3pm and headed south.

View Larger Map
Here's what scares me and The Scoop:
1.
Driving in Scoot Packs
. Sunday afternoon of O-Bon probably had about the most traffic possible. Pedestrians, bikes, kids, old people, scooters, motorbikes, motorcycles, buses, cars; you name it, it was one the road. But nothing is as unpredictable as another scooter! Is he going to pass me on the left, or swerve around to the right? Is he passing on the cars' lefts or rights? Will he see me braking? Where the heck did he just come from? And where did he go?? At one time I was stuck in a pack of NINE scooters! All just floating around between two interminable lines of traffic trying to get around the cop scooter in the front! Weaving in and out and slowing and speeding–sheesh! It's like trying to drive out of the unpainted parking lot in high school at the end of the day. Impossible, and no one knows exactly what they're doing.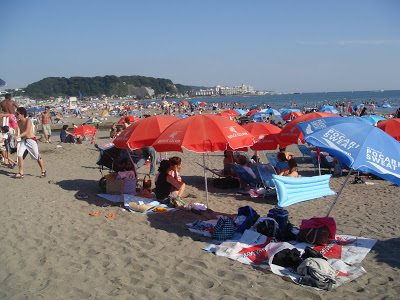 2. Passing cars while the light is red and having the light turn green and the cars start moving while I'm in the shoulder. This is where I start squealing, "Don't squish me! Don't squish me!!" inside my helmet.

3. Sun Sneezing. The women-folk in my family traditionally say, "I hate to sneeze while I'm driving!" My sister and I say it, my mom says it, and her mom before her started it I think. Photic Sneeze Reflex affects about 25 percent of humans. That means when you step into light and your eyes' pupils contract, it sends a message to your brain to sneeze. This helps the pupil contract for some reason. Anywho, that's why one-forth of you sneeze in the sun when you get in the car, or especially when you're sitting at a stop light looking up at the clouds. Ok, so add a HELMET with a FACE SHIELD to the equation and you can just guess why it's on my list!
4. Trying to read signs and looking up to find a car parked in the middle of the road for no reason with the blinkers on a guy walking around the car! I almost hit him and had to pull over until my heart stopped racing!
5. Zipping along passing all the cars when BING! side mirror hits the side of a car. Good thing they're adjustable! 🙂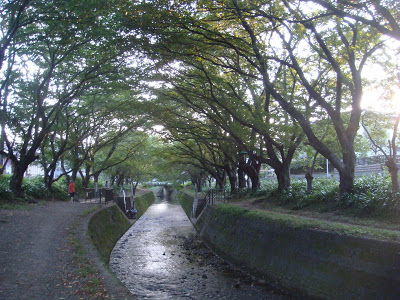 So anywho, The Scoop and I had a delightful afternoon scooting along the coast feeling the sun on my skin, smelling the salt water and O-Bon incense, exploring new streets and figuring out how everything connects together. We finished our ride along the river toward home.