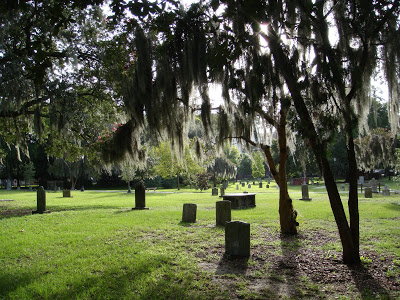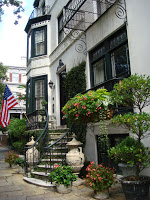 This weekend is rather notorious
For fun and pursuits non-laborious
So we filled up with gas
Gave our day jobs a pass
And decided Savannah is glorious!
(Photos: top-Colonial Cemetery on Abercorn; Right-Ballastone Inn; Below-Chris and me at Fort Pulaski)
A city at peace was the perfect place to watch summer fade into fall. Just symbolically, of course, because it'll be hot here until February.
We drove into town Friday afternoon spent the evening wandering the streets of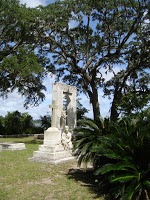 historic downtown, including dinner at a British pub called
Six Pence (245 Bull St., Savannah, GA, 912.233.3151)
where we chowed down on an open roast beef sandwich with collard greens (me) and shepherd's pie with a salad (Chris).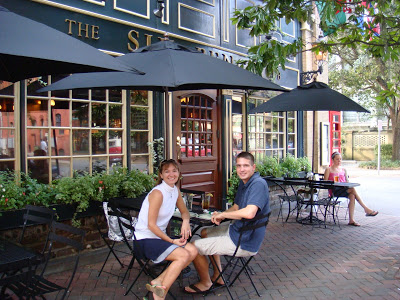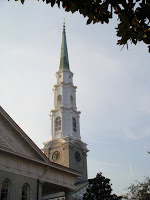 Our after-dinner stroll took us north on Bull St. by the Presbyterian church whose steeple is featured in the opening musical score of "Forest Gump" (with the feather) and along the waterfront, where we sampled lots of pralines and fresh-pulled taffy hot off the…pully-thing-a-ma-bob(?) before watching the ships along the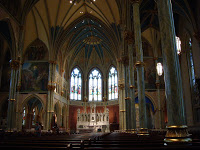 Savannah River with root beer floats.
(Photos: upper left-Chris at Six Pence; upper right-Aventure Cemetery; above-Chris and me at Six Pence; left-Independent Presbyterian Church; right-inside of St. John the Baptist Cathedral).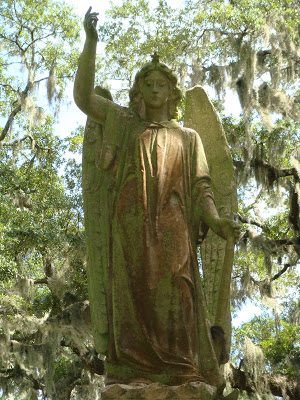 Saturday we took a fun trolley tour, had tea at Gryphon (337 Bull St., Savannah, GA, 912.525.5880) (as per Budget Travel's recommendation), a late lunch at Paula Dean's Lady and Sons restaurant (yum, but too hyped), and explored The Paris Market & Brocante (again, Budget Travel), where Chris and I sort of fell for an antique silver champagne bucket….
(photos: above-an angel tombstone in Aventure Cemetary; below-Aventure Cemetary)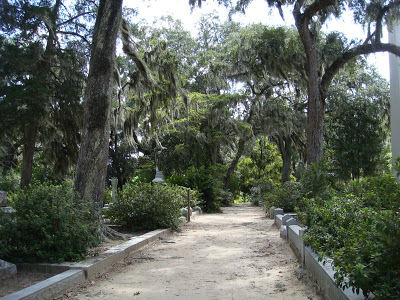 Stuffed from lunch, we had a light dinner of a really delish Riesling and a bagel with spinach and artichoke dip (me) and an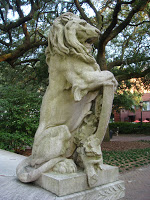 Italian cream soda and the other half of my bagel (Chris) at Gallery Espresso where we ran into a guy in Chris' winging class we knew from Pensacola OCF. Small world moment!
Sunday we attended Independent Presbyterian Church, where a nice lady asked if Chris was a pilot and when we were getting married.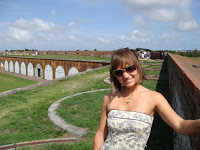 When I laughed and said we'd been married for two years, she gasped, "Oh, you just look SO young!" After lunch we scavenged around an antique store to see if they, too, may have silver champagne buckets (no) and considered buying a severely discounted bench for the foot of our bed (no), but did end up buying the most charming silver candy dish (37th @ Abercorn Antiques and Design, 201 E. 37th St., 912.233.0064). Then we toured the Bonaventure Cemetery, depicted in "Midnight in the Garden of Good and Evil," before heading to Fort Pulaski, which fell to the Union during the Civil War. It was about 10 times as big as Castillo de San Marco in St. Augustine. I love how many national forts and parks there are around here—of COURSE I got my National Park Passport stamp!!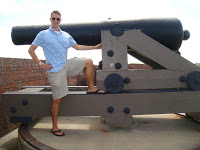 Then we packed up and drove back downtown to secure our silver champagne bucket. We ducked into a Goodwill on the way back to the car. "Why are we in here?" Chris sounded like he was in physical pain, even though he had spearheaded the champagne bucket movement. I rummaged around and held up a silver tea tray. "Oh," Chris said. "I'm convinced!" Thus ends Chris and Mari's Silver Spree, or Southern Silver Sensations.
(Photos: above left-Lion on Oglethorpe's statue; left-Chris beside a Fort Pulaski cannon; right-Mari on the walls of Fort Pulaski)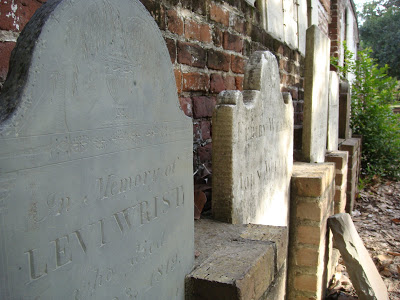 We spent the rest of the afternoon in Colonial Park Cemetery on Abercorn so Chris could read all the plaques (his favorite thing to do). Dinner at a Scottish pub got us ready for the Compline, or the "Say Goodnight to God" service held at Christ Church Savannah, the city's first church. About nine choir members from churches all over town sang it in a Gregorian chant-style.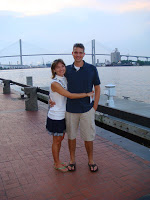 The city is so meditative. I felt comfortably balanced between cares/concerns and eternity—in the present with an eternal perspective. "Be still and know that I am God," (Psalm 46:10) was written atop the program. I've been having some control issues lately, justifying it because everything is up in the air what with moving and being in transit for the next few months—that's been forefront on my mind as we head into September. The compline service is a medieval tradition where monks would sing goodnight to God thanking Him for the completion of another day and trusting the uncertainties and dangers of the night to Him. The choir sang some of my favorite verses, like Psalm 121: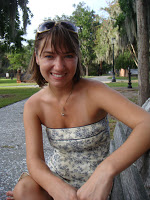 "The sun will not smite you by day, nor the moon by night." Having cemeteries and history woven throughout the city and churches on every street was a constant reminder of my own mortality—in a peaceful way. Relax—open your hands and release your control issues and fears to God. Do not walk in fear. He is sovereign. Goodnight, God.
(Photos: above-pre-Civil War gravestones at Colonial Park Cemetery; left-Chris and Mari next to the Savannah River; right-Mari in Colonial Park Cemetery; below-tombstone and Spanish moss in Bonaventure Cemetary)