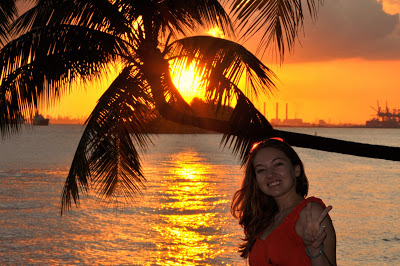 After an excellent brunch in the Swisshotel's Swiss Cafe Chris said he was still tired and couldn't stand any tourism until he'd had a nap. Well I can't nap so soon after waking up and breakfasting, I huffed. Then we both zonked out and slept soundly until I looked at the clock. WOW! How could we have slept for HOURS?! I shook Chris awake and we ran around scrambling for guidebooks and putting on shoes. "Come on! Everything's going to close!" I rushed Chris along. I was speedily brushing my teeth when Chris checked his watch. "Mari! It's not 4pm! It's 2pm!" Apparently the hotel clock is on military time, but from my side of the bed I couldn't see the 1 in 1330. I looked at the clock, then sheepishly turned to Chris, who was still looking disheveled, and burst out laughing. "Mari!" Chris chided before he sat on me. "Learn military time!"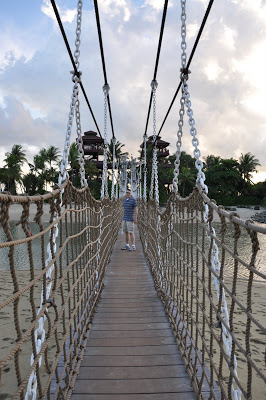 We took a taxi to Fort Siloso on Sentosa Island for a tour through Singapore's fascinating involvement in the Second World War. I visited the fort last year after Chris' ship sailed and he was keen to see it, so we explored the tunnel networks before heading to the beach for some dinner.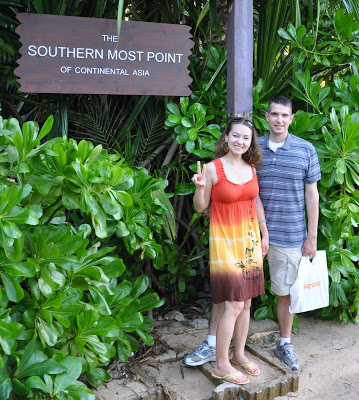 We found the perfect place—not crowded, right on the sand, nice breeze, cold beer—and ordered Singaporean Tiger beer. The burgers were terrible (I meant the best place as in location, not restaurant). But who cares—we could see the Southernmost Point of Continental Asia from our table! After looking at some maps we are not sure this claim is accurate, but someone cared enough to erect a sign and some lookout tours anyway, so that's cool.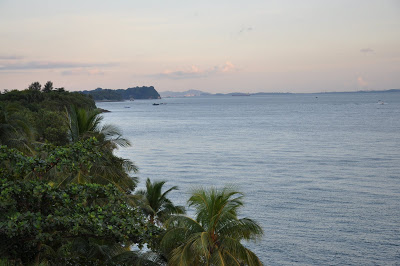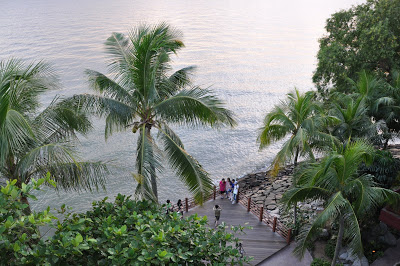 Wait a minute! Do those outfits look familiar!? When I started doing this post I realized we both wore the EXACT same thing in Singapore last year at the Orchid Garden. What are the odds?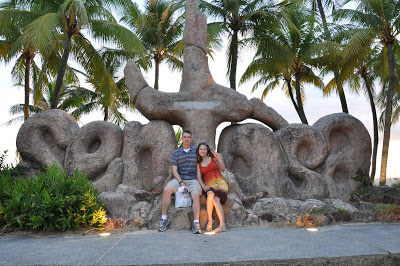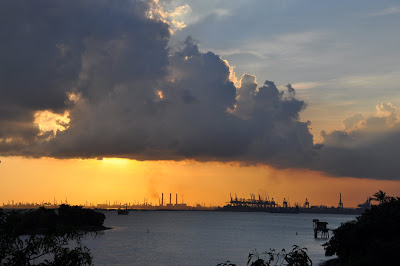 We watched a gorgeous tropical sunset before heading over to the luge for a twilight lift up the hill and a race back down along the jungle and dragon trails. Wheeeeee!!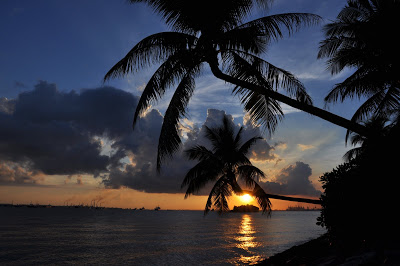 We were second in line at the taxi queue when some lame-o Little Mermaid wannabe show dismissed, flooding the line with people who called for cabs on their cell phones. Drivers get to charge extra for responding to calls, so of course the poachers got all the available cabs. We waited 20 or 30 minutes when I decided this was dumb and found a bus leaving in four minutes that would take us to our hotel for cheap! $ucce$$!!!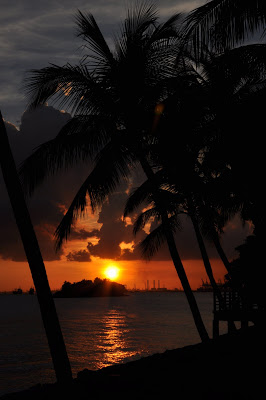 Note: This post has the dual distinction of being my
500th post
AND marks the day Passport Diaries passed
30,000 hits
!