The nice lady at the table next to ours took this perfect video for us. I'm not usually that into packaged fun—things like cruise ships, theme parks (other than roller coasters!) or other places that are very crowded and you wait in long lines then enjoy doing whatever they tell you to do—but dinner at Cinderella's Castle was WON-DER-FUL! The hostess liked th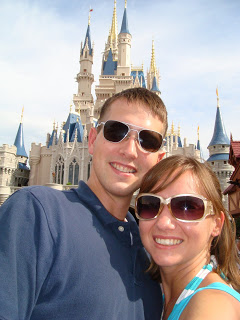 at we looked so excited, so she brought special castle and pumpkin-carriage confetti for our table and gave us newlywed pins for our anniversary. I don't know how we got this table but it was nuts—right in the center of the windows that look out on the park and Cinderella's Carousel and the fireworks, which started right after we finished our appetiser (corn and crab soup for Chris, Castle Salad for me). Little Kid Mari's brain was short-circuiting like crazy. Chris had the cheese tortellini and I had grilled salmon with a rosemary-honey glaze, asparagus and grain pilaf. We both had the chocolate buckle for dessert. After the mice and fairy godmother sang for us (conveniently between our entree and dessert!) we descended the spiral staircase into the empty lobby and waltzed to the Little Mermaid instrumental playing from somewhere, then got to the front of the castle in time to watch the last parade of the night. Disneyworld's not bad, despite the fact that there are kids everywhere, getting in the way of me having fun. Sheesh, they think it's all about them!
To see our photo album from Disneyworld or for more St. Augustine photos, click here: Sunshine State Diaries
Sunday was our first time to go to Animal Kingdom, which we decided was a good idea for whoever thought of it. First of all, who doesn't like animals? And making it seem like a worldwide exploration/expedition was really fun. Well done. They do a good job of theme-itizing it (I guess that's why it is a 'Theme Park'…obvious). But seriously, making stuff look old and dusty is a good idea, because the older and dustier it gets, the more in-theme it is, right?
But this I found disturbing—I loved the travel theme: old travel posters, luggage labels, vintage luggage…wait a minute. Over lunch at Pizzafari I told Chris I was having a personal crisis. My enthusiasm for travel has no basis in reality. I like the romanticized, idealistic vision of exploring the world, like in Casablanca and Indiana Jones and my summer in Cairo. But this weekend we learned that the mood in Indiana Jones was based on the lawless, edge-of-the-world mood of Casablanca. So maybe I don't really like traveling at all…maybe what I really like is—GASP!!!—packaged fun!!!!!!!!! For obvious reasons, this is a rather alarming crisis. We're about to move to the other side of the world based on my self-Disney-deception. Oh…crap.

Chris helped me walk through the mini-panic. Cairo fed my romanticized ideal of traveling because it IS old world and vintage. It looks nearly identical to the Cairo of a century ago. Moscow, too, played into that a little because I've read so many James Bond books that talk about it and it was, well, it's practically the definition of Old World. Now it is necessary to separate the expectation for everything to be old and romantic from the reality of exploring new places in NOW. Also, Disney makes the idea of traveling easy, and I haven't yet forgotten the difficulties of my and Hannie's trip yet, so that may also have fueled the mini-panic.
So I think I'm still excited about moving to Japan, which I have never expected to be old-fashioned (quite the opposite). I will soon get to wear my silver space boots there with pride. But I must admit, Chris and I did have lunch in Japan in Epcot, and it was old school and fun. 🙂