I was sitting in traffic downtown one Monday afternoon in June when the radio announced the upcoming Foreigner/Bryan Adams concert. I love calling Chris with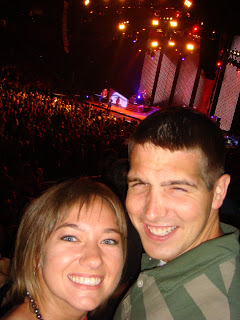 good news! He was on his way home, too, and he wahoo-ed into the phone just like I hoped he would. We have to soak up all the American 80's we can before heading East, right?
The last time I got to call Chris with excellent world news was when President Bush asked Dr. Robert Gates to be the Secretary of Defense. Chris saw lots of Dr. Gates as the Corps of Cadets Operations Officer at Texas A&M in 2004, even riding with him to Austin in the private jet one time on official business. And Dr. Gates signed both of our diplomas (two in Chris' case), so of course we heart him and were proud to loan him to the President of the United States of America.
But back to Foreigner:


They have a new single, "Too Late," which is excellent!


Everyone around us was saying, "whoa, I came for Bryan Adams, but Foreigner was phenomenal! Bryan Adams will have to play all his hits to top that!" Even the songs I didn't recognize were catchy and full of energy (AND these guys are my parents' age! What's with the tight pants?!)
Chris said he'd be satisfied if Bryan Adams played "Heaven," "Run to You," and "Summer of '69." He played all three, plus that theme song for Robin Hood. A lady in front of us was swaying and singing along while her boyfriend slouched in his seat text messaging. She reached for his hand and he left! A few songs later I headed for the restroom and saw him texting at the top of the stairs. He was still there on my way back in, so I said, "Everyone could see you being kind of a punk down there!" He snorted and said, "Well, she needs to learn it's not all about her." "You're right," I said. "It's not about her or you. The point is to enjoy a concert together, so man up and just be there with her. She deserves to be treated better." And headed back down to my seat while he shrugged and nodded. By the next song he'd returned to his seat next to her! When they left I gave him a thumbs up. Better than nothing.


Chris picked me up at my apartment on a blazing September afternoon in College Station, Texas and drove to Cold Stone Creamery with the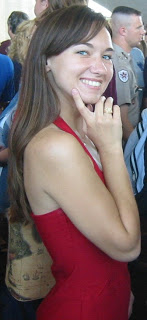 windows down. Chris was in uniform; I was in my red dress. This was an important day—RING DAY 2004!!! The day Aggies who have earned enough hours and ordered their enormous gold ring in time can go pick it up and it's a PARTY! So we're headed toward ice cream pre-ring with the windows down and the semester is just starting and I'm so excited about my ring, and Chris turns on the radio or a CD or something and "Summer of '69" and "Boys of Summer" serenade us the whole drive over (by the way, that would be the ring stolen in Morocco). Also, swimming at the American high school in Cairo on the Fourth of July in 2003 I was on top of the high dive when the song changed over to "Summer of '69." I'd been so homesick and this was the perfect respite before the rest of the trip! So you might say we like this song.

The last song: "All for Love." Perfect!