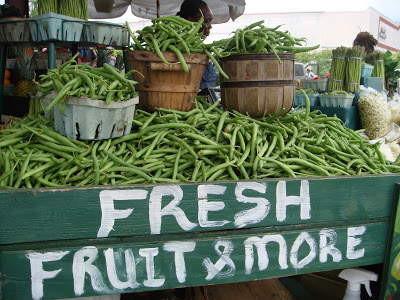 Come and get it! The Jacksonville Farmers Market (1780 W Beaver St., Jacksonville, FL 32209, 904.354.2821) says it's Florida's oldest farmers market. Wendy and I were a little skeptical of its authenticity considering it's open every day, but it turns out the vendors rotate out, so really the market varies from day to day.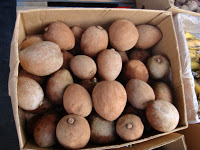 We sampled mamey, sort of a cross between a mango and a sweet potato. The inside was sweet-potato colored, but it was mango-sized and similarly fibery and peelable. The stand's owner was really helpful. We were picking up and sniffing and squeezing unidentifiable fruits and he came over and started slicing away, feeding us sticky bits of exotic taste treats (some were better–and riper–than others. Ripe mamey? Yum! Unripe plaintains?? Bleck!).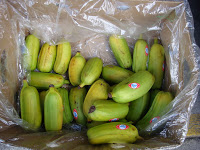 Wendy turned these Hawaiian plantains into excellent fried plantains with a little brown sugar. Yum! A little crisp and caramelly on the outside and sweet and soft on the inside. Now we just have to figure out how to copy that recipe from Columbia….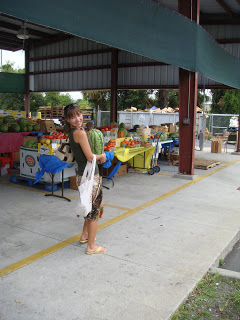 I ended up buying two bears of honey that may or may not have actually been local.
"Where's this from?" we asked the lady.
"It's local," she said.
"Local like where?"
She looked at me: "It's local."
I have bad timing in general, so I made a joke: "How do you know? Did you check their little bee passports?" (Like in Miss Piggy's Celebrity Cookbook, she asks someone how you know whether it's Chilean Sea Bass: "Moi wants to know if the bass carry passports" ha ha!)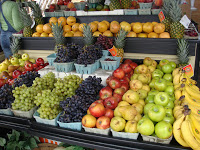 Anywho, I also got five Carolina peaches for $2 (the skins stuck to the fruit and the fruit easily came off the pit—yum! I hate it when it's the other way around), and a $2 watermelon from a farmer's grandson. That evening I noticed Walmart's watermelons are $5.98! What a bargain. My final purchase was a jar of Wild Mayhaw Jelly for $4. Mayhaws are berries that grow along rivers here-abouts. When I got home I had a peanut butter and mayhaw jelly sandwich and it was delish.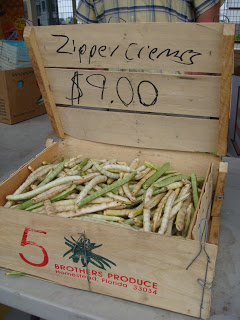 We saw lots of exotic fruits in the stand run by an Asian lady, but she was busy. She had dragon fruit, which Hannie and I bought at the farmers market in Barcelona. It came cut in half with a little spoon for E2 (per half) for the whitened pulp and E3 for the pinkened pulp. Here they came whole (white or pink?! ripe or not?!), sans spoon, and were $5/lb. A small dragon fruit was about a pound, so about $5, whereas the ones in Spain were $6 for a whole unripe one, more for the ripe, so still cheaper here. Excellent.
She also had a $150 Jackfruit larger than a watermelon, bamboo, heart of palm, squash with prickly skins, and lots of things I couldn't identify.
Cactus, anyone??