I regret that I am too lazy to get up and watch the sunrise. So today I did. Unable to overcome complete laziness, I combined my sunrise outing with going on a local seafood adventure.
How cool would it be,
I schemed,
to watch fishermen unload their catch, then buy it and eat it fresh from the Atlantic!
A good idea. Of course, all these fishermen in my head wore burly striped wool sweaters and smoked pipes. One had a peg leg.
I called ahead and asked what time the locally-caught seafood was delivered. The lady didn't know.
"Do the boats unload on the same days every week?"
"Oh, yeah. Friday. Early."
"Early as in 5 a.m., or early as in 7 a.m.?"
"Something like that," she said and rang off.
The sun was scheduled to rise at 6:33 this morning, so I got up at dark o'clock and drove north on Scenic Highway, arriving just after 6 a.m. The single boat at the dock slept silently. I must have missed them,. The only critters out there were a gaggle of people leaving on a charter service and some scraggly kittens having the time of their lives under the fish trash bins.
Ribbons of pink swirled out of the west. That doesn't make sense. I checked my map and followed the ribbons
east,
ending up at a park with a boat ramp and dock.
Not a total loss,
I thought.
I'll watch the sunrise, sit around for
hours,
then at least get to buy some seafood
.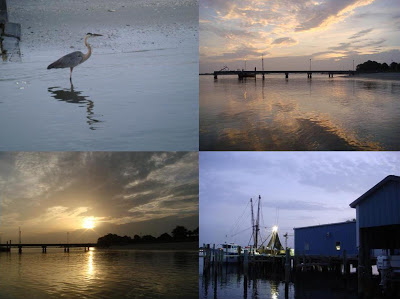 (Photos: colums are obvious. Above, clockwise: egret, sunrise, sleeping wharf, sun rose; Below, clockwise: Welcome to Safe Harbor, the shrimp boat, seaweed at sunrise, the shrimp conveyor)
A smattering of boats puttered down the river toward the Atlantic. Schools of tiny fish jumped simultaneously through the surface of the water. Egrets, seagulls and pelicans dove and pecked and cried for fish. A pod of dolphins rose when the sun did, breaking the surface like they were checking the time.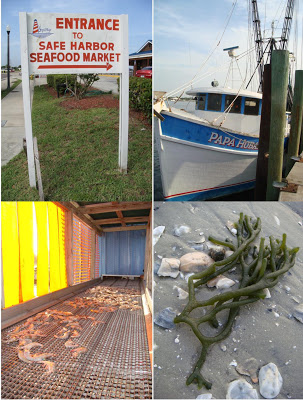 "About time for the boats to start coming, eh?"
"We better take off, ya hoser." (Canadian dolphins. Very rare)
The sun rose and immediately it got hot…7 a.m.—two hours until the seafood market opens. Back to the car, rolled down the windows, read "Thunderball" for an hour, then drove back to Safe Harbor. I pulled out my book again, but it looked like more people were around.

I followed some unofficial-looking boys past the 'No Trespassing, No Fishing' sign. The sleeping boat had awoken. The men started unloading the fish for the boys to ferry back and forth along the dock. They didn't mind if I watched and I wasn't in the way. They'd spent the past five days 80 miles offshore catching the three-foot amberjack, two-foot red snapper, one-foot vermillion snapper, and assorted other fishes. This guy had done it his whole life. A commotion drew me further down the wharf to a shrimp boat unloading. Now, THIS was where the party was! Yes, this is one of those ships that trawl along the coast, the ones we see everytime we're at the beach. A big, mesh bucket of shrimp appeared from the belly of the boat, rose and swiveled, was caught and dumped onto a conveyor belt. The line of crawly things progressed motionlessly down the line, the odd squid and silver-dollar fish mixed in with the white and brown shrimp (separated).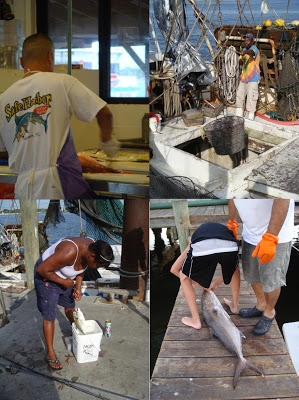 "Fuel prices are doin' us bad," said one of the shrimpers, a tall blond man who never set down his purple box of cigarettes. "It costs us more, and the imported shrimp just keep coming. It's against the law to buy imported shrimp. Well, as far as we're concerned."
He pointed out the twisting, dilapidated dock next door and said a cruise company bought it and was trying to buy Safe Harbor, too.
"They'll build one of them big ones, then bus people from the airport to the ship and back. They don't spend their money here. They're not doing nothing for the town."
An older black woman with hunched shoulders got a bite on her line and started to holler as the fish swam in circles.
"I'm using the right bait, she's using the wrong bait, and all the fish are going to her!" Another dock-fisher complained. "Ok, gimme some of that bait."
"I just threw that in the water and got him!" the lady said, tugging. "I must have thrown it right in his mouth! I don't know what I done did to get a bite so fast! I don't know what I done did!"
She pulled out a foot-long jack. The next time I looked over, she was pulling in another even longer one. She put this second jack in her bucket with the first jack and a catfish and sat on it.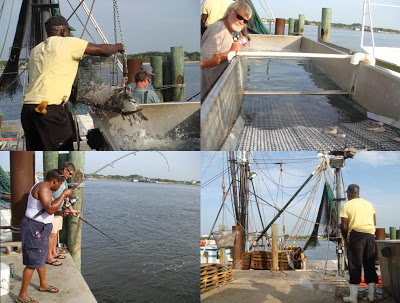 "Whew! My arms are so tired I couldn't hold a baby," she said. "I am just tired!" Later she caught another catfish.
"Them fish is bitin' today," said one of the shrimp unloaders. "Sometimes they bite. Sometimes they don't. They's bitin' today."
By this time it was about 9 a.m., so I popped inside the Safe Harbor Seafood Market (4378 Ocean St. #3, Atlantic Beach, FL 32233, 904.246.4911) and picked out some couldn't-be-fresher Atlantic shrimp ($5.95/lb) and red snapper ($6.50/lb)—the whole fish, which the guy cleaned and handed to me in a clear baggie for dinner tonight.
(Photos Above, clockwise: guy cleaning my snapper, unloading the shrimp boat, boy got his finger stuck in the amberjack's mouth while unloading, lady who caught all the fish on catch #2; Right, clockwise: shrimp guy unloading onto the conveyor belt, blond dude watching the white shrimp, swinging the shrimp basket up and out, lucky fish lady pulling in the catch)