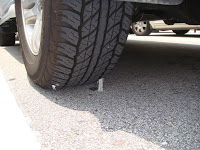 Monday was just one of those days…my computer crashed, the computer guy was incompetent and freaked me out with info that ended up not even being true (thankfully). Chris had to work until after midnight. I had to make another trip to stupid Best Buy in the pouring rain to bring them accessories for the work on my computer. Blah.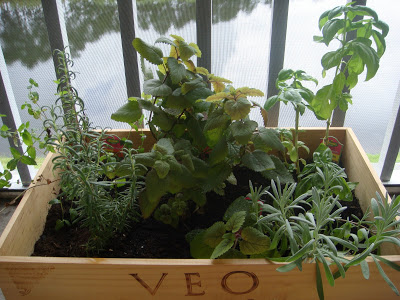 But look at my herb garden going crazy! The mint has never fully recovered from Pounce's plant attack, but the lemon verbena is staging a hostile takeover. I did a replant of mint and basil plants to get them to lush out a little, requiring some dramatic verbena-trimming. Which leads me to: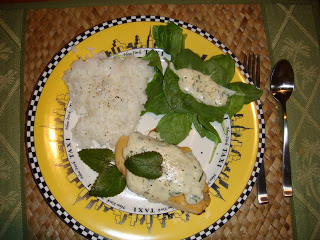 Chicken in a Lemon Verbena Cream Sauce
A dinner inspired by a meal James Bond orders in "On Her Majesty's Secret Service." I've never made a cream sauce before, but I looked up the basics and made my own, which turned out so well Chris polished off his whole dinner in under 10 minutes.
Season chicken with garlic and poultry spices (or whatev) and bake at 375 for 25 minutes or so.
Saute fresh-chopped garlic in 2 T butter, then whisk in a heaping spoonful of flour. Pour in 3/4 cup of hot milk, whisking constantly. I added several chopped up sprigs of lemon verbena along with a splash of half-and-half and spoonful of Parmesan. I spooned it over the chicken and small spinach salad and served with jasmine rice. Garnish with more lemon verbena leaves. Yum!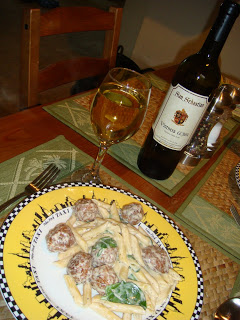 Friday Night Alfredo with Spinach and Meatballs
And Chris politely (sort of) hinted we should eat more red meat, so in addition to tacos this week we also had alfredo meatballs. This whole meal was put together in about15 minutes, start to finish. I boiled the pasta until a little al dente, stirred in the alfredo meatballs (Handling raw meat grosses me out. All those needed was 4 minutes in the microwave) and spinach. Served with our favorite local wine: San Sebastian's white table wine.