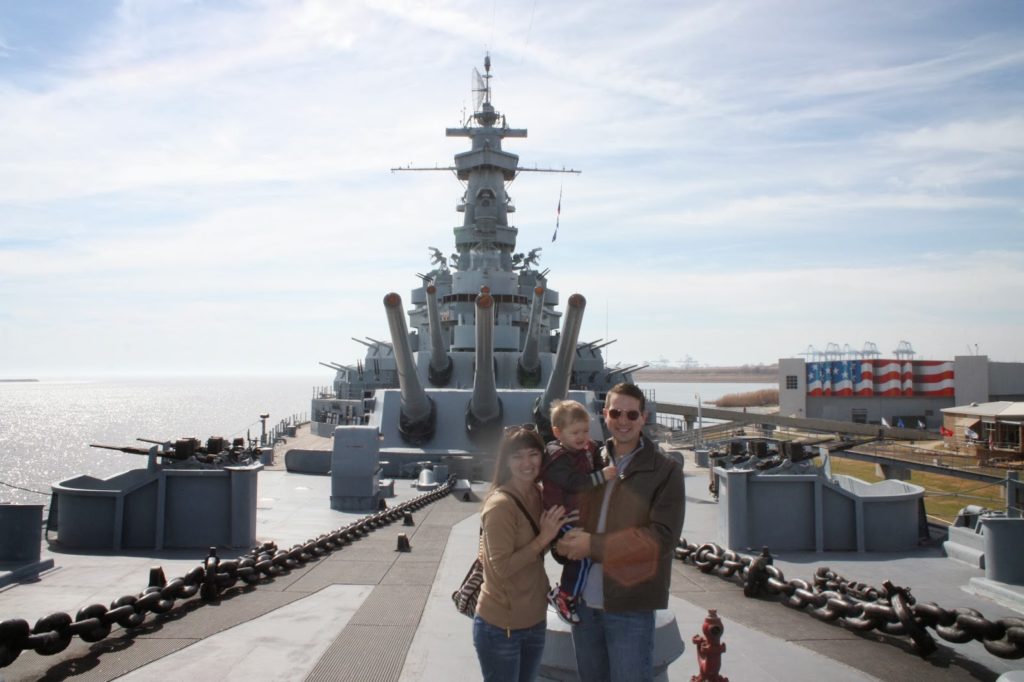 USS Alabama, Mobile Bay, Alabama
We are moving this year. Don't know when, don't know where, just that it will happen. That means it's time stop talking about wanting to go see the USS Alabama (2703 Battleship Parkway, Mobile, AL) and go see the USS Alabama, just across the shimmering wetlands of north Mobile Bay. It is free for active duty military and kids under 12, and is open every day except Christmas.
The battleship was built in the 1940s and escorted ships to Briton and Russia before heading to the Pacific theater, where it prowled the Japanese coast and even anchored in Tokyo Bay during the US occupation at the end of WWII. The Alabama has the distinction of suffering no major damage from enemy fire and zero casualties. ZERO! I like those odds!
The warship wasn't needed after 1947, so it sat around, got decommissioned, then was brought home to its namesake state in the 1960s. It's been open for visitors ever since. Now a submarine is also on display, along with tanks and aircraft, including an SH-60B (the helicopter Chris flew in Japan).
Chris and I celebrated Martin Luther King Day by watching The Butler last night, a movie about a family trying to serve their country and promote civil rights in different ways. The ending was a little cheesy, but it's pretty amazing to think of all that changed in this country in the span of a lifetime—the main character watches a white man shoot his father as they work on a cotton farm as a boy, joins the White House staff as a man, and as a 90-something-yr-old watches as Obama win the 2008 presidential campaign. Anyway, since we were in Mobile I checked their civil rights history. Wiki says Mobile led the state with voluntary bus and lunch counter desegregation in the early 60s. Not to trivialize a serious subject, but WHAT HAPPENED TO LUNCH COUNTERS?! Civil rights history always talks about lunch counters. Do they still do lunch?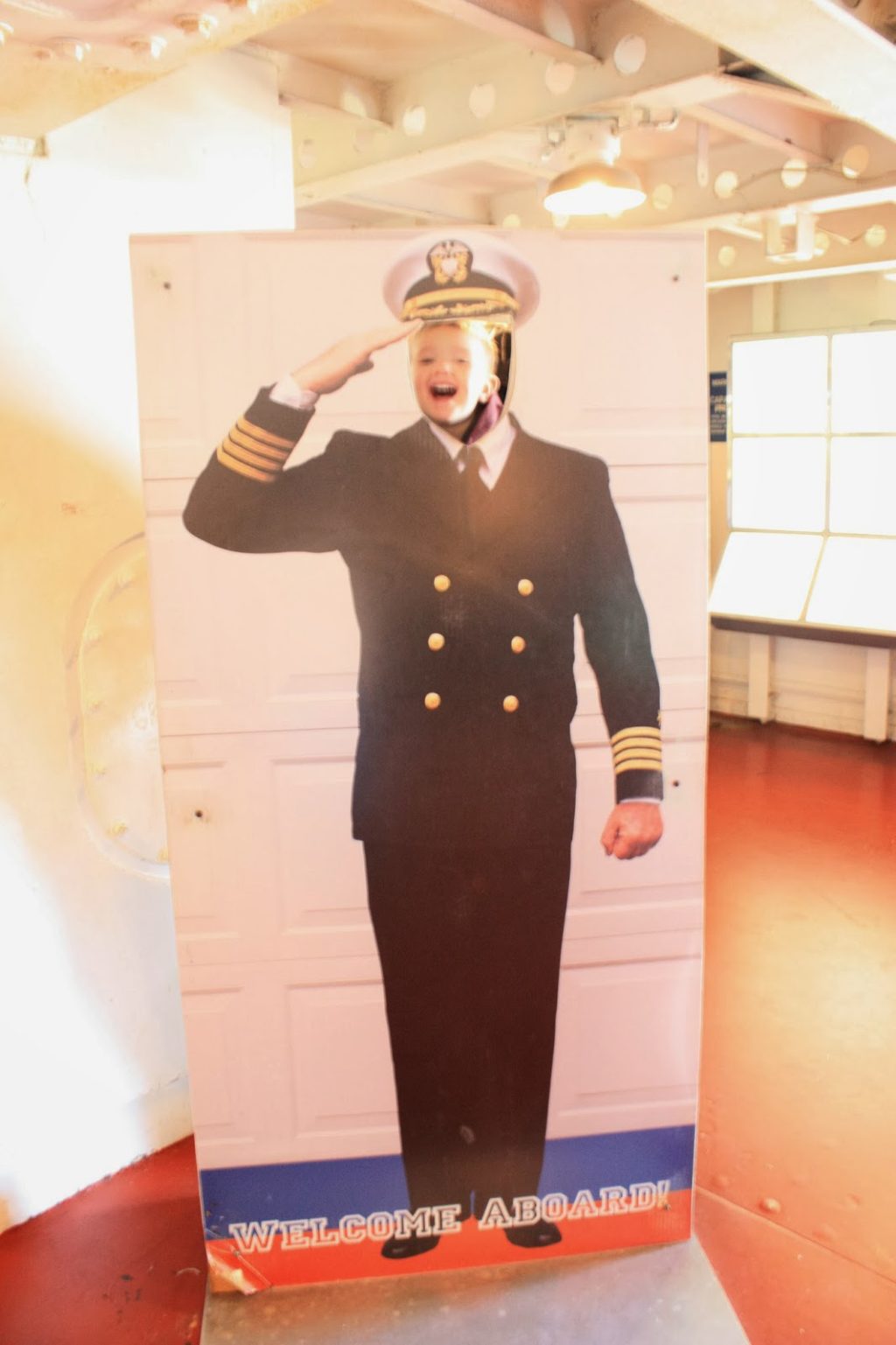 Captain Goodbaby welcomes you aboard!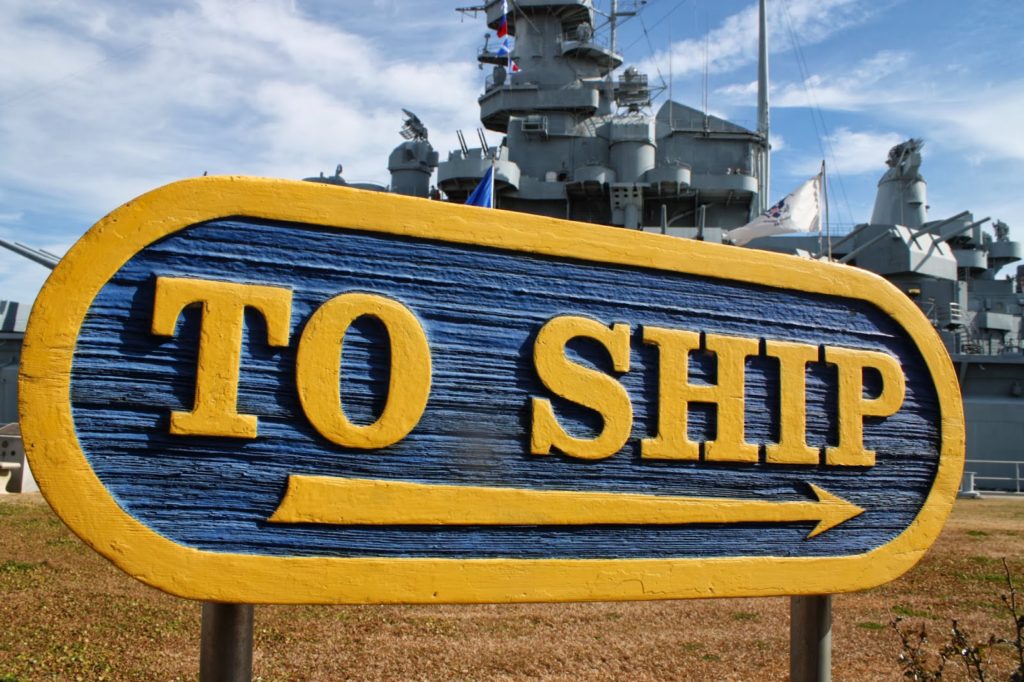 Which way to the ship?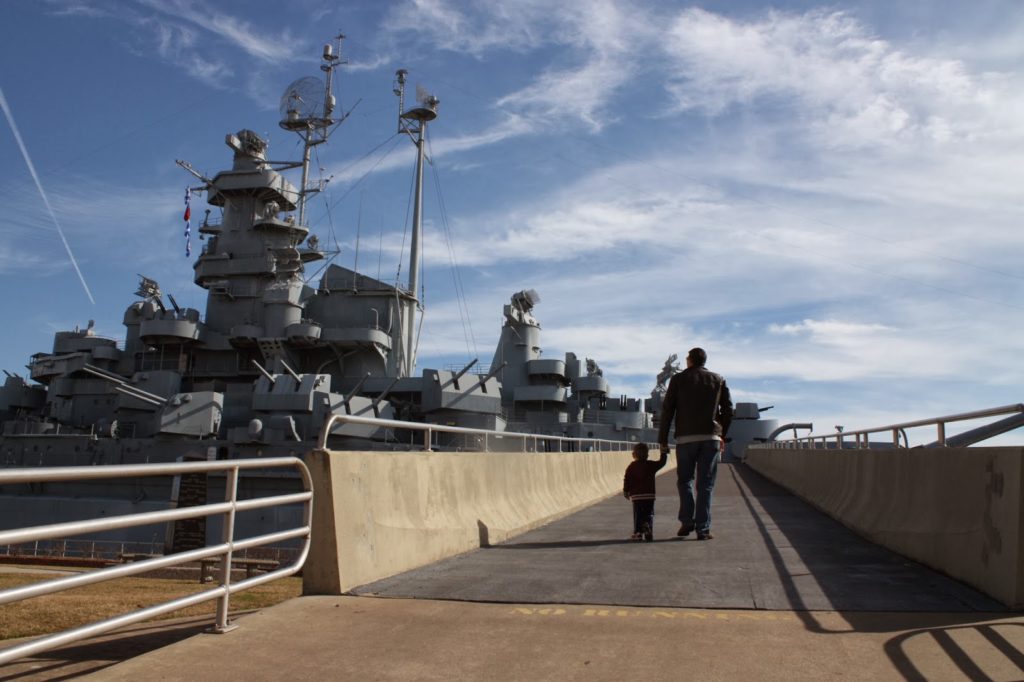 LET'S TALK ABOUT LUNCH. Specifically, Felix's Fish Camp (1530 Battleship Pkwy, Spanish Fort, AL). We've crossed Mobile Bay on the I-10 bridge about a dozen times the past couple years. Every time, we have this conversation: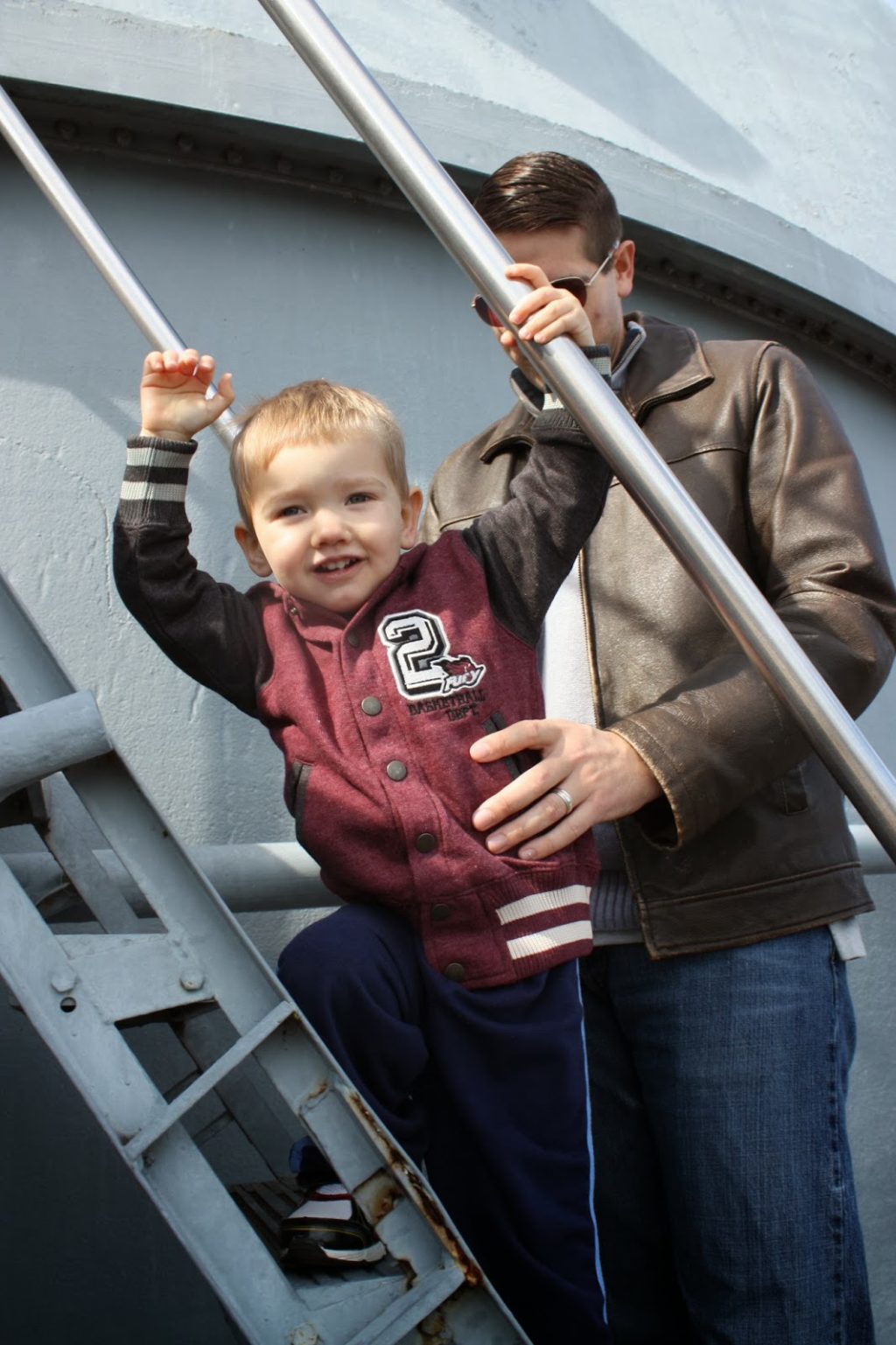 "I got you!" Isaac said a lot.
"We should go to the USS Alabama sometime."
"Oh yeah, Isaac would love that."
"Yeah, that'd be really fun. Isaac! You want to see a battleship?" (no response)
"And then we should have lunch at one of those places."
"Yeah, we should totally do it."
So today we did it. Crossed the bay, exited when the signs told us to and followed the road along a bunch of junky looking restaurants. Not nearly so charming as they looked from the bridge. I was not impressed. After the battleship we drove back over and picked Felix's. Businessmen chatted in the parking lot. Businessmen? At this dive? Then we got inside and the rust gave way to charming fish camp decor. The place was secretly fancy, and I had dread of another kind: a tot pushing nap time in a nice place—not good.
Once the head hostess saw the tot, she revised our table number and we were led to the annex, a brighter room with other tots, and a table alongside floor to ceiling windows looking out at the Mobile Bay wetlands. Cranes and egrets fished just below us, just feet from an ALLIGATOR. Our waiter was awesome, chatty but very formal, and the service was fancy—I like it when multiple people bring in the food at set it down at the same time. I was expecting something like when we eat at Crab's on Pensacola Beach, and everything is super expensive and very casual. This was not like that. The lunch menu was reasonable and it was fancy.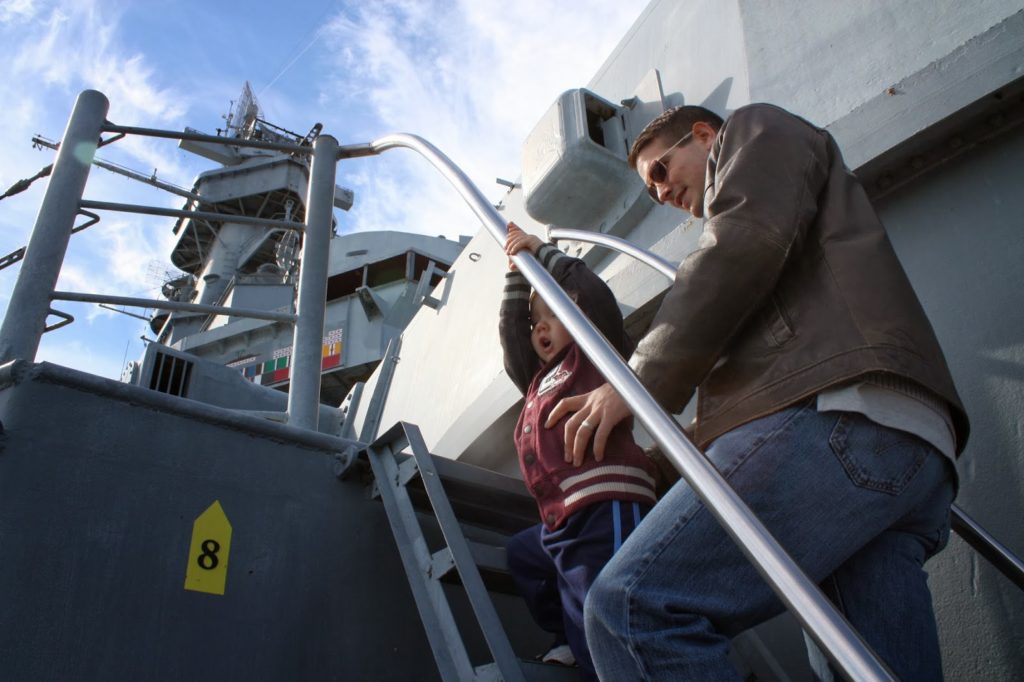 "Taking my son to a battleship is second only to taking him flying," said Chris.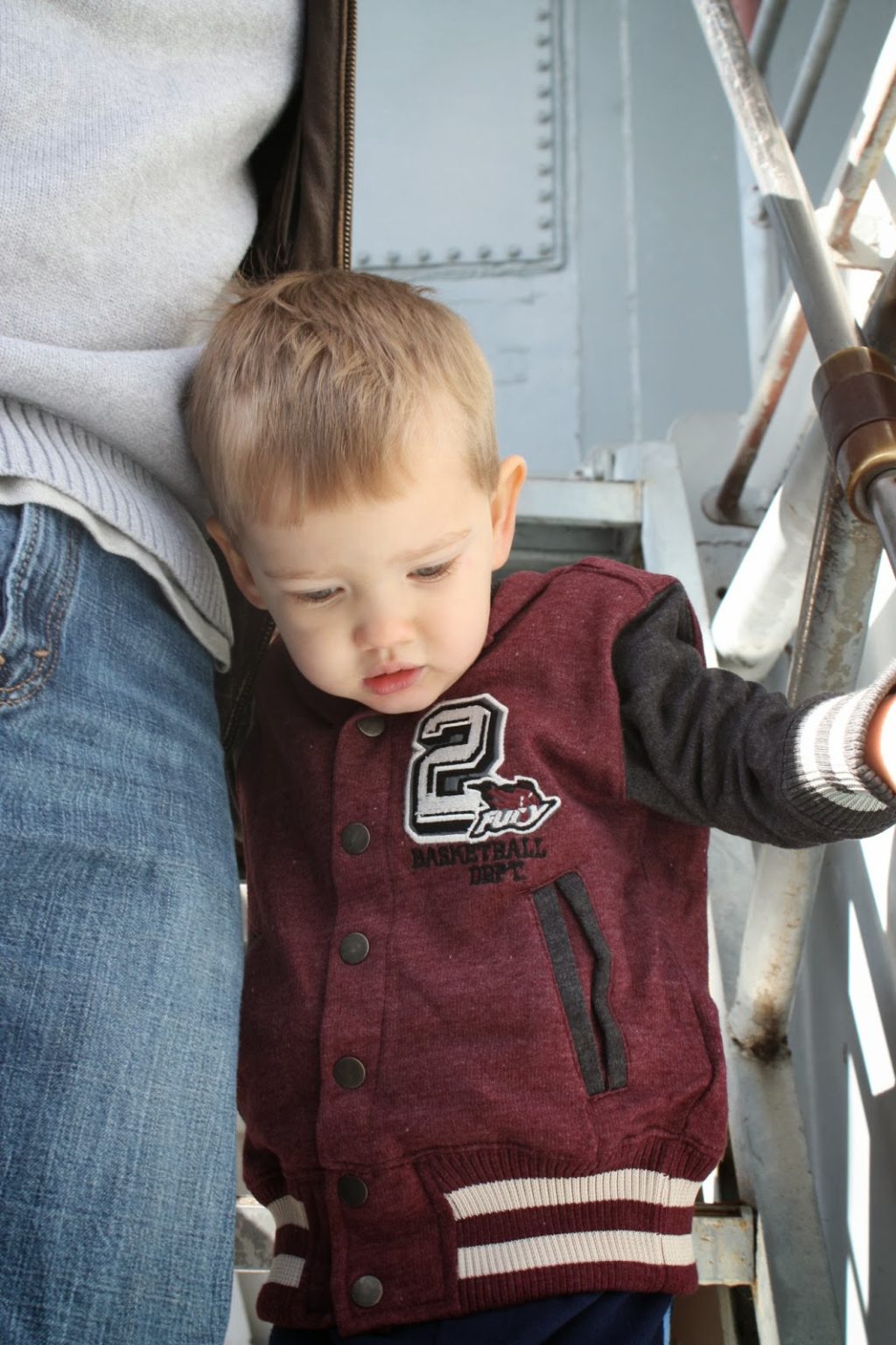 I like these guys.
I had sweet tea and a cup of crab soup because Paul the waiter said it was on a list of 100 must-tries in Alabama. Why not? Here's what was in it: cream, butter, crab. YUM. I'm going to try to recreate that. I also had the Bienville St. Fish and Fried Grits with fried green tomatoes. The sauce had more crab in it. I ate all my leftovers for dinner. YUM! Chris had a cup of tomato bisque, herb crusted fish, and a side of mac n cheese.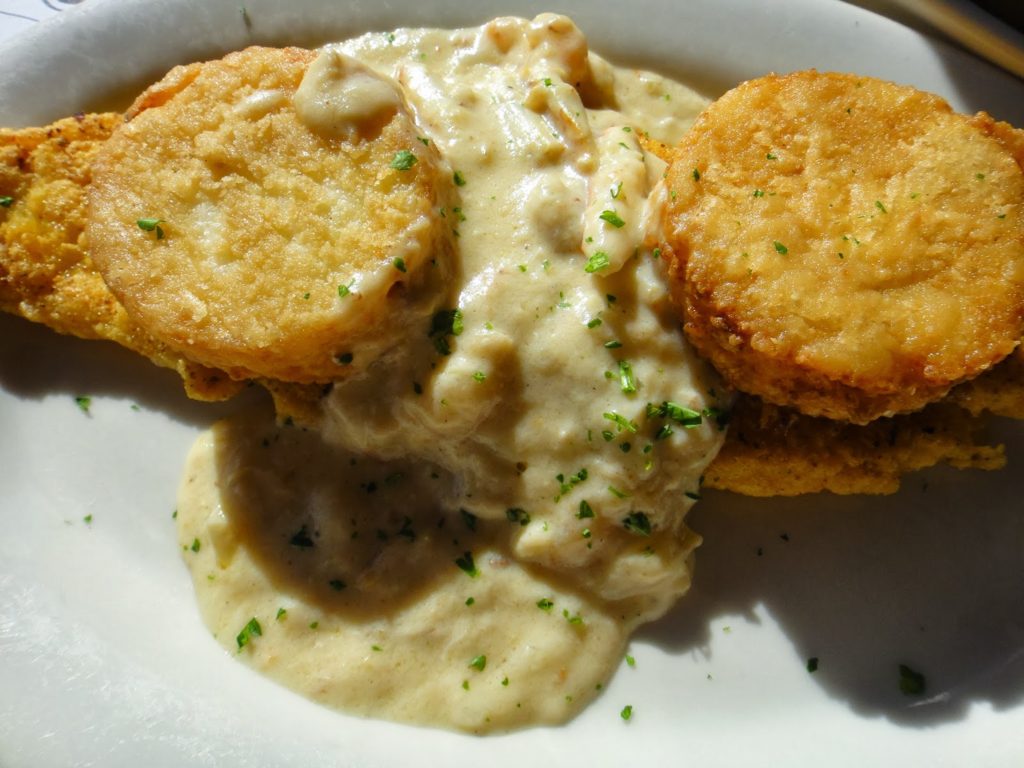 Chris always gets sweet tea. He let Isaac try it once, forgetting that Isaac is also related to me, who talks really fast and blogs if I have too much (any) caffeine. Now Isaac sees Chris' tea and says, "Please, want tea! Please, tea! TEA!" Since it was nap time when we arrived, we let him have some. Success: we colored the kid menu, watched birds, crawled under the table, and napped on the way home. We got a closer view of the alligator on our way out. The wisdom of trying to get a closer view of an alligator while holding a juicy morsel of a toddler occurred to me as I saw its head poking out of the weeds. Then it disappeared….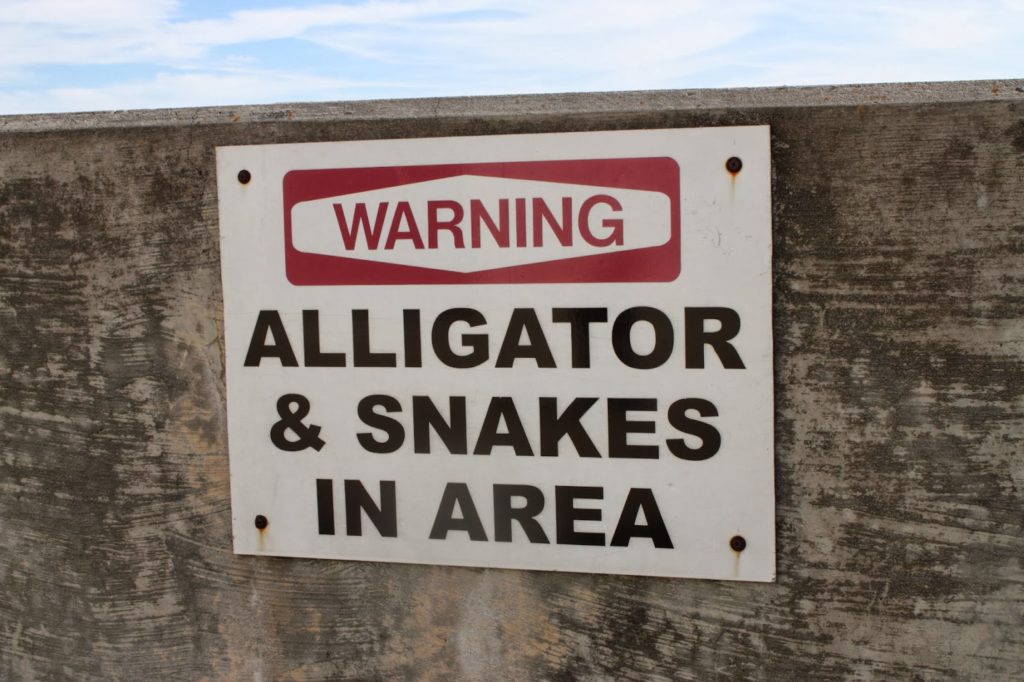 A final point: People frequently look horrified that we don't have date nights. Look, $10/hour for one kid, so we can spend all evening driving somewhere for dinner? I'm tired just thinking about it. We agreed today: dates don't get better than this. This is the type of stuff we like doing—checking out something new, passing a baby up and down ship ladders, finding out the dive is actually fancy, chatting in the car all hopped up on sweet tea (while the baby naps), getting home and tracing the cat in chalk on the sidewalk. I'll take a day trip over a date night any day.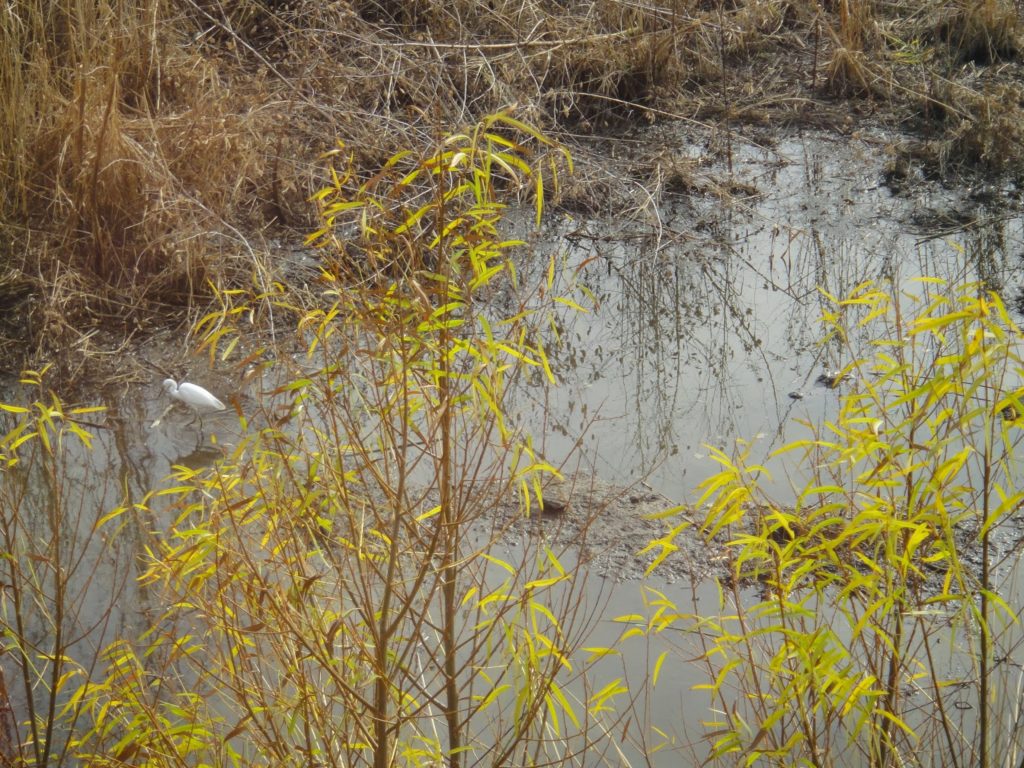 Can you find the alligator?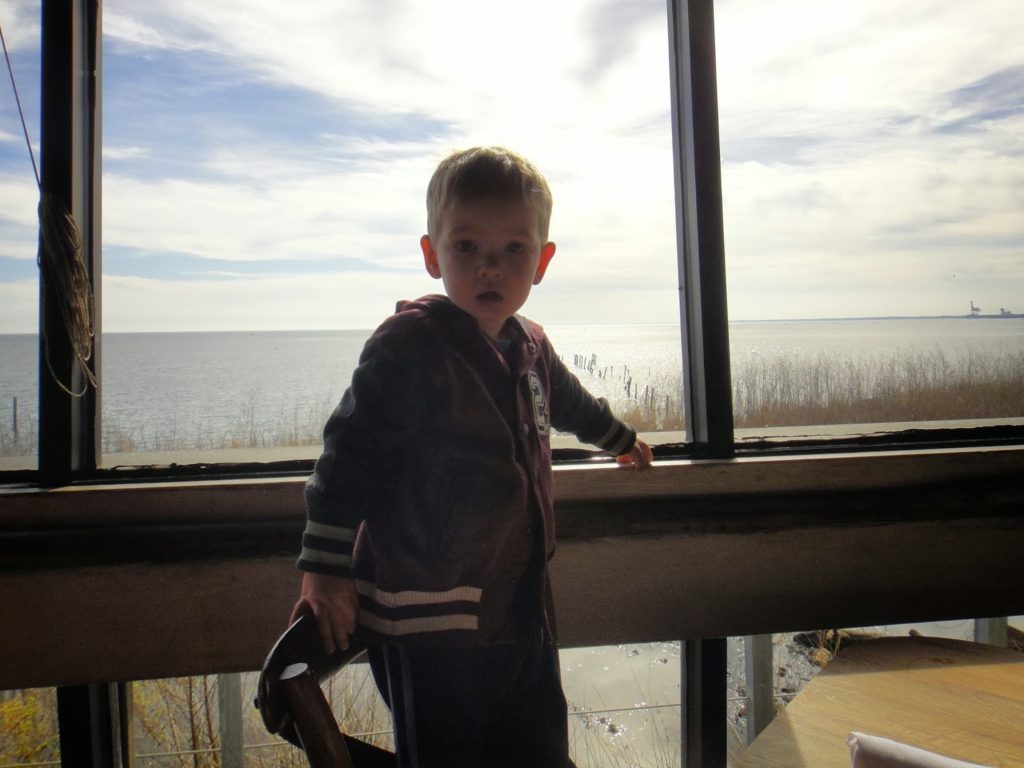 Sleepy!