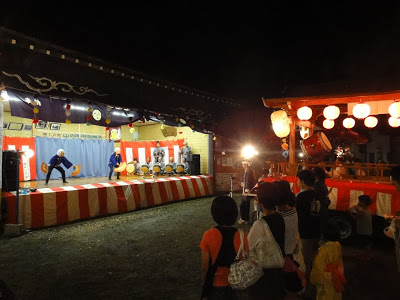 It's taken three years, but ta-da! The name of the shrine near our house is: Tanaka-Hachimangu. Last year I walked the three minutes over here both Saturday and Sunday to watch the fan dancing, kabuki, magic show, etc. I felt a little self-conscious being there by myself most of the time and thought, "Ooo, maybe next year I can bring Chris, or Chris and a baby!"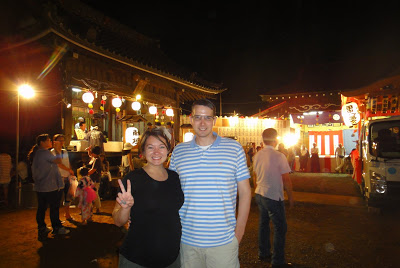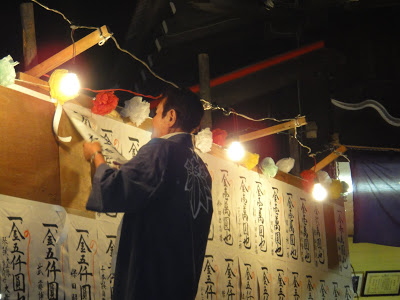 Saturday night we watched just one performance onstage before everyone broke into Bon Odori around the mikoshi (portable shrine) set up in the middle of the shrine grounds. Some old guys passed out soda-flavored popsicles to all the kids, then distributed the extras to their parents, and us! "This is so cool!" said Chris. "The whole community is here!" We ran into Rebekah, then saw our neighbors, who informed us the fan dancing would be Sunday night this year. Bright and early Sunday morning, we heard the drumming and general hubbub of the mini mikoshi parading through the neighborhood streets surrounded by tiny kids in hapi coats. Cute!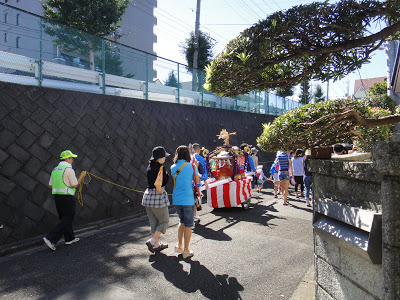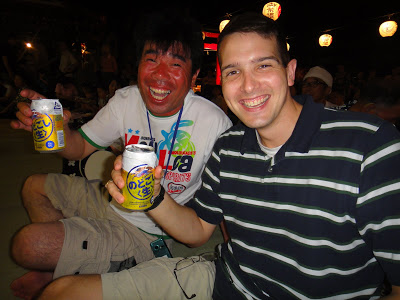 No one ever talks to me when I'm by myself in Japan. I get stared at now that I'm rotund, but that's different. Chris, on the other hand, seems to have a welcome sign on his forehead. Amanda and Daiju came over Sunday night and no sooner had we sat down on the tatami mats spread in front of the stage when a very red, very drunk man plopped down next to Chris and proceeded to be his best friend for the next two+ hours.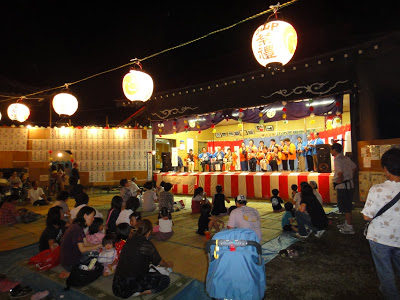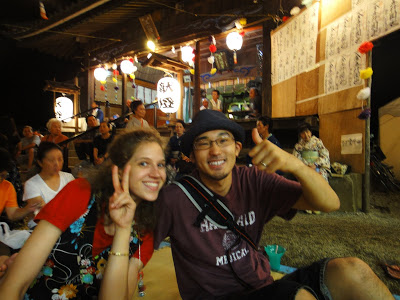 He would crawl in front of me to shout at Amanda and Daiju to translate (sorry, guys!). "There are four types of Japanese dance! This is the modern type of Japanese dance! I know so much about Japanese culture I would like to tell you! But it's difficult without speaking English!" he said…again and again and again. Between Amanda's super-cute puppy and Chris, I felt like our group was in danger of being put on stage and pointed at. Chris' New Best Friend did in fact try to get us on stage at one point, at which time we all pretended to not understand him.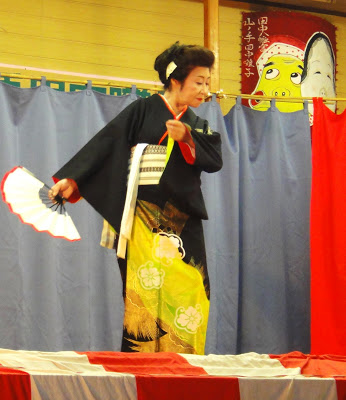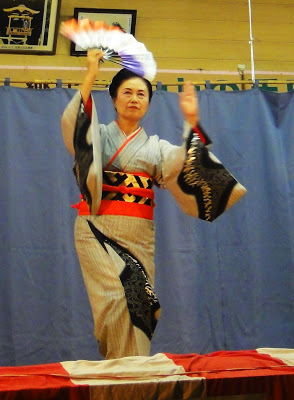 I love Japanese fan dancing. I LOVE it. So eloquent, elegant, graceful—the stories transcend language and communicate on a level accessible even to the foreign ear. A journey by ship, a lovers' sad tale; the scenes unfolded before us even as Chris' New Best Friend wriggled and shouted and brought over more beers.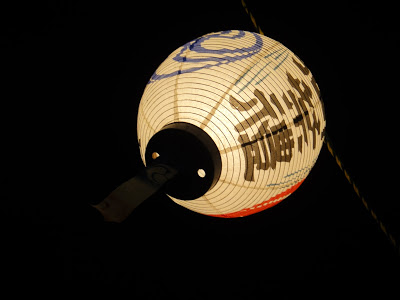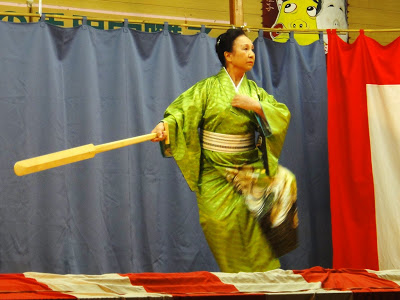 At one point a Diet representative for Kanagawa made an appearance. Later the MC announced someone had dropped a bike. "You mean a bike key!" heckled Chris' New Best Friend before explaining to us, "He's my friend so I can correct him." "Not for long," I commented to Amanda and Chris.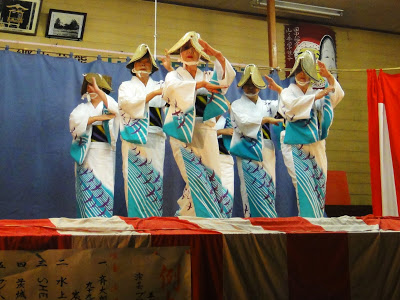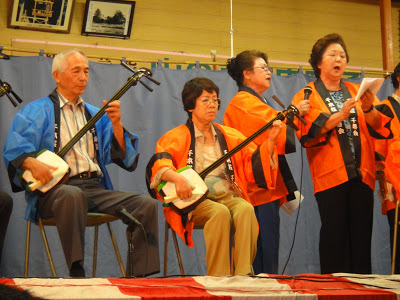 Anyway, drunk new best friend notwithstanding, we had a really nice evening watching traditional dance and listening to Japanese folk songs with our friends! The most surprising part of the evening was when a young girls' dance group named "She Ain't" got on stage and hip-hopped to Rianna's unedited song "S&M." O…K….and goodnight everybody!