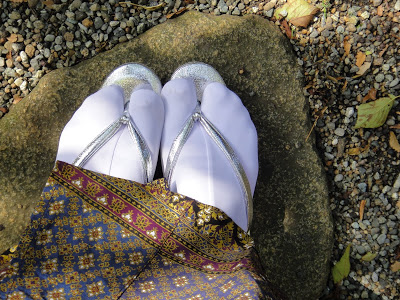 The heat of the summer broke at last. Sunlight filtered through the trees into the garden, where the first leaves of autumn rested among the mossy stones leading the way to the tea house. October 16—Isaac was less than two weeks old and we'd leave Japan for the States in under a month, but this Sunday afternoon hangs like a crystal in sunlight, suspended between worlds and time. Maybe it has something to do with the sleep deprivation or all the Vicodin, but the tea ceremony certification party was kind of transcendent. (Note: Just to be clear, I haven't taken any Vicodin in months. Still, for international moves with tiny babies post c-section, I can't recommend it enough!)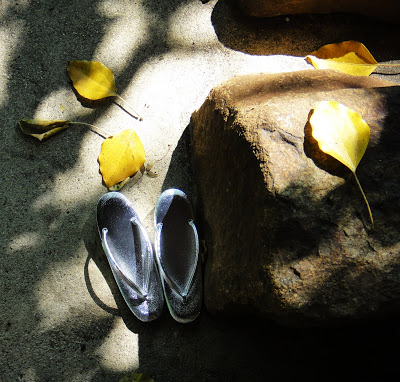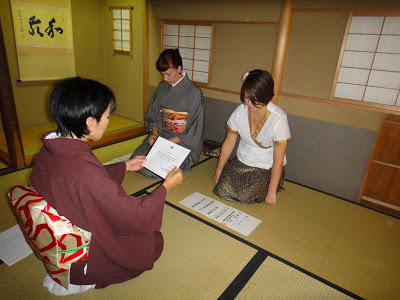 We left the world behind and stooped low to enter the tea house. Rebekah, Joyce, Tina and I leaned forward, one at a time, knuckles on the tatami, head bowed, as Sumie read out our tea ceremony certification letters. We completed a year of Urasenke tea school study under Sumie's tutelage, learning thick and thin tea preparation for winter and summer, how to serve a reallyreallyreally important guest, etc etc.
"Mari Krueger
Whereas you have shown an earnest desire to pursue chado
you are now formally recognized as an Urasenke follower,
as attested by this Nyumon certificate."
1st day of July, 2011
Urasenke Konnichian
Sixteenth-generation Grand Master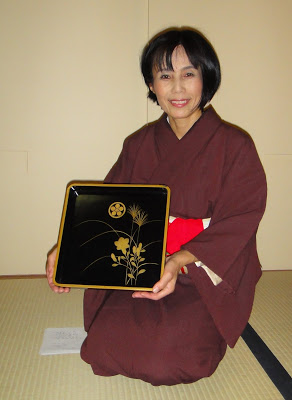 Sumie-sensei
Sen Soshitsu

This lacquer tray has been in Sumie's family for more than 150 years and bears the family crest.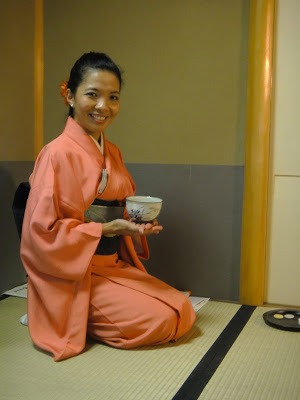 Tina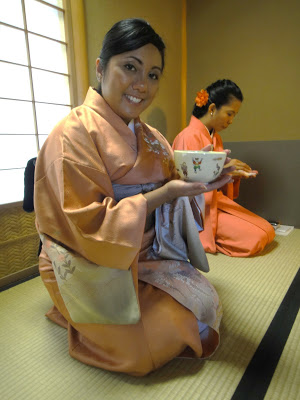 Joyce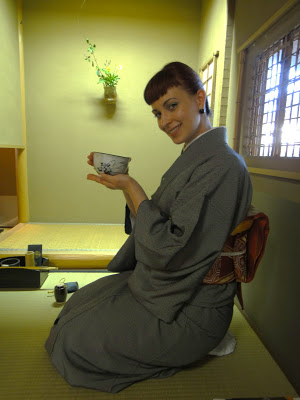 Rebekah
Incense filled the small tea room as we admired the seasonal tea utensils—autumn grasses and the harvest moon adorned the black lacquer natsume tea caddy, the scroll was replaced by a seasonal ikebana arrangement in the alcove.
This formal tea ceremony lasted about five hours. We first waited in the covered waiting area, then toured the garden and ceremonially washed our hands. We entered through the low door, then received our certificates. After that, Chris and Isaac joined us inside for a bento, sushi, auspicious soup and ceremonial sake.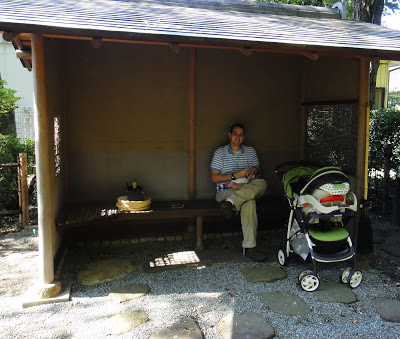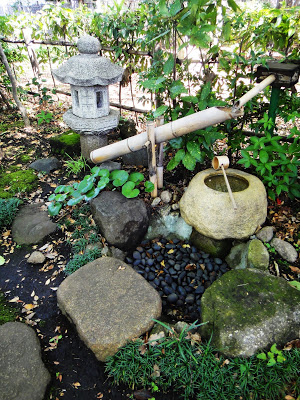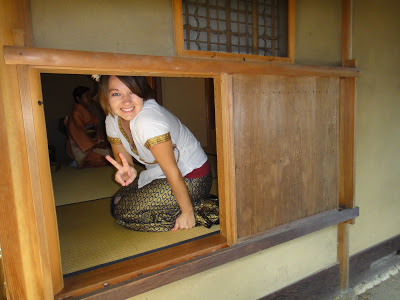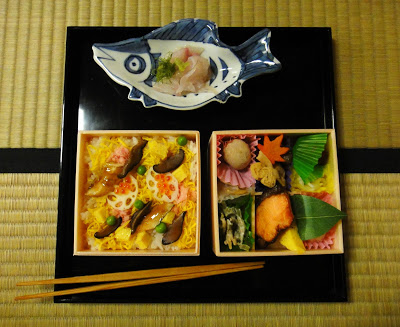 After a short break, we returned to the tea room for tea sweets and Sumie's expert thick and thin matcha. In class we rarely got to watch her graceful execution of each step of the process, all designed to make guests feel calm and in harmony with the season. Sumie gave each of us a congratulatory gift; we gave her a tea bowl, complete with a wooden box and a name. I guess you could say it was sort of a graduation from Japanese finishing school!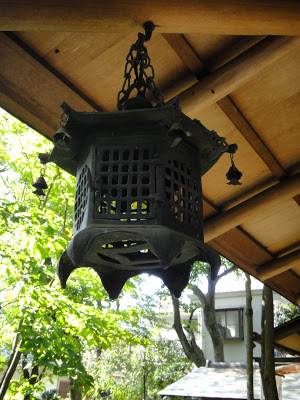 I'd found this cute little boy's kimono for Isaac. A couple Japanese ladies asked if Isaac was a month old. Turns out this is the type of kimono boys wear when they go to a temple on their 31st day of life to get blessed or something. Oops. Oh well, he looked precious. I couldn't wear my kimono for baby-related reasons, so I wore this Thai ensemble instead. I've been thinking a lot about tea ceremony lately because I recently secured a spot at a spring tea ceremony at the local university's Japanese center. More to come!