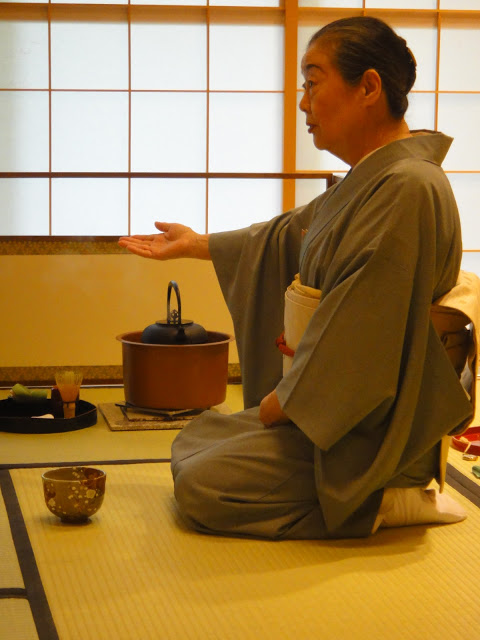 Ms. Misako Miyahara from the Urasenke Chanoyu in New York City leads the workshop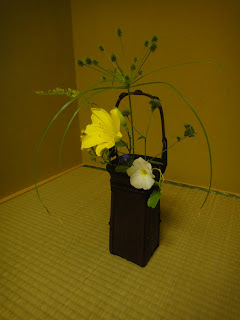 Day Two of the tea workshop bolstered my confidence by beginning with a compliment. The organizer told me privately that Miyahara-Sensei had complimented my tea style (complete omission of procedure notwithstanding). We can reasonably conclude she was just being polite, so…please avoid being reasonable.
Again, the Intro 2 ladies observed the Intro 1 course. I took notes on many stylish elements of tea:
"From our modesty, we do not drink from the front [of the tea bowl]."
"To make a sound—slurp!—that's a good manner in Japanese tea!" (Note: only as a means to the end of appreciating your host's excellent tea foam at the conclusion of the last sip.)
"Some types of tea, we set it down, eat sweets, chat—we don't do this. Once you start to drink, just continue until you are done."
Tea is like champagne, Miyahara-Sensei pointed out. "It's a very enjoyable, rich world. Your personality affects the richness of your tea." With that in mind, while chatting between tea bowls, "Of course you want to avoid politics, religion…in-laws perhaps; anything that makes you hot," she said, lifting her fingers to her forehead to make little horns.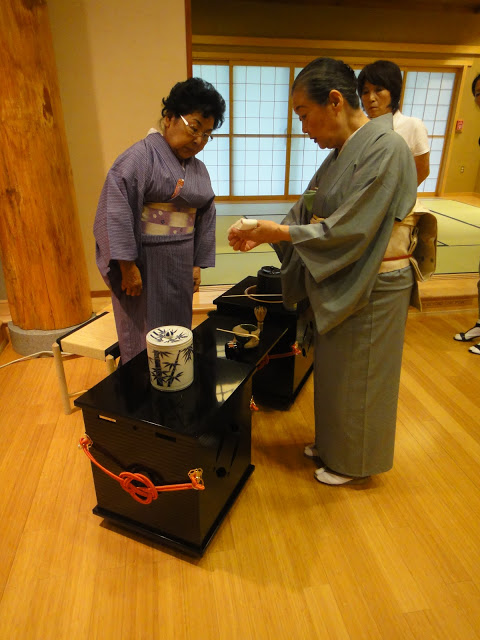 A lesson on table-style thin tea. I practiced being a tea assistant, or hanko.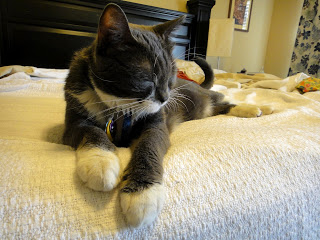 Mouse does not take tea.
Between sessions Wilma joined us. I tried to make small talk by asking where she worked since she'd made a big deal about having to work through the first session.
"I only work there because they wouldn't let me rent my apartment without a steady flow of income," she said, widening her eyes like a charging bull. "My real job makes two, three times as much money as I make at the cafe, but it's irregular." Now that got me wondering, but she continued. "I sell things online. Japanese things. Kimonos and things."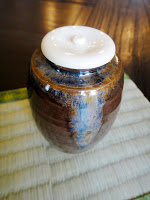 Caddy for thick tea,
K. Family Collection
Here she went into a over-share about how much money she makes and actually told me, a stranger, her annual income. Awkward. I asked if she had a booth at one of the antique places around here, and she out-and-out scoffed. "I would never! The overhead there is absolutely ridiculous. Never. I sell to the people who pay to have those booths. I'm just the middleman, taking my cut."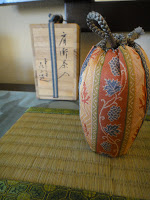 Tea caddy pouch for early autumn,
K. Family Collection
She went on a tirade about how many kimono she has in her personal collection. Now, I'm no collector, but I do happen to have most of a closet full of gorgeous silk kimono. I made my only attempt to join her monologue by saying, "Oh yeah, at the shop where I used to work one of our suppliers brought in a gorgeous silk brocade wedding kimono and said she'd gotten it from a shop that rents them out—" here Wilma flat out cut me off to tell me about wedding kimono, or maybe dance kimono, she wasn't sure, but she has one and they can cost up to several hundred dollars. "Right," I said, "Our supplier was saying that one, new, had cost $37,000!! Can you believe it?" "Oh yeah," Wilma flicked her head away authoritatively to show that she already knows everything. "They can cost as much as a car." She droned on and on.
This was my last attempt to engage Wilma in conversation, even more so when a short time later I was distracted from the sensei's review of the tea treasures by loud mouth-breathing from Wilma's direction. I mean, I rarely know enough about anything to justify blabbing on as much as I do in general, but in this instance, a girl who had never been to Japan was lecturing me about buying and reselling Japanese things. Which was, you know, my JOB FOR TWO YEARS IN JAPAN! It was no holy grail, but it'll do.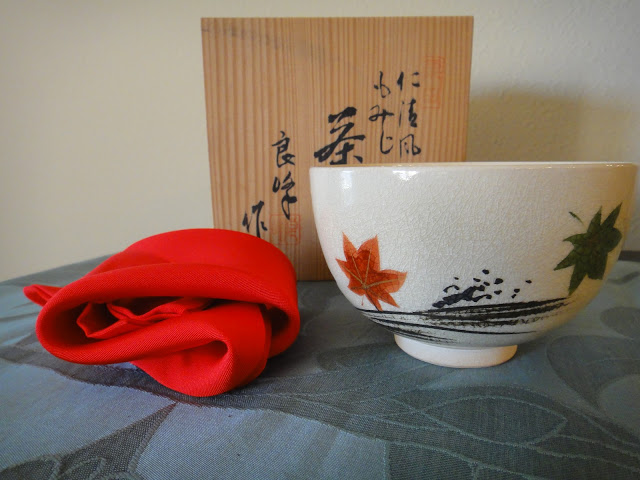 Anytime is a good time for tea, but especially autumn! This is my favorite tea bowl.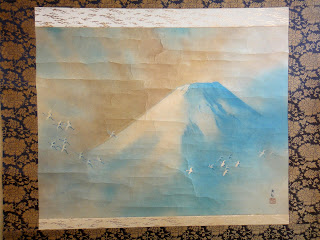 The Intro 2 workshop began with table-style procedure. I was carrying in the tea sweets as the hanko tea assistant, and sensei corrected, "Do not carry the sweets like that. That says, 'I don't care about these sweets!' How would you hold them to show the guest this is a good sweet? Good." And earlier, "Your fukusa—you could do this better."
If you think tea sounds like fun and you'd like to try it, I recommend it! It's like studying classical music—you can always learn a nuance, a little something that will fine-tune your artistry and transform rote procedure into enchantment. To attend a tea ceremony, you just need some practice in bowing, an idea of the correct place to sit, and these phrases.
Let's say you followed someone else into a tea room and sit next to her. This is good. This means you are Second Guest. After the first guest drinks tea and passes the tea bowl back to the host, the host may begin to prepare your tea. This is when it is appropriate for you to take and eat the tea sweet. When your bowl of tea is ready, set it between the first guest and yourself.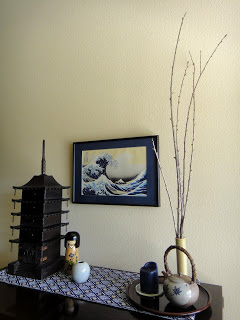 Say, "Oshoban itashimasu," meaning, "I will join you in drinking tea." Then similarly put it between any subsequent guests and yourself and say, "Osakini," literally, "I drink first." Most importantly, bow to your host and say, "Otemae chodai itashimasu," or "Thank you for this beautiful tea I will drink" and appreciate the tea before drinking and slurping (appropriately). Then set down the bowl and admire it. As second guest, you don't have to worry about asking the host to close the tea procedure or to please admire the honored tea instruments. You are free to relax and appreciate everything around you!
The tea ceremony workshop fell right around the September harvest moon, so I did a little tea arrangement on the console and a moon-viewing arrangement atop the bar next to the Fuji scroll, to reference mystical evenings moon-viewing in Sankeien Garden by Yokohama Bay. Can you believe we got this far before the precious baby pictures?!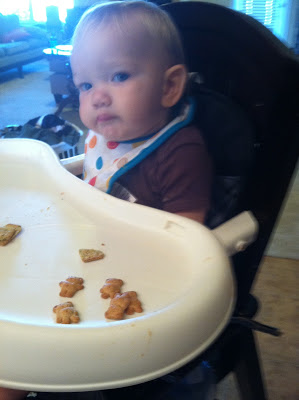 Teddy Grahams? Acceptable. Bear-ly.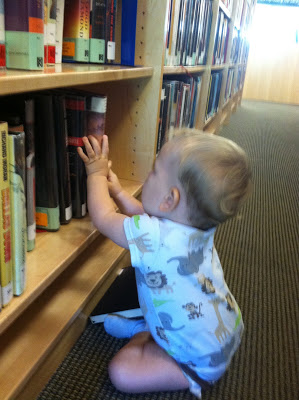 The Captain's first visit to the library.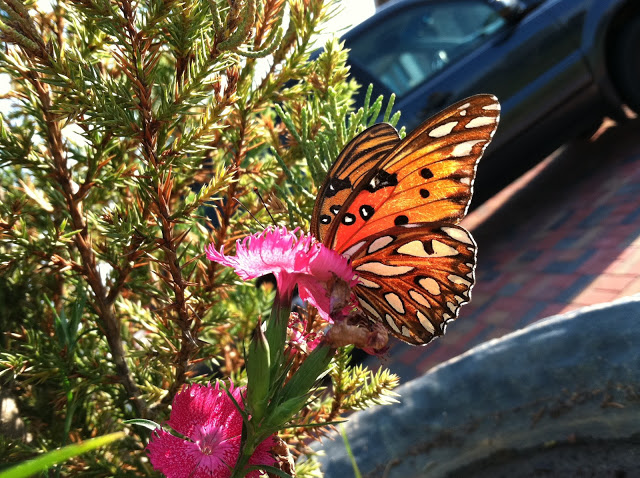 Lots of butterflies and hummingbirds about!