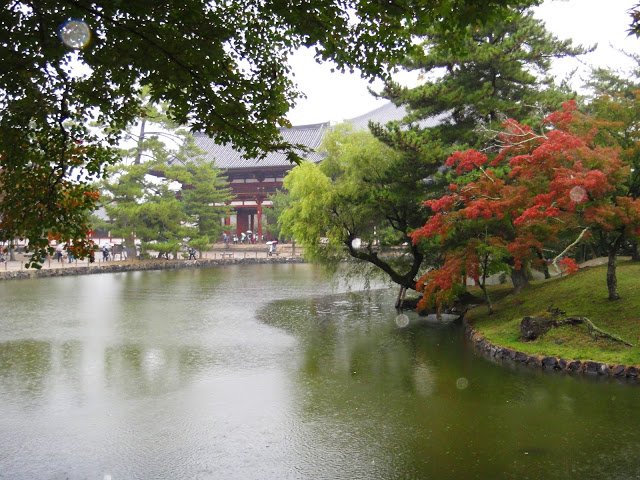 Todai-ji — Nara's Big Buddha Temple. This is how I remember Japan — cool, rainy, quiet, beautiful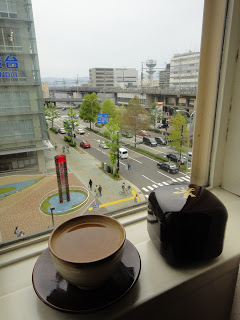 This intersection beeped all night. Nice view of trains, though.
I read recently the stress hormone cortisol impairs the memory-making part of the brain, which explains why I have about eight disjointed memories from the first two months of Isaac's life. For example, I do not remember why we thought it was a good idea to take our 3.5-week-old babykins on an adventure.
"Right…NOTHING was going to deter you from going on that 'must do this before we leave!' trip, and now you're glad you did, right? Like your dad and I going backpacking with 7-month-old Luke. We're pretty funny sometimes, we humans," said my mom.
Oh yeah. That trip was straight up bad decision-making at its finest!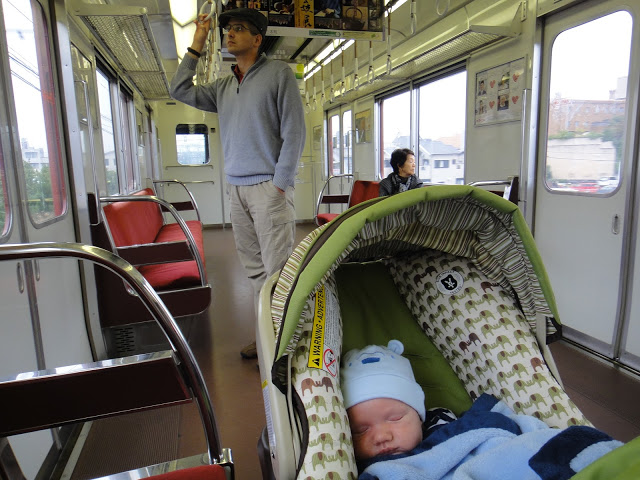 Kyoto to Nara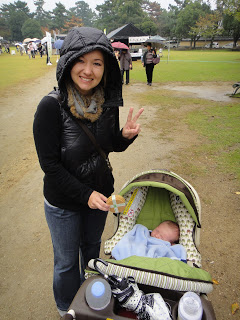 The baby declined the deer crackers.
On our third and final Japanniversary one year ago — it was cool and rainy in Nara, Japan. The Wee Captain Goodbaby snoozed as we pushed his stroller around rain puddles and piles of deer poop. We'd heard many stories of Nara's famous Bowing Deer, which—after centuries of Japanese tourists feeding them and bowing—are rumored to bow in exchange for treats. It seemed like a really good idea to present Isaac before them and let them bow down, like in that first scene in The Lion King, where the monkey holds up Simba and all the animals bow and celebrate.
The deer did in fact do a little bowing. They even bowed to the Wee Captain! They did a lot of head-butting. One went so far as to sniff the stroller when Isaac was in it. I lurched forward and growled a "Hey!" at it. The deer jumped away, never to return. I just growled at an animal. Where did that come from?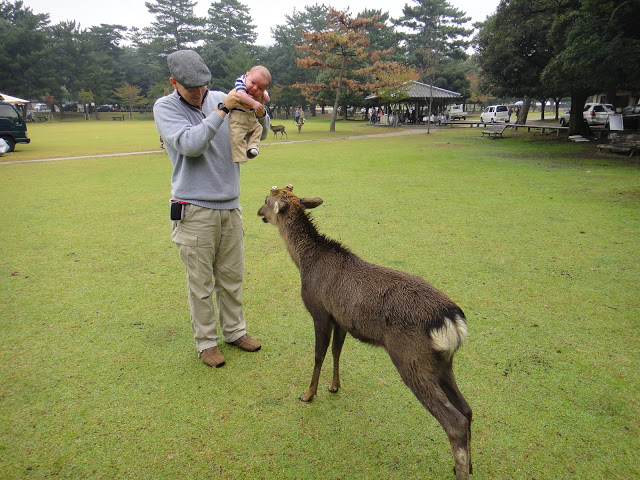 We interrupt this regularly scheduled nap to present you to this deer. Cue Lion King music from the Pride Rock scene.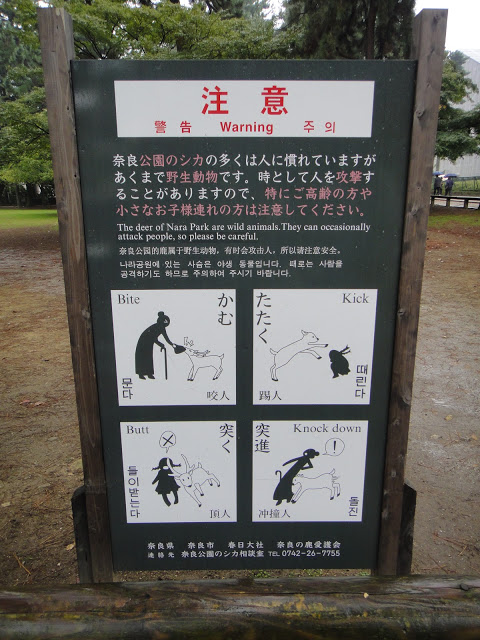 Warning: Bite, Kick, Butt, Knock down
This little deer was too stuffed to eat my deer cracker.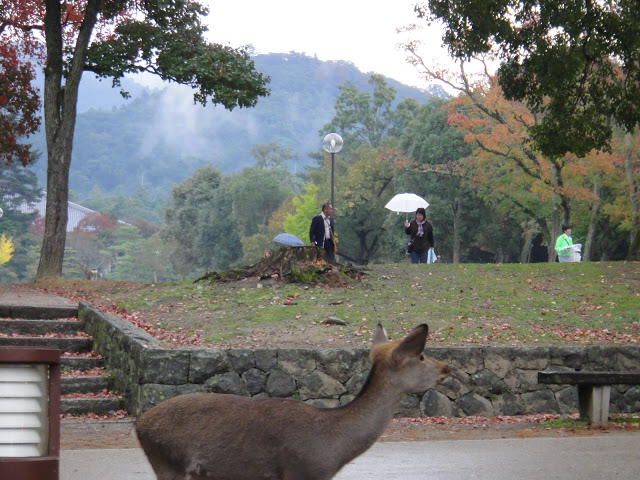 One misty moisty morning when cloudy was the weather….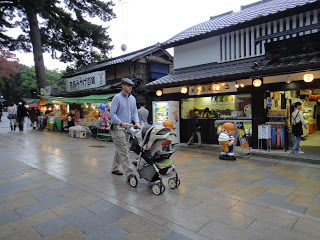 Todai-ji is home to Japan's largest indoor seated Buddha, not to be confused with Japan's largest outdoor seated Buddha, which is in Kamakura and was frequented by all of our guests.
Japan's Tenpyo Era saw disaster after disaster. Smallpox, poor crops, rebellion—even Emperor Shomu suffered tragedy: his first son with one of his consorts died at just a year old. Todai-ji was an appeasement for Prince Motoi, and the emperor issued an edict promoting temple construction throughout Japan.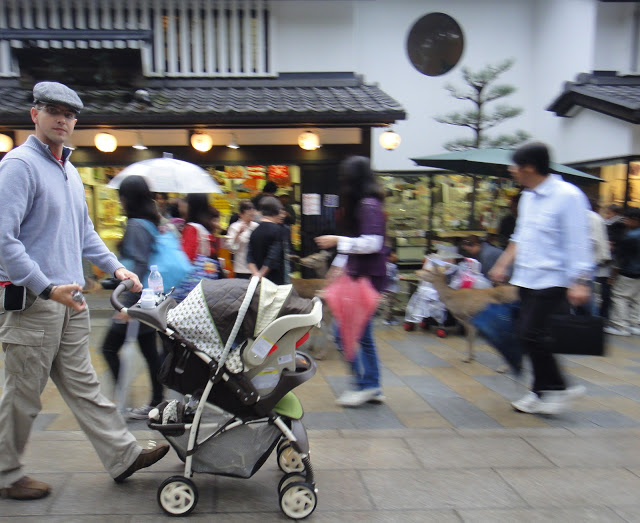 The long walk to Todai-ji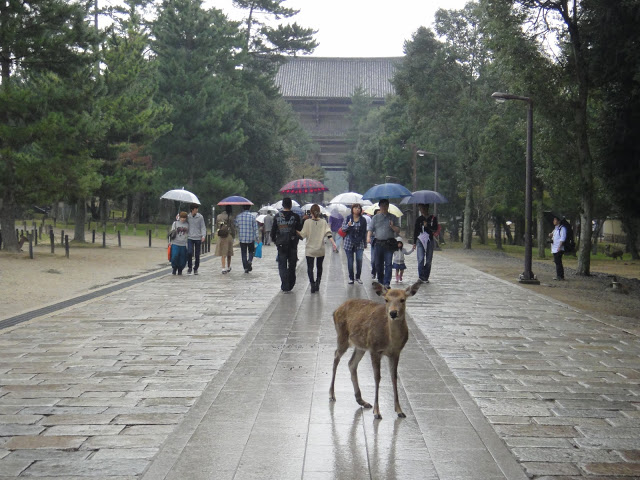 Oh deer, not another.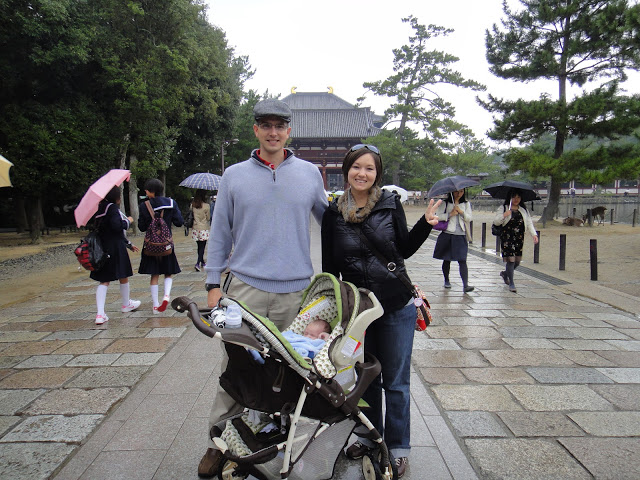 Our little family in Nara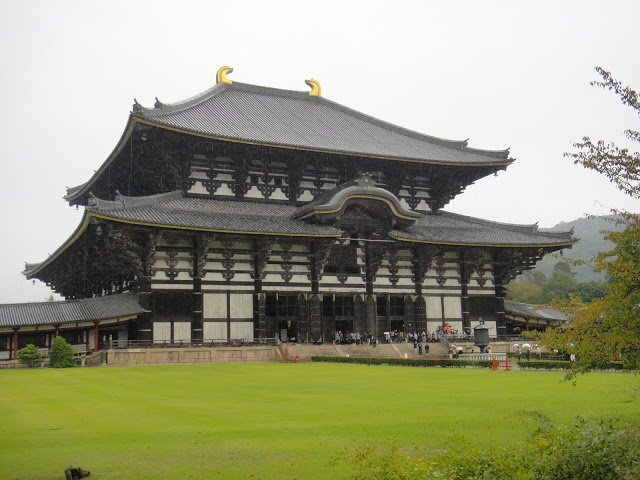 Todai-ji in the rain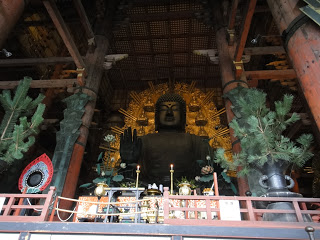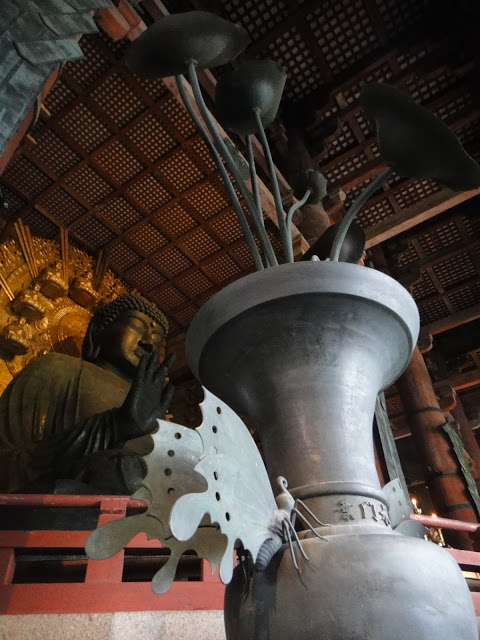 Nara's Big Buddha, Todai Temple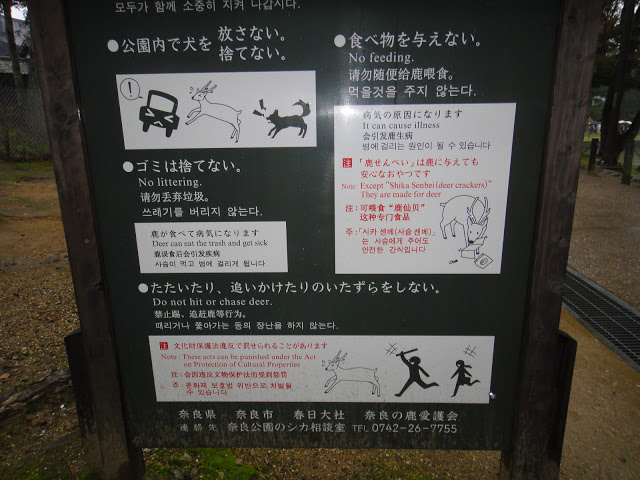 Do not hit or chase deer.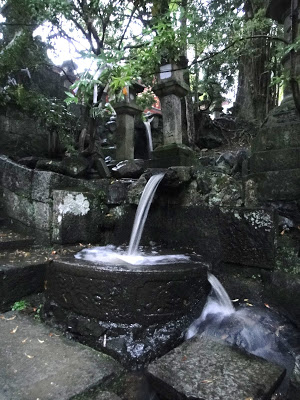 Just before dark
The rain came and went, then came and went again. We chose our path according to the weather, the distance, and the incline. A final hike to a temple at the top tier of Buddhism. I forget the name, but I remember snuggling our sweet baby beneath its dripping eves while rain splashed off the stone lanterns surrounding us. Chris went off to find someone to sign one of the last pages in our temple book—success!
Nara sank into darkness and we sloshed back to the train station for the 45-minute ride back to Kyoto. Isaac went back to sleep, cozy and dry (enough).
Wasn't that fun, Isaac? You had a really nice time.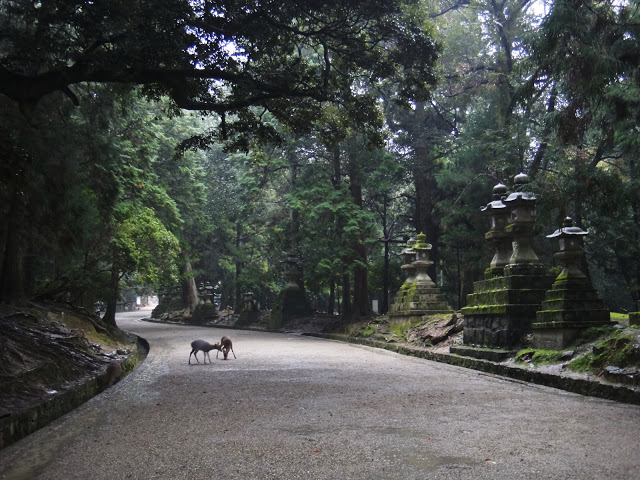 Nara at dusk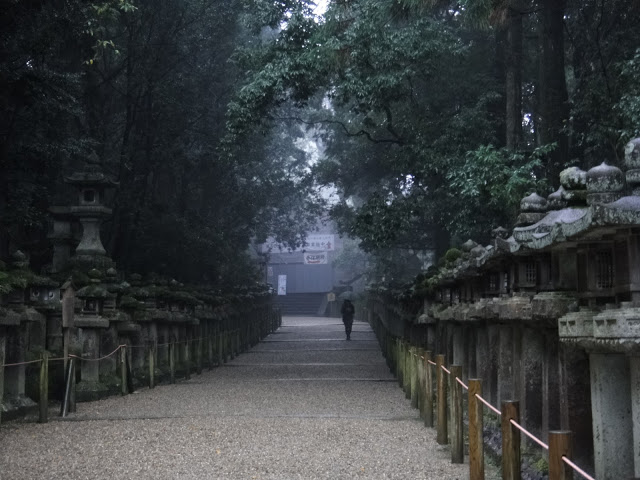 Nara at dusk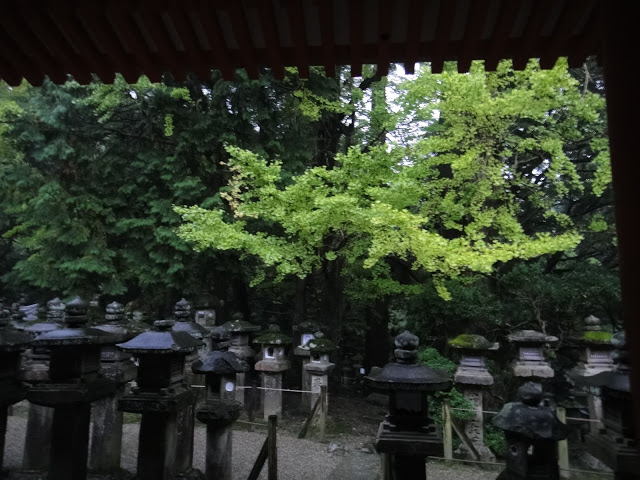 We rested here.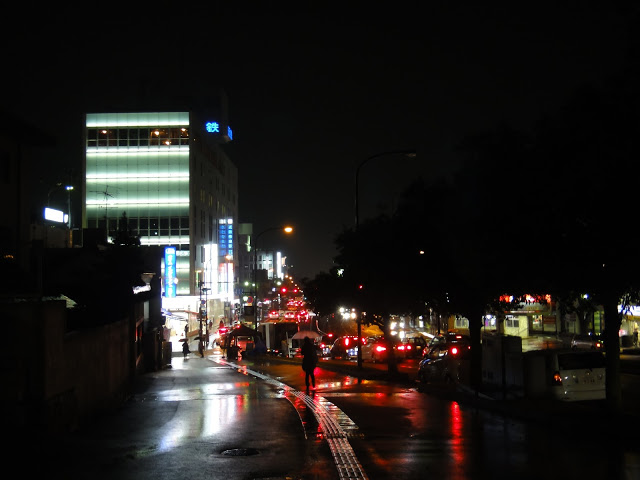 Nara Station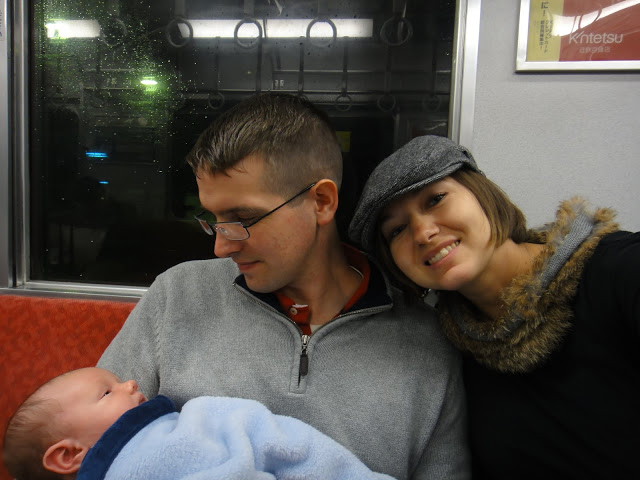 Nara to Kyoto