This is my baby, Isaac. You may know him as Captain Goodbaby; he also answers to Hurricane Isaac or Tiny Baby (occasionally).
It's been less than a month since I heard the word 'coarctation' for the first time, and since then not an hour goes by when I don't think it, see it, spell it. C-O-A-R-C-T-A-T-I-O-N. Coarctation. The point behind the Goodbaby's heart where his aorta has only 20-30% of the diameter of the rest of his aorta. The cause of discrepant blood pressures in his brain and in his kidneys, that can cause headaches, an aneurysm, heart disease, stroke. A congenital heart defect 1% of babies have that, praise God, can be fixed by a low-risk surgery. Heart surgery. On Captain Goodbaby. MY baby.
I think most everybody knows that much—word spread fast around the squadron. Our families, friends, coworkers, church and neighbors have been so kind. Thank you—hearing how people care about Isaac is such a comfort.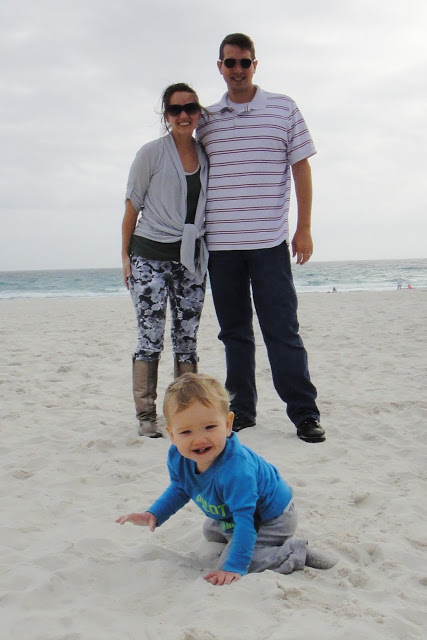 New Year's Day, 2013, Pensacola Beach
We had a blissful afternoon at the beach New Year's Day. We follow my parents' and grandparents' tradition of writing the previous year in the sand and letting the waves wash it away, then writing the current year high up above the tide line.
The next day I called about Isaac's second opinion and the surgeon reviewing his CAT scan agreed with Isaac's doctor completely. We'd already seen the CAT scan ourselves and were shocked at how obviously reduced it was at that point, even to us with zero experience in medical stuff—yup, that looks like a little sausage link—so the surgery call was not unexpected. Isaac's doc pushed it through asap and the six-eight week timeline plus extra for the holidays got reduced to four weeks total from diagnosis to surgery.
Wednesday we drive to Atlanta. A full day of miserable pre op Thursday where they redo every test Isaac already hated. But that's good. Surgery is several hours on Friday, then a couple days in the ICU with limited visitation. That breaks my heart. Then a couple more days in a regular hospital room, and hopefully we can go home after that.
It was hard to get past the initial rip tide of MY BABY AND HEART SURGERY IN THE SAME SENTENCE—!!!!! But out past the breakers we ride the swells.
Up: Praise God we are not still overseas, far from family, having to fly who knows where for surgery. Praise God we are not moving or about to move.
Down: How are they going to make sure enough oxygen gets to his brain for the whole procedure?!
Up: Praise God Chris is not deployed or deploying soon, and that his squadron has been so helpful, even getting him orders to Atlanta so our hotel near the hospital will be covered. What a load off before we even thought to worry about it.
Down: ICU.
Up: Praise God we have the resources to get Isaac the care he needs and for his doctor who noticed the murmur.
Down: What if she hadn't noticed? Would we have ever known? Is this surgery really necessary?
Up: Praise God we can take care of this issue so Isaac won't randomly die of an aneurysm like that guy I knew in high school.
Down: What if Isaac is in the 10% of cases where the surgery is not successful and scar tissue forms and pinches the artery back like it was anyway? Will he need more surgeries? WHAT IS THE FUTURE??
Up: This is really scary, but without the one million reasons God has given me to trust him, it would be unbearably terrifying. God is not surprised by the state of Isaac's heart; praise God he has a purpose in this; pay attention to what he's up to.
My main fear lies in wanting to know the future. I want some assurance that this will go the way I think it should go. Of course I pray Isaac will be in the 90% of cases that are completely cured by this surgery (even though he'll have to see a cardiologist every six months to a year…FOREVER). But even if he isn't, God is…I want to say badass, but that seems inappropriate.
Yesterday I asked Isaac if he would like to go outside. I told him we'd put on his shoes, get his coat, then go outside. We put on his shoes and he ran for the door. "Just a minute, I need to find your coat," I said as he banged on the door. When I turned away (just past, what, the two second mark?!), he lost it. Clearly he wanted to go outside and thought I didn't mean it, or was just mad I wasn't doing it immediately his way. But obviously he needs all his layers to go out when it's 47 degrees. "Isaac, we will go outside, but not without your coat," I said, stuffing his little arms in the sleeves and holding his hand as we stepped over the threshold.
Let's agree on the obvious: the disparity in understanding between Isaac and me is exponentially less than the disparity between my understanding and God's. That is so comforting during my toddler-esque I DON'T SEE THE ANSWER I WANT NOW panics. Did I end up dead from a kidney infection in that hostel in Australia, or from food poisoning in Egypt? No. Did we end up rotting for months in a Vietnamese jail cell? No, we did not. Did our baby's heart stop in a Japanese train car or on a 15-hour international flight? Nope, he's right here. Hasn't God blessed us in each station with productive, interesting work, good friends, and ways to stay in contact with family? Yes. Will this be the first time ever my trust in God is misplaced? No. Up. Down. Up. Down. Riding the swells. The clouds are dark; the sea is calm.
Anyway, in the unlikely event anyway is actually still reading this horribly long blog-therapy (hi Mom!), please pray Isaac won't get sick before the surgery (we'd have to reschedule). Also, he's getting some teeth (crying, patting his jaw, chewing everything) and we can't give him any baby ibuprofen or anything to help him feel better or sleep through it. And for us, because my thoughts stray unhelpfully to worst case scenarios and I want to barf. But mostly that the surgeons will be skillful and accurate and focused, his heart will be completely healed, he won't be scared or in lots of pain, that we can comfort him and know what he needs. For safe travel driving the five hours to Atlanta and back. That pre op won't be a terrible day. …That should about cover it. I look forward to reporting back about cool things God did, and how from safely in the future I can say I was overreacting on this side of things.
"We have this hope as an anchor for the soul, firm and secure. It enters the inner sanctuary behind the curtain" (Hebrews 6:19).
We traditionally hate the gut of winter—those terrible, miserably cold doldrums that start when the new year loses its shine and last until the first hint of warmer weather. Although this year we realized we actually only hated January and February when we lived somewhere it gets cold in the winter. Back here in Florida I savor cloudy days that dip into the 40s and 50s because—hallelujah—we only have a few at a time before it warms back up into the 70s. And my sis, oldest bro, dad, and several of my best buddies all have birthdays in January—this is actually a pretty good month (Happy birthday TODAY, Han!).
New Year's Day 2013 was partly cloudy, breezy, mid-70s. These are among the prettiest pictures I've ever taken of any beach anywhere. The clouds are dark; the sea is calm. And sun broke through just before sunset.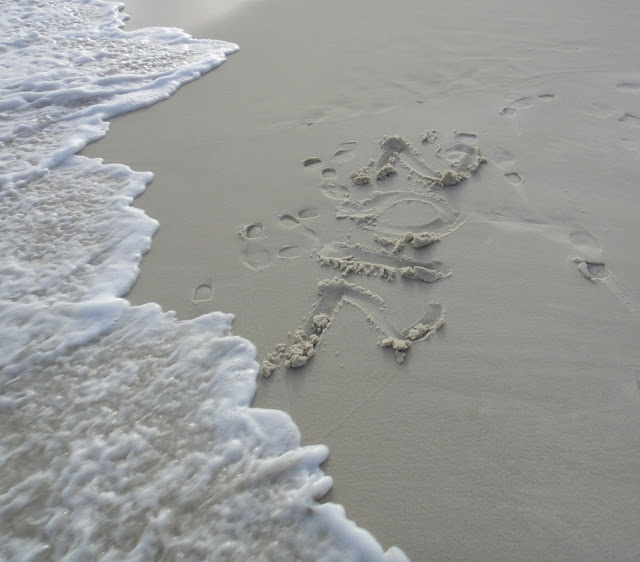 out with the old!
We had dinner at Crabs on the Beach. I got an excellent mojito, Chris had a crabtrap, and we shared crab-spinach dip, crab legs, and key lime pie. A light jacket was enough against the sea breeze. Isaac happily munched honey buns (for awhile), then played on the playground with some other kids.
"That's a cute baby," said a little girl. "We went on that Ferris Wheel. It was really boring." "Did she just say it was boring?!" her parents rolled their eyes. "$28 of boring!"
Jimmy Buffet, salsa, and a Little Mermaid song. A string of lights overhead shining against the twilight. Hearing the surf long after we couldn't see it through the darkness. "This is that ideal, relaxed, beach vacation vibe we always wanted in port calls," I said to Chris (before the baby meltdown). "Really? Here?" he said. "Yeah, a dark, handsome man, a happy baby, the best mojito—this is it." A memory of the exotic and under an hour to home—the new definition of paradise. Then the baby was like, "Waaaaa!"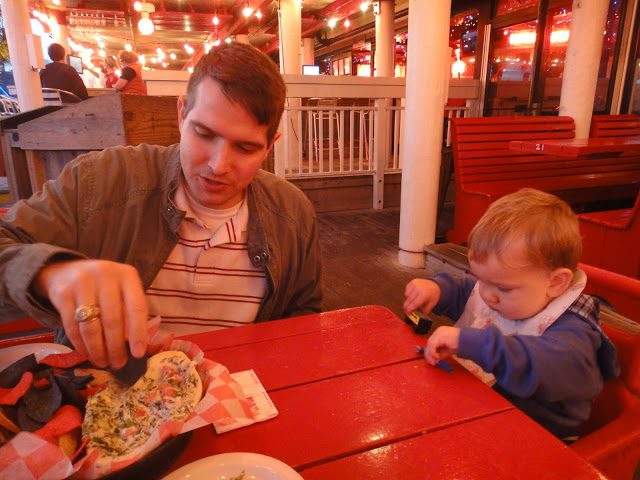 My train would like more honey buns, please.
Daddy, I can hear you cringing through the computer. We brought a complete change of clothes for the sandy Goodbaby and the next day I bought him some rain boots for next time. 🙂