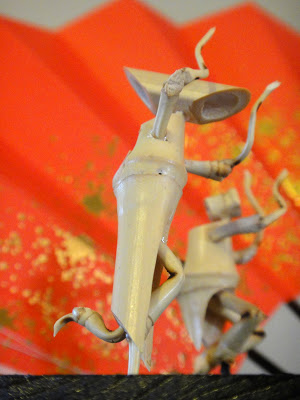 Two bamboo Awa Odori figures danced around the late summer arrangement in the living room. As the heat of summer fades, I find myself thinking about glowing lanterns swinging over streets crowded with festival food stalls and families in yukata.
A salaryman in one of my English classes found the tiny dancers when he visited his family home in Tokushima Prefecture, where Awa Odori dance originated. He proudly presented me with them at our next class and was congratulated by the other salarymen, who all thought it was hilarious that I would don the traditional garb and learn the dance. "Eh?! Honto?!" "What!? Really?!"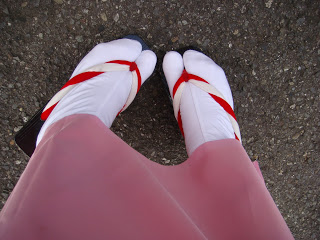 My Awa Odori geta, 2010
My Awa Odori geta (retired), 2012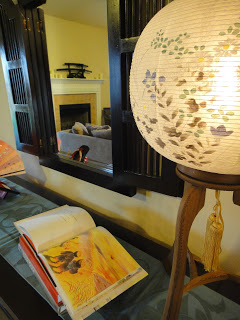 Isaac and I read "A Pair of Red Clogs" by Masako Matsuno in honor of late summer. The book lay open beneath a traditional O-Bon lantern, thought to guide your spirit to your home and family during that time of year. Delicate morning glories are painted on the translucent rice paper. Another one of my classes, in Yokohama, was 10 minutes shorter when I took the Scoop. Zipping along en scoot to class after the sweltering heat of summer, with morning glory vines twisting up walls on either side of the road, it was such a relief to know that fall was just around the corner.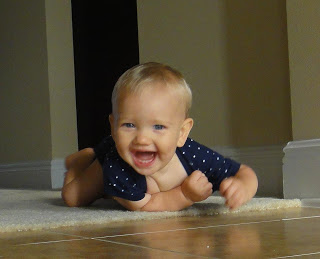 We had our first cool front this weekend, so after sipping coffee on the patio watching Captain Goodbaby eat Cheerios and crawl after Mouse, I put away these signs of summer and unwrapped my September morning glory birthday month kokeshi doll.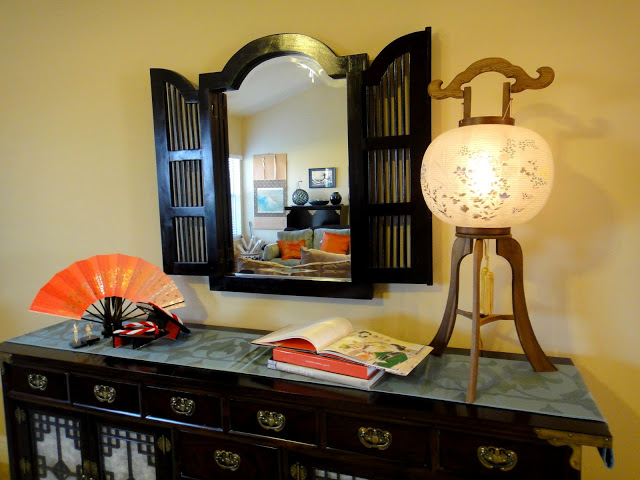 Goodbye, memories of summer! See you next year!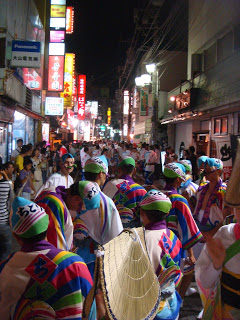 Awa Odori parade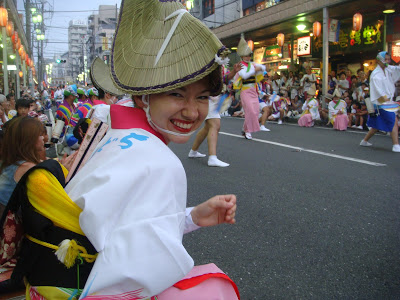 Yamato Awa Odori parade, 2010