Panorama of Pensacola Pass
The blackwater rivers of the panhandle rendered Pensacola Bay's startling blue water more of a glossy eggplant, with glints of blue-gray from the gathering clouds. It was lovely. The Goodbaby was napping at the cabin with Grandmama; Chris and Pa were off to the commissary. I rode my bike to the Pensacola Lighthouse Museum alone. The lighthouse on NAS Pensacola was built in 1859. I'd never been! (This was last August. Hannah said it confuses her when I blog out of order. Sorry, Han.)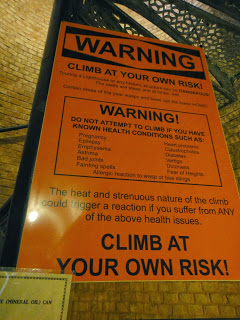 The lighthouse is supposedly haunted—eerie laughs ooze out of the brick walls, people outside spot faces in the lighthouse window when no one is inside, a 50-pound door at the top of the tower unlatches and heaves shut on its own, figures hide in the basement or walk around the top. Spooky.
The view was awesome. In the summer, if you reserve months and months in advance, you can do a romantic sunset tour that culminates in fizzy apple juice on the walkway. Moonlight and haunted tours, too.
You can't carry kids up. The stairs are impressively steep, so you really wouldn't want to anyway. Passing is difficult and made my heart race WAY more than climbing the 177 steps.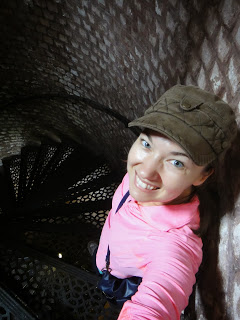 We saw a sunset wedding on the lighthouse front steps one of the afternoons we stayed in the base cabins, and the street running between the lighthouse and the bay is draped with Spanish moss. It's all quite charming, especially at sunset or in the mists of a rainy afternoon. I can't believe we didn't do this when we lived here before! Maybe it was closed for hurricane damage or something.
Do I look excited? That is because I'm afraid of heights and have reoccurring dreams of running up spiral staircases as they crumble. Thrilling! Isn't it supposed to be good for you to do stuff that scares you a little? It's lame that this staircase makes it to my list of things that scares me.
Admission to the lighthouse is $6 ($4 military). Directions and hours of operation can be found here. I recommend it! (not with babies)