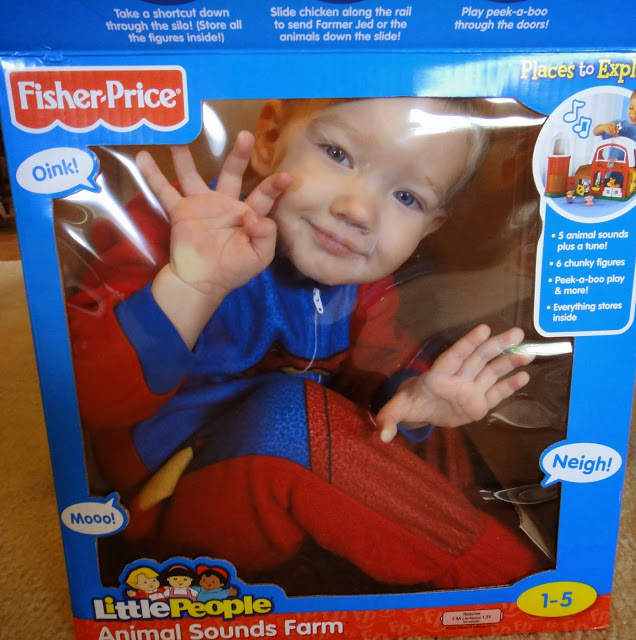 Oh hey, I got one of these two years ago, too!
So the birthday boy and I were at the grocery store, spoiling him with cookies and balloons and generally having a good time, when I hear, "Hey neighbor! Are you stocking up for the hurricane?" The what?! She informed me Tropical Storm Karen is predicted, at this point, to turn into a hurricane and make a direct hit HERE. Awesome.
We were already getting juice and water bottles for Isaac's birthday party Saturday, so we got a little more. I asked the girl filling Isaac's birthday Cars balloon if they were much more crowded because of the hurricane shoppers. She said, "Well yeah, that and all the commissaries are closed." Government Shutdown Fail #1.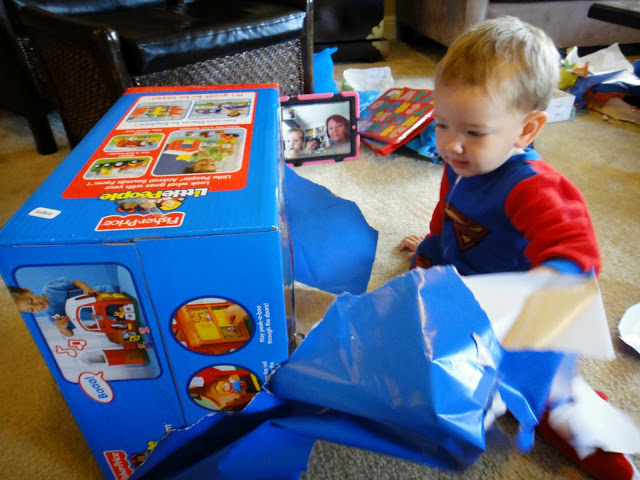 Opening gifts with virtual Grandma, Pa, and Ezekiel!
They sang Happy Birthday and he ran to the kitchen looking for cake
We proceeded home, hurricane warnings on the radio. At home I tried to check the national weather service to see what day the hurricane is expected to make landfall, and whether we need to reschedule the birthday party. I got rerouted to governmentshutdown.noaa.gov (although it now seems to be working intermittently):
Due to the Federal government shutdown,
NOAA.gov and most associated web sites
are unavailable.

Only web sites necessary to protect lives
and property will be maintained.

See Weather.gov for critical weather
information or contact USA.gov for more
information about the shutdown.

NOAA Federal Employees: For access to the
Notice to Federal Employees About Unemployment
Insurance (SF-8), please Click Here.
Government Shutdown Fail #2!
It looks like it's making landfall Saturday-ish. I don't know what to do about the party at the park. Turn it into a hurricane party at our house, maybe. Oh wait, Chris might have to hurrevac. That's where they evacuate all the helicopters, flying them north to protect them from high winds since they don't have storm-proof hangers on base. Except their government helicopter gas cards don't work right now. Chris was planning a cross-country training flight for this month, which is on hold for the same reason—they can't gas up off base. I'm not sure, but I think it would take an act of Congress to get their gas cards funded to hurrevac! They might risk losing millions of dollars in aircraft because they can't afford to hurrevac. Wow. Government Shutdown Fail #3!!
I didn't think the government shutdown would affect us very much since they passed that thing to get active duty paid regardless. WRONG. Oh hey, if we do get smacked badly by a storm, who's going to do the initial response stuff? I learned while writing a local United Way article recently that they are second response, after FEMA takes care of initial hazards. Is FEMA essential? Probably, but definitely not able to operate at capacity with the shutdown. Government Shutdown Fail #4!!
So now we are left to wonder: Will it turn into a hurricane and hit here as planned, or die off/go somewhere else? Will the weather force a birthday party—hurricane party switch? Will the Navy Ball be rescheduled (whose guest speaker already canceled due to lack of government travel funding)? Will tomorrow's Mama-Baby birthday daytrip be rained out? Will Chris have to hurrevac after all? Will the low barometric pressure send my friend Sarah into labor? How long will the government shutdown snafu continue?!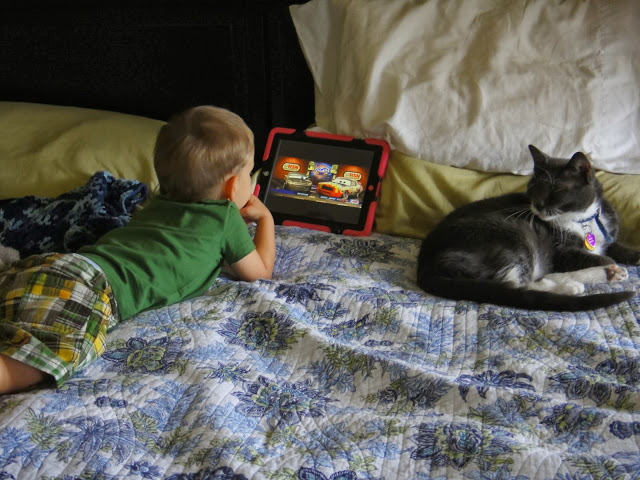 Watching Cars with Mouse!