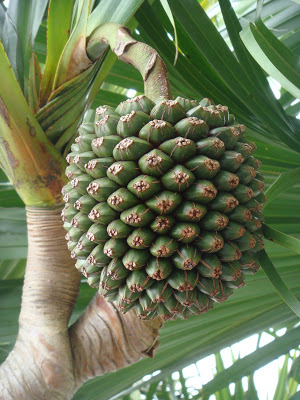 Japanese people are Japan's #1 tourists. They've practically made touring a competitive sport. So all throughout the train and metro stations are advertisements for your next Japanese tour. Last year I saw the same poster everywhere: a Japan Airlines poster for flights to Hokaido (a guy in an Eskimo coat holding hot chocolate) and Okinawa (the same guy, same smile, same pose, but in an aloha shirt holding a pineapple). At the time I thought the pineapple was just a generic tropical prop, like an orchid or something. Now I know better.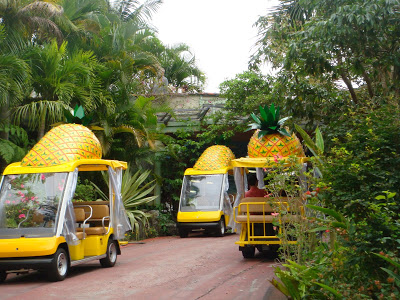 The Nago Pineapple Park tour started with an automatic go-cart ride through "kinds of pineapples," according to the sign. The peppy music playing from a tiny speaker on the front of the cart sounded like something off Yo Gabba Gabba. I couldn't stop cracking up. Then after the ride through the gardens, we walked through a seashell exhibit. I don't know what seashells from all over the world have to do with pineapples.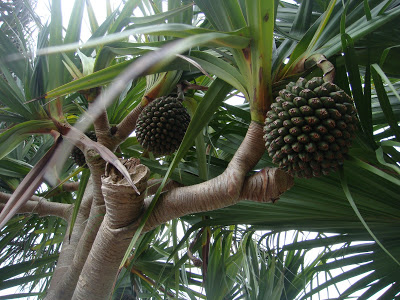 Then the best part: the winery!! A big sign said, "Christopher Columbus Pineapple." Ok. And if you, like me, are curious about how pineapples are made into wine and why it isn't done more often, just look to this excellent explanation that started with pictures of pineapples rolling off a conveyor belt and ends here with snoozing wine snuggling on a shelf.
Just down the road was the Ryukyu Glass Factory, where we watched glass-blowers create some of the overpriced merchandise in the much larger gift shop. Pretty! I was looking at a rainbow pile of refuse glass when suddenly I was startled by this goat. This was an unexpected and very fun morning.